---
The pandemic did everything it could to shut it down from the very beginning, but the mental toughness of the organizations powered us through to where we are. There will never be a season as bizarre as this one was.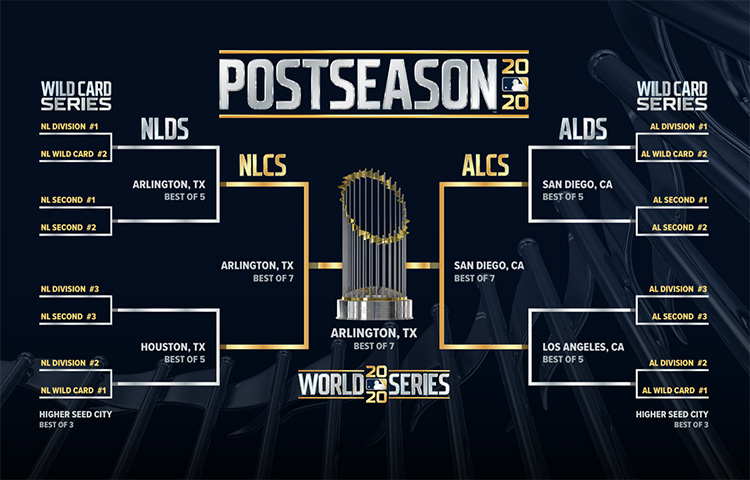 Now, we get to the fun part: the high-stakes baseball. There won't be fans as of now, but we'll have 16 teams in best-of-three series with home field in round one, followed by a pair of best-of-five series in bubbles, then a best-of-seven for the World Series in Arlington. The playoffs have never featured a format this style before, so we're in for pandemonium.
---
Here's your team-by-team primer to prepare for the matchups, featuring the season in review, pitching, hitting, and likeability grades, and the names that will be most impactful headed into the fall classic.
---
National League
1 Los Angeles Dodgers (43-17)
Winners of the NL West for the 8th year in a row now, they've been the unanimous favorites since the very beginning after they added a former MVP in Mookie Betts to pair with their other MVP, Cody Bellinger. Heart-breaking collapses seem to happen year after year because of their dominant regular seasons dramatically contrasting their failures to win it all, most notably getting cheated out of a title in 2017 thanks to the Houston Astros.
This year, they went all-in on the roster and this is the best Dodger team assembled yet. That being said, another failure this year would just add to the "curse" narrative even further. They know they have to win it all this year.
Pitching:

8.5/10 (Clayton Kershaw, Walker Buehler, Dustin May)

Hitting:

10/10 (Mookie Betts, Cody Bellinger, Corey Seager)

Likeability:

7.5/10 (The Dodgers are unique in that they're a big-market team with superstars that are dominant favorites, so you would normally hate them, but they've endured so much heartbreak as a franchise that you can't help but feel empathy and know they deserve a title.)
2 Atlanta Braves (35-25)
After losing their ace pitcher Mike Soroka to a torn Achilles, Cole Hamels to a shoulder, Felix Hernandez opting out, and DFA'ing Foltynewicz, the Braves have conceivably survived as a top-tier team with no pitching because they can't stop hitting. Likely-MVP Freddie Freeman is leading a team by one strategy: "let's score way more runs than you." They ran up 29 runs on the Marlins one game. Playing the Reds in the first round will be a tall task considering pitching is their strength, but the Braves can conceivably win it all if this format of the postseason that we've never seen before favors hitting over pitching.
Pitching:

5/10 (Max Fried, Ian Anderson, Will Smith)

Hitting:

9/10 (Freddie Freeman, Ronald Acuna Jr., Marcell Ozuna)

Likeability:

9/10 (Atlanta sports have suffered enough that they need this fairytale ending. Freddie Freeman would have a storybook year battling COVID pre-season, winning MVP, and getting postseason success as one of the most respected leaders in the game. Also, Ronald Acuna Jr. is so much fun.)
3 Chicago Cubs (34-26)
The Cubs are loaded with a lineup that should be dominant, but no one has been able to hit all year. They managed to win the division with ease while never really playing good baseball. They've been carried by their starting rotation, but no one hit above .265 this year. Their only hope for the postseason is that the bats that have been there before are due to figure it out.
Pitching:

7/10 (Yu Darvish, Kyle Hendricks, Jon Lester)

Hitting:

6.5/10 (Kris Bryant, Javier Baez, Anthony Rizzo)

Likeability:

8/10 (This Cubs team still has a lot of the personalities we fell in love with when they broke the curse in 2016, but it seems like the end of the era after this year with a somber tone due to their uncertain contract situations with guys like Bryant and Baez and the veterans getting older.)
4 San Diego Padres (37-23)
The Padres absolutely set the league on fire when their lineup of young pups headed by Fernando Tatis Jr. (he's 21, people) and Manny Machado led the team to being nicknamed "Slam Diego" because of how many 4-run bombs they hit. Being the most-active team at the trade deadline, they've decided to go all-in with the young core now as foils to the dominant division-rival Dodgers, but they're limping into the postseason with injuries to aces Mike Clevinger and Dinelson Lamet, and the bats have run a bit cold to end the year. Nevertheless, they became the most exciting Cinderella team in baseball this year.
Pitching:

7/10 (Dinelson Lamet, Garrett Richards, Chris Paddack)

Hitting:

9/10 (Fernando Tatis Jr., Manny Machado, Trent Grisham)

Likeability:

10/10 (They're young. They have the most fun. They dance in the dugout. They've got gorgeous uniforms. They've never won anything. They're the story of the year.)
5 St. Louis Cardinals (30-28)
The Cardinals were another victim of a Coronavirus outbreak that left them delayed for more than two weeks, and they still managed to find a way to finish the year by basically playing a double-header every other day to end the season. This might actually have been a more favorable outcome for St. Louis in the end because double-headers were only 7 innings-long and their lineup couldn't hit at all this year, so their pitching performances led the way. It's probably a swan song year for their aging veterans Adam Wainwright and Yadier Molina, but their success as an organization from top to bottom has made their winning consistent enough to where even these weaker teams manage to still win.
Pitching:

6.5/10 (Jack Flaherty, Adam Wainwright, Andrew Miller)

Hitting:

5/10 (Paul Goldschmidt, Brad Miller, Matt Carpenter)

Likeability:

5/10 (To be frank, the Cardinals just aren't very fun. They don't hit anything and have an aura of "holier than thou" as a franchise that just wins without flash. However, they're well-run and have a very fun ace in Jack Flaherty who will Tweet a gif of Heath Ledger's Joker and go out and dominate.)
6 Miami Marlins (31-29)
The Marlins were supposed to be terrible this year, but after battling a COVID outbreak that left them with a schedule loaded with double-headers from not being able to play games, they kept winning.. And it never stopped.. Thus, they traded for a big bat in Starling Marte, remained steady from their dominant pitching, and now we have the Marlins in the postseason. What a year.
Pitching:

8/10 (Sixto Sanchez, Sandy Alcontera, Pablo Lopez)

Hitting:

6/10 (Starling Marte, Jesus Aguilar, Corey Dickerson)

Likeability:

5/10 (We all hated the Marlins when they got the first outbreak from *allegedly* visiting a nightclub because it put our beloved baseball in jeopardy. I'm not letting that go even if they're a plucky underdog.)
7 Cincinnati Reds (31-29)
The Reds might be the most dangerous team entering the postseason because all year they had some of the most-talented bats with arguably the best 1-2-3 punch of starting pitchers in the game, but the bats never woke up and they had one of the worst bullpens in baseball. They underperformed, but now they're here. They've won five straight series entering the playoffs, and they've got a chip on their shoulder while doing so.
Pitching:

10/10 (Trevor Bauer, Jesus Castillo, Sonny Gray)

Hitting:

6/10 (Jesse Winker, Joey Votto, Nick Castellanos)

Likeability:

7.5/10 (If you like trash-talking, no one hates the Astros and the corrupt owners like the very outspoken NL Cy Young candidate, Trevor Bauer, and Joey Votto, who gives the best interviews in the league, is a veteran clubhouse leader who just deserves to win.)
8 Milwaukee Brewers (29-31)
The Brewers managed to sneak into the postseason on quite literally the last day of the year despite their former MVP, Christian Yelich, never getting it together at the plate. They're here because of the games where they got a lead early and handed it over to their genius manager Craig Counsell to manage a bullpen of wizards. Under normal circumstances, they might have the best pitching staff in baseball, but unfortunately, they'll be going into this postseason without their ace, Corbin Burnes, who got injured right before the big dance. Maybe the bats come alive and they become an offensive team, but it'll be difficult against the Goliath Dodgers.
Pitching:

7/10 (Brandon Woodruff, Devin Williams, Josh Hader)

Hitting:

6/10 (Christian Yelich, Keston Hiura, Ryan Braun)

Likeability:

6/10 (Ryan Braun was busted for steroids after lying, so the general public hates his guts. But Yelich plays with unassuming, baby-faced assassin swagger, and Devin Williams has a pitch known as the "Airbender". It's also just fun to root for the chaos that would ensue if they took down LA.)
---
American League
1 Tampa Bay Rays (40-20)
The Rays win by being nerds, and sometimes nerds are just better than you. They don't have a bat that stands out other than Brandon Lowe, and they have a dirt-poor payroll, but through smart managing, developing prospects, and a pretty much unstoppable bullpen and rotation, they do what the incompetent small market teams can't, and they contend seemingly every year. They're limping into the postseason with a few key injuries in their lineup, but it might not matter considering how dominant Snell, Glasnow, and Morton are.
Pitching:

10/10 (Blake Snell, Tyler Glasnow, Charlie Morton)

Hitting:

5/10 (Brandon Lowe, Nate Lowe, Yandy Diaz)

Likeability:

5.5/10 (I don't condone violence, but they have a heated rivalry with the Yankees that involves pitchers throwing heaters at one another, which makes them in part one of America's teams; however, the strategy they incorporate with their bullpen is just not fun to watch in all honesty.)
2 Oakland A's (36-24)
The A's, like the Rays, just find a way to win without the money to spend on big names. They develop pitching and get the guys that nobody seems to want and turn them into startable players; Matt Chapman, the team's MVP, will be out for the year after season-ending surgery, so they just picked up a guy named Jake Lamb and he's absolutely raked in the final days of the season. We'll see how big of a blow the Chapman injury is when they need a big hit in the playoffs. The A's are good because they don't do anything bad and have a great bullpen, but nothing else has been a proven strength or point of dominance.
Pitching:

7.5/10 (Jake Diekman, Jesus Lazardo, Chris Bassitt)

Hitting:

7/10 (Tommy La Stella, Stephen Piscotty, Marcus Semien)

Likeability:

9.5/10 (They've got the

Moneyball

glamorized small market narrative going for them as the team that's endured heartbreak to the big market teams in the past. They also feel incredibly slighted by the cheating division-rival Astros and finally took them down in the AL West. Quite literally when Ramon Laureano charged them in a fight earlier this year. A hero if I've ever seen one.)
3 Minnesota Twins (36-24)
Their "Bomba Squad" nickname from last season has held up all year, with the team continuing to mash home runs all year. The pitching has been better this year, but even coming off of the year where they hit the most "bombas" in one season in MLB history, they don't seem to produce offense outside of the long ball which is risky. They have to get their mashers, Donaldson, Cruz, and Sano, hot at the right time.
Pitching:

7/10 (Kenta Maeda, Jose Berrios, Matt Wisler)

Hitting:

10/10 (Byron Buxton, Nelson Cruz, Josh Donaldson)

Likeability:

9/10 (Nelson Cruz played like an MVP candidate at age 40. He also cost the Rangers their 2011 World Series by misplacing a ball in the outfield. He deserves to win, much like the nice people of Minnesota who endure countless sports heartbreak…AND home runs are fun.)
4 Cleveland Indians (35-25)
The Indians have had an absolute roller coaster of a season. The ownership pretty much came out before the season started and said they don't want to win by dealing ace Corey Kluber to the Rangers and putting Francisco Lindor on the trade block, then they had to deal their ace, Mike Clevinger, after he lied about going out with teammate Zach Plesac and violating their COVID rules.. And they kept winning in Major League fashion. Shane Bieber won the triple crown and was the best player in baseball this year. Triston McKenzie replaced Clevinger with ease even though he's 23 and looks 12. Most importantly, they seem to have captured the magic at just the right time; Jose Ramirez has seemed to come up with a clutch hit in every crucial moment and they've won 8 out of 10 to end the year. Despite the bats being egregious all year, the best pitching staff in baseball and this recent lightning they've caught in a bottle could make them the team of destiny.
Pitching:

10/10 (Shane Bieber, Zach Plesac, Triston McKenzie)

Hitting:

8/10 (Jose Ramirez, Francisco Lindor, Carlos Santana)

Likeability:

10/10 (You could argue they've faced the most adversity of any non-COVID team, and on top of that, they have the longest championship drought of any team in pro sports. They're the epitome of an underdog in "Believeland".)
5 New York Yankees (33-27)
When fully-healthy, the Yankees have had the scariest lineup top-to-bottom for the last two years. The problem is that they've never been fully-healthy since their two titans, Aaron Judge and Giancarlo Stanton, are on the Injured List roughly 60% of the time. Nevertheless, their depth has kept them among the top of the league the majority of the year with DJ LeMahieu winning the batting title and the tank Luke Voit winning the home run race. They'll look for Judge and Stanton to adjust quickly now that they're back, and on top of that they'll need an arm outside of Gerrit Cole to perform. It surely doesn't help when they've gone through inconsistent stretches of losing and winning double-digit games in bursts. The Bronx has been boom or bust.
Pitching:

6.5/10 (Gerrit Cole, Aroldis Chapman, Masahiro Tanaka)

Hitting:

10/10 (DJ LeMahieu, Luke Voit, Aaron Judge)

Likeability:

2/10 (They're the Yankees.)
6 Houston Astros (29-31)
The Astros escaped having a target on their back this year with the coronavirus delay, but some teams haven't forgotten. They lost Verlander to injury. Their star hitters haven't produced like they normally had when they were allegedly cheating. They're the most-hated franchise in sports right now easily. Baseball needed a heel, and it's not very fun that they're not near as dominant so we could so the giant of the past fall, but they weaseled their way into the playoffs and everyone will look to feel the sweet satisfaction of striking out guys like Altuve and Bregman.
Pitching:

6.5/10 (Zack Greinke, Jose Urquidy, Framber Valdez)

Hitting:

9/10 (Jose Altuve, George Springer, Kyle Tucker)

Likeability:

-10/10 (No explanation necessary.)
7 Chicago White Sox (33-25)
The White Sox have two MVP candidates in their lineup (Abreu and Anderson), a rookie of the year candidate (Robert), the only player to be drafted this year to be called up (Crochet), an ace that threw one of the two no-hitters this year (Giolito), a tank of a man who hits monster home runs as a veteran clubhouse leader (Encarnacion), and one of the most highly-regarded outfield prospects this decade (Jimenez). As one of the most top-to-bottom complete teams in the league when performing to their potential, the White Sox have been arguably the best surprise of the season. Unfortunately, they'll be going into this playoffs having lost a lot of the momentum they were playing with when they were hot. They'll need to pick up the swagger they had when they were winning and hope their dearth of youth can play when the stakes are at their highest.
Pitching:

6/10 (Lucas Giolito, Dallas Keuchel, Alex Colome)

Hitting:

10/10 (Jose Abreu, Tim Anderson, Luis Robert)

Likeability:

9.5/10 (They wear their jerseys unbuttoned with chains showing and just have a certain swagger about them that is an absolute BLAST to watch. Fun player anecdote: Yoan Moncada was eating reportedly up to 85 Twinkies a week when he moved to the US from Cuba. You root for these guys)
8 Toronto Blue Jays (32-28)
The "Toronto" Blue Jays weren't even allowed to play in their own country; they were forced to play in a minor league stadium in Buffalo where you could see the highway in the outfield. Just making it to the postseason alone is a major accomplishment, but doing it with such a young team and players who are developing earlier than expected is great to see. They've overcome those circumstances remarkably, but the team feels too young and too thin from the pitching depth to be able to win as the 8th seed.
Pitching:

5/10 (Hyun-jin Ryu, Taijuan Walker, Nate Pearson)

Hitting:

6.5/10 (Vladimir Guerrero Jr., Teoscar Hernandez, Bo Bichette)

Likeability:

7/10 (We could very well be seeing the start of a young dynasty from the plethora of players they have aged 25 and under. It's an absolute delight.)
---
---
Featured Image: ---