Trevor Lawrence is 21 years old, 6'6, has muscles with muscles on top of them, hair-like Sunshine from Remember the Titans, and moves with the speed while throwing with the strength of a Norse God. Quarterbacking at Clemson.
---
He blew out the dynasty of Alabama in the National Championship as a freshman, made another appearance in the Championship the following year in a loss to LSU, and looks poised to win the Heisman and take the Tigers to glory yet again this season at 5-0 with 19 total touchdowns and 1 interception thus far. He's 30-1. No one has ever been a more consensus future #1 overall pick in the NFL draft.
Sooner, rather than later, he's going to have to adjust to doing a lot more losing.
With Lawrence being such a highly sought-after player, being the worst team in the NFL rather than the second-worst is going to be more important than ever. So far, the race is about as tight as it gets; there's A LOT of bad football being played out there. Some teams are competing to make the playoffs, others are competing in the "Lose for Lawrence" sweepstakes.
---
We're six weeks through the NFL season and we have 10 teams with 1 loss or less:
Jets 0-6

Bengals 1-4-1
Jaguars 1-5
Football Team 1-5
Giants 1-5
Texans 1-5
Eagles 1-4-1
Chargers 1-4
Vikings 1-5
Falcons 1-5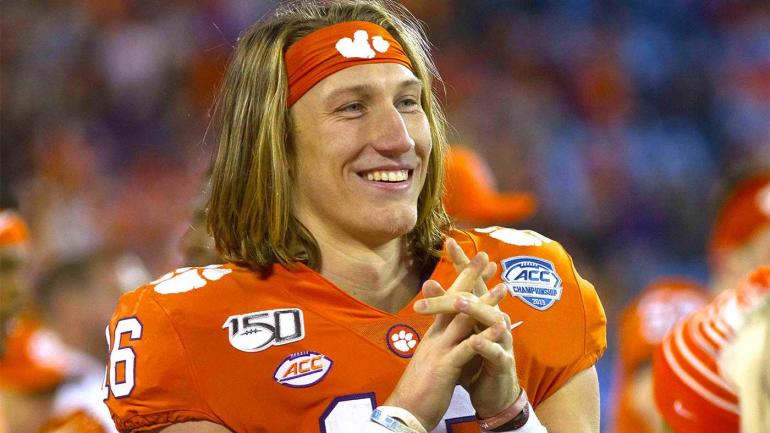 ---
Several of the teams might still be locked up in terms of their quarterback situation and have problems to address outside of Lawrence, but that's still a lot of terrible football with situations that need a serious reboot.
---
Teams are trying to out-lose one another; the Football Team played the Giants Sunday and went for two for the win against the Giants because in their mind if you get the two, you win the game, and if you lose, you're closer to Lawrence.
It's a race for the worst record, so let's break down where we stand team-by-team.
---
Houston Texans
They don't need a quarterback; in fact, they have a top 10 quarterback in Deshaun Watson and they still found a way to start 1-5. However, they can't address any issues or even qualify for the Lawrence race because they don't own either their first or second-round draft picks because of the FIRED Bill O'Brien trades. It's just a disaster in Houston.
Minnesota Vikings
The Vikings shouldn't be in this race. They just gave their quarterback, Kirk Cousins, a $66 million extension, the type of money you give to a guy that puts you in position to compete for the postseason, and he's been awful thus far. They have roster talent, but have underperformed and should probably have more than just one win; the team didn't expect to be here.
They can't compete for Lawrence even if the losing continues because they're locked in financially to a guy they didn't expect to be playing this poorly and have bigger issues to address on defense.
Atlanta Falcons
The Falcons conceivably could have started the season 2-1, but they blew massive leads to the Cowboys and the Bears because of their atrocious defense- a story Atlanta Fans are all-too-familiar with. Matt Ryan is a former MVP and the quarterback position is clearly not the problem, but they did fire their head coach Dan Quinn, and Ryan is beginning to enter the twilight of his career at age 35.
Similarly to Minnesota, the defense is what needs to be addressed, but the difference is that in Atlanta, a new head coach could want to start fresh with a young QB in Lawrence at the helm if they could trade Ryan to a team missing a veteran quarterback if they end up winning the race.
Philadelphia Eagles
The Eagles have Carson Wentz already, and however you may feel about his injury history or possible underperformance thus far, they also drafted Jalen Hurts last year, so they won't be in the race either. The Eagles may be 1-4-1, but it's because their entire team is on crutches. If anything they should draft a new medical training staff over Lawrence if given the opportunity.
Los Angeles Chargers
The Chargers have one win, but they have the most pleasant surprise of the season quarterbacking their team this year: the rookie Justin Herbert. He's set the league on fire with his rocket arm even against the Super Bowl champion Chiefs, Tom Brady and the Bucs, and Drew Brees and the Saints.
The Chargers just lose those games because they're the injured, poorly-coached Chargers of old, not because they need a quarterback.
Cincinnati Bengals
The Bengals picked quarterback Joe Burrow with the #1 overall pick last year, and if their losing continues, they might have to draft Lawrence either way because Burrow might not survive through the end of the year with all of the hits his non-existent offensive line is causing him to take.
Pray for his ribs and that their draft analyst team is merciful enough to draft him some protection with their picks next year.
New York Giants
The Giants are in a predicament because they'll have to decide between moving on from second-year quarterback Daniel Jones so early in his career or sticking it out with the guy they took at #6 overall. Jones has turned the ball over constantly and is 4-14 as a starter, but he hasn't exactly been surrounded by talent or competent coaching. This season they squeaked out a win vs Washington by a point and outside of that have looked completely incompetent, so they'll be in the running for Lawrence for sure.
The problem is that Daniel Jones will play with something to prove, as will the new head coach, Joe Judge, so they might end up winning a few too many games. If that's the case, they'll likely address the offensive line and run it back with Jones one more time and hope Saquon Barkley coming back next season will show progress.
Jacksonville Jaguars
The Jaguars are a bad team that has traded away all of their pieces because everyone appears to be miserable there. With Gardner Minshew starting at quarterback, who came in last year when Nick Foles got hurt, it's almost as if they're playing the sixth-round pick that they didn't expect anything from and they have to pay him nothing as if to say "you're young, exciting, and just intriguing enough of a quarterback to keep people entertained in our losses." Minshew hasn't been terrible, but he's played poorly enough for us to know that he isn't the future of the team.
There's already a feeling that the Jaguars are one of the worst teams in the league and are tanking their roster, so they'll definitely be in the mix for Lawrence. Head coach Doug Marrone hasn't ruled out benching Minshew if they keep losing, which would be the all-out tank considering that would mean starting.. *checks notes* MIKE GLENNON.
Washington Football Team
Washington won their opener against the Eagles, but have since then lost five in a row, benched their quarterback they're two years removed from drafting in the first round, played Alex Smith during a game who is playing on a bionic leg after coming back from one of the worst televised injuries in history, and gave up a sure-fire tie against the Giants to lose on a failed two-point conversion.
Now that they know Haskins isn't the guy, the tank has begun. They've got a new coach in Rivera, a new team name on the way, and a new team president. It just seems like they're salivating at the chance to bring in Lawrence as a way to usher in a changing of the guard.
New York Jets
The Jets are right on track to be one of the worst teams in football history. If Trevor Lawrence is the finish line of this race, they're Usain Bolt.
Sorry, Trevor.
---
Featured Image: CBS Sports