"The Los Angeles Angels" literally translates to "the the angels angels" or "Los los angeles angeles" and I appear to be the only one bothered by that.
It's a name that I found absolutely dumbfounding.
---
They're not the only ones with bad names though; in the NBA, the Jazz never changed their name when they moved from New Orleans and Utah has NOTHING of note to do with that genre that I know of.
The Cleveland Browns kept their name even after they fired the guy who they named the team after, Paul Brown, and he went on to run their rival the Bengals.
---
---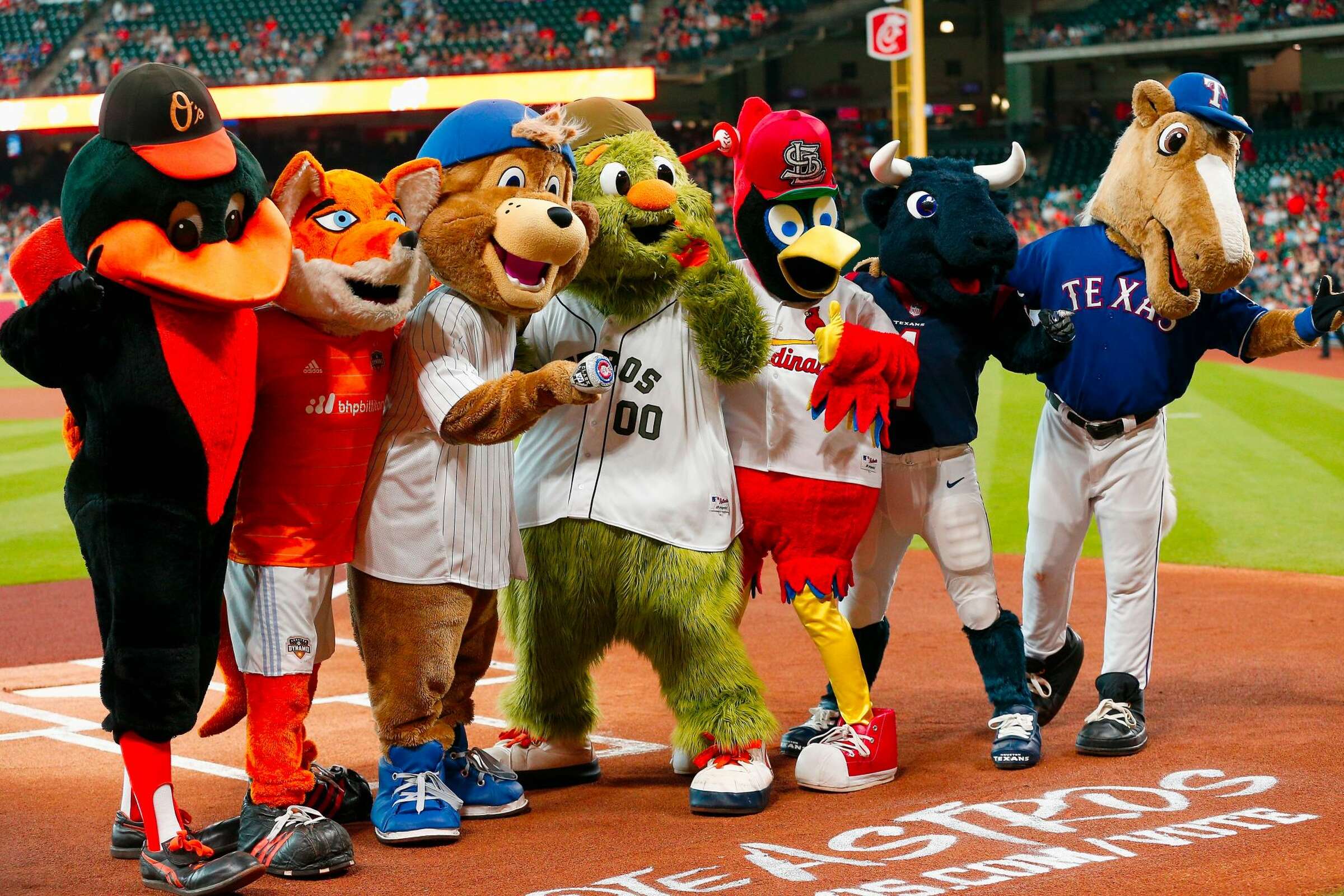 *Please note that I am a major fan of alliteration. If it was feasible, I tried to work it in.
---
AL West
Los Angeles Angels // The Los Angeles Halos
You can keep the city's "angel element", the Halos, are already a nickname the team occasionally gets called, and you can go back to using that sweet hat with the lowercase A and the halo above it. Everyone wins.
Texas Rangers // Texas Rangers
They're one of the few outliers where it's actually a perfect name. It's staying the same.
Houston Astros // Houston Heat
It's applicable to the city and pays homage to the fastball, the heat that pitchers like Nolan Ryan threw for them. And you ditch the "asterisks" nickname.
Seattle Mariners // Seattle Swordfish
Applicable to their fish market and overall just cooler than a mariner, which many people still mispronounce.
Oakland Athletics // Oakland Lumberjacks
Tribute to the California Redwoods in the Bay Area. You could have all the NoCal Oakland fans wear flannels to the game, too.
---
AL Central
Minnesota Twins // Minnesota Lakers
They were the original and rightful owners of the mascot name before being moved, LA! Give it back!
Kansas City Royals // Kansas City Soul
I'm a big fan of how cool of a name the St, Louis Blues is in hockey, and the New Orleans Jazz was in the NBA. You could have some really sweet branding in Kansas City, the home of Soul.
Cleveland Indians // Cleveland Underdogs
Let's face it: Cleveland is a city of underdogs. They've adopted the nickname "Believeland" for a reason. The Underdogs might be self-deprecating, but I think you have to embrace it and use it as a strength. It coincides with the Browns' "Dawg Pound" too? And what's more loveable than dogs? Cleveland could become America's team!
Chicago White Sox // Chicago Outlaws
Pays homage to the history of Chicago gangsters in the city. The black and white with some Al Capone-like branding would be hardcore.
Detroit Tigers // Detroit Racers
A tribute to the motor city and Henry Ford's automobile roots. Some pinstriped unis would be a chef's kiss.
---
AL East
Boston Red Sox // Massachusetts Monsters
You've already got the green of Fenway and an obstruction literally called "the Green Monster". Lean into it.
New York Yankees // Bronx Bulls
A tribute to the Charging Bull statue prominently on Wall Street and the Yanks now get to utilize the Bronx as a city namesake.
Toronto Blue Jays // Toronto Troopers
We need a cool Canadian team based around the Canadian Mountees.
Tampa Bay Rays // Tampa Bay Tidal Waves
Uses alliteration and is much more weatherly-aggressive than a simple ray of sun.
Baltimore Orioles // Baltimore Barons
Baltimore teams use the Maryland flag way too much to not have a team honoring Lord Baltimore, who was a baron. Lord Baltimore is just such a baller name.
---
NL West
Los Angeles Dodgers // Los Angeles Aztecs
There is so much Mexican and Hispanic influence in Southern California; it would be awesome to pay homage to a Mexican Empire that we, unfortunately, don't have any more with a warrior-theme.
San Francisco Giants // San Francisco Pandas
From the Giants to the Giant PANDAS since the city has the iconic Chinatown. We also need a likable, adorable mascot for a team with such a likable ballpark.
Colorado Rockies // Denver Dinos
They've already got Dinger the Dino, the best mascot in the game since there were dinosaur fossils found during the construction of Coors Field. I say you lean into the already incredibly-lovable mascot even more.
Arizona Diamondbacks // Canyon Copperheads
For a city with the Grand Canyon, you need a team that adopts nickname branding for it in the same way that the Warriors are from "Golden State". It has more swagger to it, but you still get to keep the southwestern snake mascot.
San Diego Padres // San Diego Defenders
When I was at a Padres game in Petco Park, what stood out to me most was all of the Naval influence; they even had a camo alternate uni. I say you take that and run with it and become an incredibly patriotic team.
---
NL Central
St. Louis Cardinals // St. Louis Stampede
What am I immediately reminded of when I think of Budweiser, the most iconic company associated with St. Louis and the sponsor of the stadium? The Clydesdales from those commercials. Oh baby. Utilize that, St. Louis! A logo of some stampeding, majestic Clydesdales would be so awesome!
Milwaukee Brewers // Milwaukee Brewers
Just like the Texas Rangers, it's just too perfect. Stay the same beer-soaked city forever, Milwaukee.
Chicago Cubs // Chicago Pride
The Art Institute of Chicago has gorgeous statues of lions right in front of it; you could use lion-branding (Pride of Lions) to not only shoutout the art scene of the city, but also acknowledges the pride the people have in their city.
Pittsburgh Pirates // Pittsburgh Express
All of the Pittsburgh sports teams have the uniformity of black and gold in their color scheme; I'd love to see all of them do something along the same lines with the Steel City nickname, this one honoring the city's advancements in steel railways.
Cincinnati Reds // Cincinnati Reign
They're the Queen City! Not enough people know that. Some proper branding would help the cause.
---
NL East
Philadelphia Phillies // Philadelphia Fratelli
Tribute to the Italian culture of the city along with the "City of Brotherly Love" nickname and much better than the name "Phillies".
Washington Nationals // Washington War Horses
There are so many statues throughout DC of soldiers on horses from historic moments in American history. You could have fans paint themselves in the same stone texture pretending to be statues and all of the kids riding those plush horse heads on a stick. Much more entertaining than a mascot associated with a political building.
New York Mets // New York Empire
They're the Empire State and you could make some fire New York-themed Stormtrooper shirts.
Atlanta Braves // Atlanta Hustlers
Atlanta is a city full of business, full of hip-hop influence, and full of a variety of people doing what they can to make it in a city where so much travel, media, and work is pursued. It's a culture of hustle.
Miami Marlins // Miami Knights
What do people vacation in Miami for? The nightlife. This would be a fun pun having a medieval theme going, but you can also incorporate the incredible "Miami Vice" colorway of pink and blue that the Heat use on their uniforms now. They need better branding to get people to show up.
---
Featured Image: ---