Every year leading up to the NFL draft, one of the most common tactics for analysts to use to give the public an idea about a prospect coming into the league is to throw out comparisons to players currently or formerly in the NFL. Personally, I find this totally unfair to the incoming rookie, because it either puts unfair expectations on the player (for example: saying someone "has the upside of TOM BRADY" just because they're a sleeper, static quarterback in the pocket with an arm) or makes a completely unrelated connection (for example: people made Johnny Manziel comparisons to Baker Mayfield because they were both short and had been arrested once). The expectations to live up to the hype of something you're not at the same position is misleading, however, comparisons are still an effective tool to identify familiar attributes.
This upcoming draft, there are potentially five quarterbacks that could be taken in the first round, which would tie 2018 and 1999 for second-most in league history. Each of them are highly-debated in terms of skill and where they should be drafted, and are well-defined in their own individual ways. So, since comparisons are fun and informative, yet unfair when done at the expense of other quarterbacks, these are the unconventional comparisons for the upcoming quarterback class, where they're compared to literally anything else outside of what they'll actually be doing.
Prospect 1: Trevor Lawrence
College: Clemson (Junior)
Height/Weight: 6'6 220 lbs.
COMPARISON: Death & Taxes
Benjamin Franklin once said that nothing is as certain as death and taxes, but he clearly hasn't been around to witness Trevor Lawrence's career. The other four quarterback prospects will be debated in terms of where they fall, but nothing has been more of a guarantee in the draft than Trevor Lawrence being the undisputed #1 overall draft selection (enjoy Jacksonville, Trevor!). The absolute stud who goes by Sunshine because of his long, luscious locks that even Fabio would be jealous of had one of the most dominant individual careers in college football history at Clemson, taking the torch from Deshaun Watson in stride. As a freshman, he threw for 30 touchdowns and handed Nick Saban his worst loss ever at Alabama in the Championship game, then in both his sophomore and junior seasons he only lost in the Championship game to LSU and the semi-final game to Ohio State, leaving college with a record of 34-2. The reason he's such a certainty is that he ultimately has everything you're looking for: the arm strength and accuracy, the ability to run, a large build to take hits, precise and quick decision-making, and a winning pedigree as a leader. People were legitimately wanting him to sit out his remaining time in college after year one to preserve his health to get paid in the NFL, so we're coming on three years of "this is the guy" level of hype. Death, taxes, and Trevor Lawrence #1 overall.
Prospect 2: Zach Wilson
College: BYU (Junior)
Height/Weight: 6'3 210 lbs.
COMPARISON: X-23 from MARVEL's Logan
Zach Wilson would best be described as dangerous. With an athletic build and confidence in his ability to push it down the field, whether it be with the deep ball or making a play with his legs, he shows the eye of the tiger (or in this case, cougar) in terms of his competitiveness, and that's what separates him from everyone else. He's a gamer that plays aggressive in order to WIN. It's a leadership capability that scouts gush over.
However, unlike most BYU players who don't leave the school for a decade, he's very much "football young" at only 21 years old and has only started a total of 28 games; there's a concern that he may have just caught lightning in a bottle for a season and showed flash against subpar competition considering his only "big game" was a loss at #14 Coastal Carolina. The risks he's been able to take against NFL-level talents and bigger athletes might not translate into success.
On top of being "football young," he also looks approximately 12 years old. He's a baby-faced assassin. He attacks with the same aggressiveness for someone who looks like a child as X-23 in the movie Logan, the little adorable mutant girl with Wolverine claws. She would casually decapitate evil scientists and then go back to having a bowl of cereal. That's Zach Wilson shredding a secondary while looking like he just won the Punt, Pass, and Kick competition.
Prospect 3: Justin Fields
College: Ohio State (Junior)
Height/Weight: 6'3 228 lbs.
COMPARISON: A StormTrooper and a CloneTrooper
Tough look for Georgia sticking with Jake Fromm at QB and causing Justin Fields to transfer to Ohio State, where he'd go 20-2 with his only losses coming in the National Championship to Alabama last year and the semifinal game against Clemson in 2019. Fields at Ohio State was an elite dual-threat athlete who does not make mistakes- finishing with a 68% completion percentage at 67 touchdowns and only 9 interceptions, also rushing for 19 scores as well. Watching him at Ohio State felt like every single receiver he'd throw to from the get-go was wide open or he would throw them open. On top of his exceptional arm strength, he's also built like a brickhouse and can absorb big-time hits to gain the extra yards. We saw his toughness in their 49-28 Sugar Bowl win over Clemson where he got hit so hard in the midsection his internal organs were essentially shaken in a bag and he still proceeded to throw a total of 6 touchdowns.
However, Justin Fields's inability to make mistakes on paper might actually be masking flaws that some scouts are using to knock against him- some think the Ohio State offensive system set up their highly-skilled receivers to be open by the first read, meaning they're already open for Fields; he wouldn't have to improvise on the fly if the #1 option was covered or was pressured from the blitz. What's going to happen when he's got Jalen Ramsey locking down his first option with Aaron Donald blowing by his offensive line?
Even if Fields is indeed a product of an efficient system, from what we've seen from his skillset, it DOES mean that he's an excellent driver of whatever car he gets the keys to; that might just mean he needs a proper fitting team and offensive-minded staff from the draft. That's why if he's on a team with the tools to help him succeed he's a CloneTrooper and if he goes somewhere he has to function more on his own he's a StormTrooper. Clones are the ultimate "execute orders" group of all-time. They had precise accuracy and could do whatever the Republic asked of them to complete missions. The StormTroopers, under the Empire's leadership, are absolute stooges. They would miss basically every fired shot and fly their speeders into the sides of random buildings.
Justin Fields needs to have a coaching staff and roster that caters to his skills to unlock who he really is to be a Clone as opposed to a StormTrooper.
Prospect 4: Trey Lance
College: North Dakota State (Redshirt Sophomore)
Height/Weight: 6'4 226 lbs.
COMPARISON: The 2015 "black and blue/white and gold" dress meme
Trey Lance is immediately going to be compared to Carson Wentz because of the North Dakota State connection or Josh Allen since they both went to a small school in a cold climate. That's the easy way out for analysts who didn't watch a second of him when he carved up all of his FCS competition. But on top of playing games that weren't seen on the big stage by many to begin with, Lance ultimately is an unknown from only starting a total of 17 games in his college career; he led the Bison to an undefeated 16-0 season in 2019, throwing 28 touchdowns with ZERO interceptions and rushing for over 1000 yards on top of that. However, in 2020, the FCS schedule was delayed until the spring due to the pandemic, but NDSU did schedule one game against Central Arkansas in October for one reason only: to showcase their guy. Lance didn't really play well in his showcase, going 15-30 for only 149 yards and threw a pick after never throwing one the previous year, but he still led them to victory with his legs in a 39-28 win; it was less than promising, but the circumstances put A LOT of pressure on Lance to perform, so it might have been an outlier of a situation.
Trey Lance is a promising mystery- he's only played a season of football against inferior competition and even in those wins, he's only thrown more than 25 attempts in two games. But his tape that we have is so impressive, and his natural skill set of a rocket arm, a strong overpowering runner that just won't go down, his ability to throw into tight windows, and his aggressive tenacity as a leader makes drooling scouts ponder one big question:
Is his dominance real?
In 2015, there was a viral photo of a dress that deceived the human perception of color. Some people were able to see it for its natural colors, black and blue, while others experienced an optical illusion where it looked white and gold. Trey Lance is going to be like that dress- some may see the future of their franchise in the dominance that he portrayed at North Dakota State and believe that it will translate into the NFL seamlessly in the right offense after time to develop, and others will see him as a raw prospect who just beat up on poor opponents. It's up to Lance to reveal his true colors.
Prospect 5: Mac Jones
College: Alabama (Redshirt Junior)
Height/Weight: 6'3 214 lbs.
COMPARISON: Chicken Tenders at a Restaurant
I promise this comparison does not stem from the viral photo of Jones looking rather… "round" celebrating his National Championship victory with a cigar while shirtless.
Mac Jones may not have the God-like physique that scouts drool over, but he still did lead arguably the best college football dynasty in history to a 13-0 season with 41 touchdowns, only 4 interceptions, and 4,500 yards. Only losing one start in his college career, the Mac Jones offense was an absolute buzzsaw; the Crimson Tide never scored less than 31 points in his games. He won against the cream of the crop in the SEC, but he also had the benefit of the best coaching staff under Nick Saban and three pro-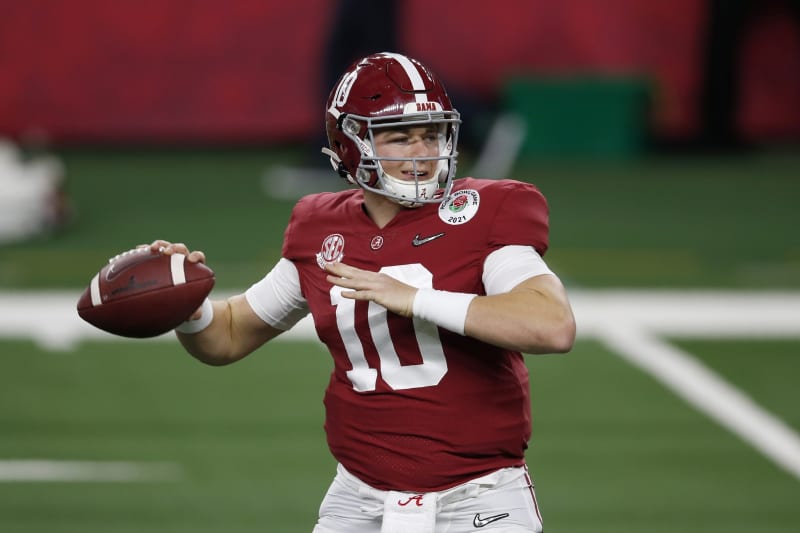 jected first round draft pick weapons to get the ball to (Jaylen Waddle, Heisman Trophy-winner, DeVonta Smith, and Najee Harris). He was never required to do anything special on his own like make plays with his legs, and he was rarely under pressure from the protection behind Alabama's top-tier offensive line. He was a statue in the pocket who followed the orders of Saban and his OC Steve Sarkisian's game plan: throw the ball deep to your target once he gets open. And to Jones's credit, it worked! He was accurate, showed great composure, and had the intelligence to do exactly what was asked of him each game.
Even though Jones had so few starts and had all the luxuries that he had, the Alabama offense that he was in charge of was so successful that NFL teams are thinking that it's worth a shot to see how much of it was actually because of his actual skills. They may not have won BECAUSE of him, but they did nothing but win WITH him, which could be all you need for a successful offense with a good scheme in place.
That's why he's chicken tenders at a restaurant. You go to a restaurant with a cuisine you're either unfamiliar with or don't like and you don't feel like branching out and taking a risk, you order the chicken tenders. When have chicken tenders ever let you down? It's relatively impossible to make bad ones, and they pair well with literally ANY elite group of sides (fries, mashed potatoes, mac and cheese, you name it). People are going to throw out the phrase "game-manager" to describe Mac Jones, and that may be the case, but he's really just Mr. Reliable. Nothing flashy, just like taking the safe way out and ordering the chicken tenders.