We're fresh off of what some NFL executives referred to as "Massacre Week" with all of the players getting cut from rosters to try and save some money to get under the cap, which decreased from $198.2 million to $182.5 million due to the effects of the pandemic on the season.
That means a lot of veteran-free agents in the pool moving to different locations.
---
It can completely change the landscape of a team's season; to put it into perspective, every single point scored by the Tampa Bay Buccaneers to win the Super Bowl was scored by someone who wasn't on their roster last year.
Teams are going to have to break out their best-recruiting pitches with the free agency period opening this week; in the spirit of March Madness, that's finally here, so let's make a bracket!
Who has the best to offer from recruits? Who is set up to offer the most money or a desirable place to live? Who is set up for short-term or long-term success? Who has a great coaching staff and front office?
---
We'll break it down in a bracket of the 32 teams by conference, each seeded 1-16 based on where their pick would have landed in the draft from the results of last year, in order to evaluate where the best place is for free agents to land.
---
ROUND OF 32
1 Buccaneers v 16 Falcons
The Falcons are already over the cap, and despite hiring a solid new head coach, they're on the downfall. Playing with the champs is an easy win here.
8 Vikings v 9 Cardinals
As seen by the JJ Watt signing, Arizona has more cap space; they're a team on the rise after Kyler Murray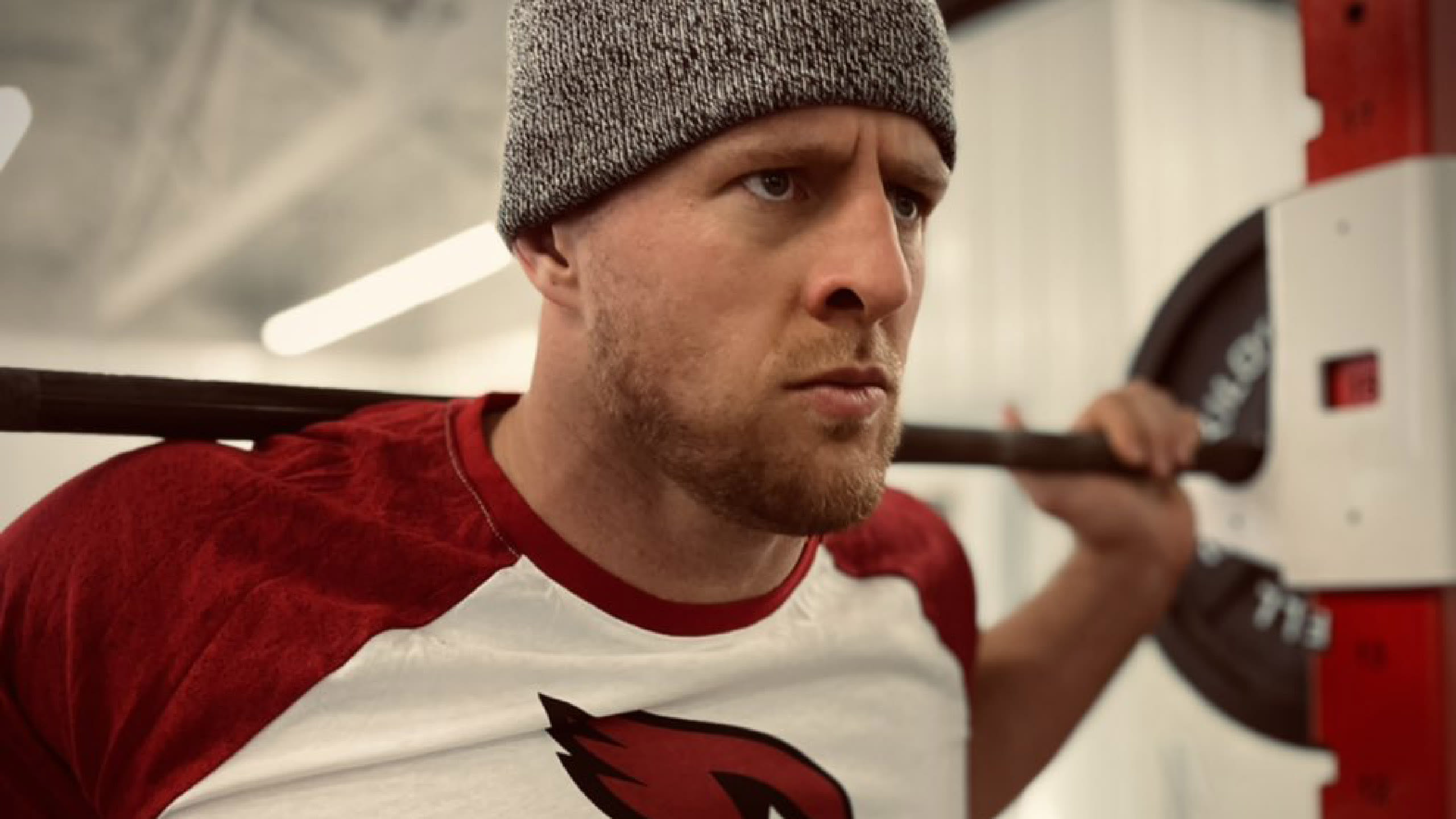 broke out last year, and you can golf out in Scottsdale in a mansion in your free time. The Vikings are cursed with less money, depreciating assets in Kirk Cousins, and playing cold-weather teams, including competing with Aaron Rodgers in the division. Arizona advances.
5 Cowboys v 12 Seahawks
Until Russell Wilson decides he's staying, I would steer clear from Seattle in the dominant NFC West, big future free agents to sign, and an uncertain future. Dallas, in the winnable NFC East, moves on.
4 Rams v 13 Panthers
This one is particularly interesting because the Rams are in LA and have a chance to win a Super Bowl within the next 3 years, but their division is brutal, and they have NO cap space or picks. For long-term security, I think Carolina pulls off the upset.
They have money to give you, the division is ripe for the taking in the next few years with Brees, Ryan, and Brady aging, and Matt Rhule runs a machine prime for a quarterback to come in and cook (is that Deshaun Watson's music I hear??)
6 Bears v 11 Giants
The Giants pull off the upset here despite the Wilson to Chicago rumors simply because they at least have a discernible timeline coming up. They built a good defense, have more money, play in a weaker division, and have a younger roster with a coaching staff and front office that hasn't made historically awful decisions in the past five years. Daniel Jones isn't a certainty, but the organization makes New York more desirable.
3 Saints v 14 Lions
Both of these teams have absolutely no money to spend, but the Lions could potentially have the worst record in the league next season, and the Saints have a winning organization with or without Drew Brees. You'd play for free in New Orleans as opposed to Detroit right now.
7 Football Team v 10 49ers
As well-run a team the 49ers are, and San Francisco is a gorgeous location, Washington is the preferred spot here. They could break the bank on a contract, their defense is young, they have a more winnable division, and you don't have half of your money taken away from California state income taxes!
2 Packers v 15 Eagles
The Eagles are in a cap wasteland, have fans who throw batteries at Santa Clause, and have no idea who is even going to be running the most important position in pro sports; meanwhile, the Packers are this generation's America's Team (sorry, Cowboys) and have Aaron Rodgers at the helm coming off of an MVP season.
1 Chiefs v 16 Jaguars
The Jaguars have the most cap space in an income tax-free state and have the #1 overall pick in the upcoming draft… and I would still rather play for the Chiefs even if they have no money. I don't trust a team that went 1-15 and then went out and hired Urban Meyer, who's never coached in the NFL and has a track record of being a control freak in the college game. I'll play for Patrick Mahomes and Andy Reid, please.
8 Dolphins v 9 Raiders
Live in Miami, likely get a bigger contract, not have to play the Chiefs twice a year, and play for an awesome coach in Brian Flores? Next!
5 Steelers v 12 Broncos
Whoof, neither of these are attractive destinations… The Steelers are on the decline with 39-year-old Big Ben and have no money, but the Broncos have played quarterback roulette for 5 straight years. Pittsburgh still moves on because of its organizational stability as one of the most consistent teams in sports. Even if this year is a wash as a Roethlisberger farewell tour, the team seems to transition seamlessly for decades. The Broncos got lucky by attracting Peyton Manning once and have done absolutely nothing since.
4 Browns v 13 Bengals
One Ohio franchise is a playoff team with cap space on the rise, and the other Ohio franchise is a 4-11 team with cap space and hasn't won a playoff game in 30 years. Congrats, Browns!
6 Titans v 11 Chargers
The Chargers are in Los Angeles, have a ton of cap space and Justin Herbert at QB looking like he could run the league for the next decade despite missing the playoffs last year. Even though the Titans made the playoffs in back-to-back seasons, they could regress with OC Arthur Smith's departure, the extra miles on Derrick Henry, and a historically bad defense. Chargers pull off the upset.
3 Ravens v 14 Texans
The Texans franchise is literally combusting into ashes. Next.
7 Colts v 10 Patriots
For two decades, if you wanted to go to a winner, you would go to New England even though you might be miserable. Now that Tom Brady is gone, the only attractive aspect of that destination is gone too. Even though the Patriots have been a dynasty for years and have a ton of cap space, there's no way you would rather go run up their hills in Foxborough in Belichick's boot camp with no quarterback as opposed to playing in Indianapolis with Frank Reich.
2 Bills v 15 Jets
The Jets are on the up-and-up now that Adam Gase has been fired, and they'll have a ton of cap space and draft capital. Still, the team has been such an embarrassment that the Bills, who rebuilt and spent their money well and have an established incredible coaching staff coming off the AFC Championship appearance, would still be a preferable spot. No one has spent more money and done the least amount of winning over the last 4 years than the Jets. They need to earn that trust before we crown them as a destination.
---
SWEET 16
1 Buccaneers v 9 Cardinals
The Cardinals may look like they're set up for more long-term success because of Kyler and Brady's age gap at QB, but you would still rather be in Tampa Bay here. You get to be with Brady trying to go out with some more rings. After he retires, the rest of the division seems to be in more of an era of transition that if they come up with a succession plan at his position, they could still find a way to continue to be competitive. The Cardinals being in that NFC West is too tough.
5 Cowboys v 13 Panthers
The Cowboys look star-studded and are the premier franchise of the league in a winnable division right now. Still, Jerry Jones has such a history of overpaying assets that the big contracts they hand out are going to show up considering how many holes are on the defensive side… And he doesn't know how to hire a coaching staff. The Panthers could potentially land a star QB, have better coaching, are much younger, and have far more money. It's the safer bet long-term.
3 Saints v 11 Giants
The Giants somehow pull off the upset here; I know the Saints are consistent winners, but unless you want to play in New Orleans for free on a team potentially with Taysom Hill as the quarterback since they're around $25 million over the cap, you could go to New York and play in a big market for a team that showed some life. You will have Saquon coming back in Daniel Jones's "trial" year essentially.
2 Packers v 7 Football Team
As well-run an organization as Green Bay is, being $10 million over the cap with a disgruntled Aaron Rodgers is concerning as a long-term solution. Things could easily change very rapidly. The Football Team could hand out a lot more money on a youthful roster that's slowly filling holes and improving; they even played the Bucs about as close as Green Bay did in the postseason!
1 Chiefs v 8 Dolphins
The Chiefs may very well be contending for Super Bowls for the next decade as long as Patrick Mahomes is their quarterback. That being said, they have absolutely no money to give out. The Chargers in their division are on the rise. For what all Miami has to offer, the money, the coaching staff, the beautiful city with no-income-tax, and their proven capability to win with a young and cheap roster, it's a better all-around free agent spot. What an upset!
4 Browns v 5 Steelers
How the times have changed: suddenly, the Browns look more set up for long-term success than the Steelers do given their cap space, coaching staff, and youth. Until we see Pittsburgh move on from Big Ben with a viable plan to go forward, they're not going to be perceived as a team that is set up to win.
3 Ravens v 11 Chargers
The Ravens have proven that they're a consistently-winning organization and have an MVP at QB, a fun coach to play for in Harbaugh, and draft exceptionally well, but the Chargers offer much more. Herbert looks so solid from a long-term standpoint that playing in a division with Mahomes is almost irrelevant when you also get to see where his career takes him. Also, playing in LA in the best uniforms in football would be pretty preferable, too.
2 Bills v 7 Colts
These are two of the most well-run teams in the league. However, I'm going with Indianapolis. You don't have to play in western New York freezing weather and get a dome, four of your games during the year will be against Houston or Jacksonville, and they somehow have the fourth-most money available to spend despite looking like a Super Bowl contender at some points during the season last year. Both have great front offices and coaching staffs, but Indy is set up to win in a manner that isn't as reliant upon the play of the QB as Buffalo is on Josh Allen.
---
ELITE 8
1 Buccaneers v 13 Panthers
Both are AFC South teams that are winning on different timelines: Tampa now and Carolina later. However, outside of also having more money to hand out, I'm going with Carolina for one primary reason: their owner, David Tepper. He is incredibly aggressive in wanting to field a winning team. He's been in on generally every quarterback from Matt Stafford to Deshaun Watson, he even attended the Senior Bowl to scout quarterbacks, which no owner ever does, and he's made it clear he's tired of losing with the organizational changes he's made from the very beginning.
This is a guy who is not afraid to spend and has a vision, so if you can get more money from Carolina, potentially be set up to win further down the line past the Brady era, and you're playing for someone who wants to field a winning product, you go there. Tampa needs to be able to prove they can make moves that haven't been orchestrated by Brady.
7 Football Team v 11 Giants
Both are in similar positions- NFC East teams rebuilding that are powered by their defense. Washington is more desirable here, though, not only from having more money and a stronger coaching staff headed by Ron Rivera, but they made the postseason with a rotating carousel of quarterbacks last year. If they can get a consistent face of the franchise, they're closer to taking the next step and compete at the top of their division.
4 Browns v 8 Dolphins
I'll take the Dolphins here despite the significant improvements the Browns have made from the top-down. If I'm an agent, I'm not going to try to convince my client to take less money to win in Cleveland instead of taking more money to win in Miami and playing in an easier division. They've both pulled off two of the most-staggering team rebuilds in recent league history with something as simple as a coaching hire, but Miami has more assets and has an easier path (and one with more palm trees).
7 Colts v 11 Chargers
Despite the Chargers looking poised to grow and develop with Herbert at the helm in an ideal location for the next decade, the Colts are narrowly more desirable of a destination, and here's why: you should believe in organizations. It shouldn't matter that they have Carson Wentz at quarterback after having a season as bad as he did because the Colts have proven they know how to win with whatever hand they're dealt. Their franchise quarterback retired on them weeks before the season started, and they still showed life that year with Jacoby Brissett and even beat the Chiefs that year with defense.
They've won without even spending money and will have an easier postseason path for years to come in that division. The Chargers will have a new coaching staff next year and still have to do more to prove themselves.
---
FINAL FOUR
7 Football Team v 13 Panthers
I see both of these teams as well-constructed, well-coached, smart-spending teams that are a quarterback away from competing for their division. Because it's about as even as it gets from the x's and o's side of things, I'm going with the Panthers because they lack a marring characteristic associated with Washington: they have been an embarrassment at the top, and it might continue until Dan Snyder sells the team. They've been under fire for scandal after scandal, and you could write a book about how toxic the environment is for the men and women who have worked there.
They're doing due diligence to move forward; it seems after hiring a competent black man in Jason Wright. Still, if you're a player, you also can't help but remember Trent Williams, their left tackle who had a cancerous tumor in his head misdiagnosed by their medical staff and then had to holdout playing when they wouldn't allow him to go play somewhere else. It's a dysfunction that is concerning, so Carolina moves on to the final.
7 Colts v 8 Dolphins
Both would be a dream destination for the furtherment of one's career, but the Colts take it here for a pure football reason: they've proven they can win without a quarterback more consistently. In Miami, they felt skittish about Tua, the guy they took 3rd overall, because of his major leg injuries and had to pull him for old man Ryan Fitzpatrick several times last year. They still won games with their QB cycle at 10-6, but what happens if Tua doesn't improve?
Carson Wentz is a question mark in Indianapolis as well since he thought the objective of the game was to throw it to the other team last year, but Indy has won with their defense, a rotation of running backs behind the best offensive line, and even game-managing quarterbacks like Jacoby Brissett and an aging Philip Rivers last year. They're purely built to win all-around, and with the money, they have to spend and acquire even more weapons. While I love what Miami has done, Indianapolis is more-established; they're just a year and a half removed from daily shows debating whether or not they should be relegated from the league.
---
FINAL
7 Colts v 13 Panthers
Indianapolis has the most to offer out of any spot in NFL free agency this year. They're set up to win now and in the future. They have good vibes in their locker room and a coaching staff that maximizes their talent strengths. They have a winnable division and play in a dome.
They have the most money of the current contenders and do nothing but make smart draft picks and spend wisely. They are proven and will continue to be.
---
Featured Image: ---