NL East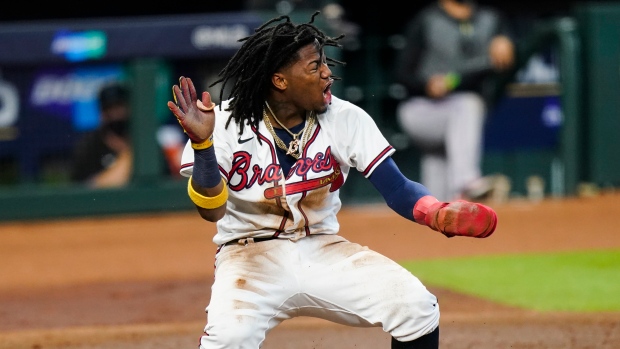 Predictions:
1 Braves
2 Mets
3 Nationals
4 Phillies
5 Marlins
Miami Marlins
Key Additions: Ross Detweiler, Adam Duvall, Adam Cimber, Kim Ng(!!!)
Key Subtractions: Jose Urena, Brad Boxberger
Strength: Young starting pitching
Weakness: Power-hitting
Face of the Franchise: Sixto Sanchez
Player to Watch: …Sixto Sanchez
The Marlins, or the "Bottom-feeders" as they referred to themselves last year, were given a 1.4% chance to make the postseason going into the year before the delay, and what did they do? They went out and shocked the world, not only making the playoffs, but eliminating the Cubs in the first round, too! They made an aggressive trade for Starling Marte, have an INCREDIBLE starting pitching staff headlined by 21-year-old Sixto Sanchez who throws nothing but absolute heat, and they overcome a massive COVID outbreak to start the year. They operated the unforeseen circumstances with nothing to lose, embracing the underdog role, and it paid off tremendously as their veteran hitters and young pitchers were the biggest surprise of the year.
They had a very quiet offseason, but they did hire Kim Ng, who became the first ever female General Manager in baseball history, which was the most significant move for the league this year.
While the addition of Ng is ground-breaking, and they did show significant progress as a postseason team on the rise, this season could bring them back to the reality: that they're in the most difficult division in baseball and they have the least amount of talent. Last year could very easily be a flash in the pan since they didn't make any moves to improve the team, unlike the rest of their rivals, and if they don't competitively sprint out of the gates, they could potentially be sellers to reload with talent around the same age timeline as their prospects.
Philadelphia Phillies
Key Additions: Archie Bradley, Chase Anderson, Jose Alvaredo
Key Subtractions: Jake Arrieta, Jay Bruce
Strength: High-volume scoring
Weakness: Bullpen-blown leads
Face of the Franchise: Bryce Harper
Player to Watch: Alec Bohm
The Phillies are coming off of their 8th straight losing season, and while it may not have been the biggest nightmare of a year in comparison to some other teams, it certainly was one of the most frustrating because the worst bullpen in the majors couldn't stop lighting games that should have been won ablaze with a flamethrower. We're two years into Bryce Harper's 13-year $330 million contract he signed with no trade clause because he trusted the team would build a contender around him throughout, and all they've done so far is burn out. The pressure is mounting.
However, they did approach free agency proactively this offseason to try and get better; they put a band-aid over their bullpen with a few signings, they re-signed J.T. Realmuto and Didi, their key free agents, and they hired Dave Dombroswki as president of operations, who is notoriously an aggressive spender. Good sign for Bryce!
The problem is how difficult a division the Phillies are in. They have a studded lineup considering even the bottom of the lineup is young and promising, headlined by third baseman Alec Bohm, who was a Rookie of the Year finalist and could be another pivotal piece to them taking the next step in baseball hierarchy, but the lack of strength in their pitching makes them imbalanced. The rest of the division has more strength on both sides of the ball when you add them together. The race will be so tight that they could easily meltdown and be at the bottom or pull off a surprising run, but they'll need to add more moves to be considered a feared team.
Washington Nationals
Key Additions: Josh Bell, Kyle Schwarber, Brad Hand, Jon Lester
Key Subtractions: Michael A. Taylor, Sean Doolittle
Strength: Star power
Weakness: Lack of depth
Face of the Franchise: Max Scherzer
Player to Watch: Trea Turner
We're all just going to pretend that the 2019 World Series Champion Nationals didn't even play in 2020. Scherzer and Strasburg were injured, Juan Soto missed 13 games because of an issue with his COVID testing to start the year, they had a few opt-outs, and quite possibly a championship hangover. They went from on top of the world to tied for last in the NL East with the Mets, but they get a grace period given the circumstances, right?
So now that 2020 is in the rearview mirror, they were one of the most active teams in free agency, and they needed to be given that the faces of their roster are getting up there in age. Schwarber and Bell will provide power (and not much else outside of that, really), and they went out and improved their bullpen with Hand and added another arm to their strength, the starting rotation, in Jon Lester.
Their lineup depth is the problem here: they've got Soto who could be the face of the league at 22, Trea Turner at shortstop who could be the most underrated player at his position (he hit .335 last year!), and then a couple inconsistent power-hitters in Bell and Schwarber. The rest of the spots in the lineup are weaker in comparison to the lineups of their divisional opponents given their depth. This is going to put a lot of pressure on their starters Scherzer, Strasburg, Corbin, and Lester to absolutely dominate and for everything to align perfectly for their star-hitters. They'll be in the mix given their top-tier talent, but the lack of depth is an issue that might need to be addressed during the year if they want to compete on the highest level.
New York Mets
Key Additions: Francisco Lindor, Carlos Carrasco, James McCann, Taijuan Walker, Trevor May, Joey Lucchesi
Key Subtractions: Steven Matz, Michael Wacha, Amed Rosario, Justin Wilson
Strength: Starting pitching
Weakness: Defense/fielding
Face of the Franchise: Jacob DeGrom
Player to Watch: Francisco Lindor
Uncle Stevie might just be the savior. Before Steve Cohen bought the Mets, the highest net-worth of an owner in the game was Ted Lerner of the Nationals at $4.8 billion… Cohen is worth $14.6 billion. The Mets fans ravenous for a championship (or just a competent team for once) were thrilled at the idea of an owner just willing to throw his money in whatever direction is needed to field a winner, and based off of the moves he's made thus far, the Mets have a reason to be excited for the first time in a while.
The Mets season last year was once again, a disaster. The bullpen blew leads left and right, Marcus Stroman opted out and Cespedes just went missing before opting out, Pete Alonso had a bad year, and they had to fire their GM as they were tied for last in the division.
The 2021 outlook is the complete opposite. Noah Syndergaard and his Thor-like locks will be back from injury midseason, Marcus Stroman re-signed, they signed one of the prize catchers of the offseason in McCann, added even more pitching depth, and pulled off a heist of Cleveland in the biggest move of the offseason: they traded for Carlos Carrasco and Francisco Lindor, who might be the best superstar shortstop in the league. "Traded for" might be putting it lightly and "rescued" might be the more appropriate phrasing considering it was all a matter of Cleveland not wanting to pay their good players! Nothing is going to be more exciting and new as Lindor on the big stage, hopefully winning, considering his nickname is literally "Mr. Smile". We need him winning and happy.
The reason I still have them finishing second in the division is because they have so many new pieces, and they're just the Mets– no one has been more embarrassing or unlucky in recent history. If they prove they're as good as they are on paper without having disaster strike like it has as of late, they could easily go from worst to first.
Atlanta Braves
Key Additions: Charlie Morton, Drew Smyly, Jake Lamb, Jason Kipnis
Key Subtractions: Mark Melancon, Shane Greene (?), Mike Foltynewicz, Adeiny Hechavarria
Strength: Home-run hitting… and swagger while doing so
Weakness: the bullpen
Face of the Franchise: Freddie Freeman
Player to Watch: Ian Anderson
The Braves went out last year in typical Atlanta sports fashion: a heartbreaking blown lead. They were up 3-1 on the World Champion Dodgers in the NLCS and their dreams of getting over the hump for the first time since 1995 were dropped into an Atlanta Waffle House grease fryer. While the collapse was catastrophic, it's not something to hold against them going into the year considering that Dodgers team was as good as they were. If anything, 2020 established the Braves as even better than we thought they were. During the regular season, all they did was mash homeruns and flashed their gold chains in the COOLEST way possible, but they pretty much had no starting pitching at all after ace Mike Soroka tore his achilles. During the postseason, however, starting pitching all of a sudden turned into their strength! Ian Anderson's call-up to the majors was a turning point, and he looks like a potential ace. If they put together their collective regular season hitting and their starting pitching looks as grown-up as it did after the postseason run they went on, they'll only look at their NLCS disintegration as further motivation to win a ring this year.
They're generally going to be the same after an offseason with just minor turnover- their big move was re-signing NL home run leader, Marcell Ozuna, and they brought in Charlie Morton from the Rays to boost their rotation. MVP Freddie Freeman is back in his contract year, Ronald Acuna Jr. will look to finally get his deserved attention as a 23 year-old superstar that gets a bit overshadowed by Tatis and Soto, and Soroka could potentially return towards the end of the year. While their division might be much more difficult this year, Atlanta should still be the favorites. They've got familiarity, more depth, and know who they are: a team looking to bounce back in 2021.
AL East
Predictions:
1 Yankees
2 Blue Jays
3 Rays
4 Red Sox
5 Orioles
Baltimore Orioles
Key Additions: Freddy Galvis, Yolmer Sanchez, Felix Hernandez, Matt Harvey
Key Subtractions: Jose Iglesias, Alex Cobb, Hanser Alberto, Renato Nunez,
Strength: Hitting for average
Weakness: Lack of interest to win now
Face of the Franchise: Trey Mancini
Player to Watch: Dean Kremer
The Orioles are just darlings. They're the Pirates of the American League in shipping away all of their talent for prospects, but the difference is that they have a few more names that are already producing now! Ryan Mountcastle's debut began with nothing but doubles and and homers, Dean Kremer became the first Israeli citizen to make the majors (and he looked good in two starts!), and names that you've never even heard of like Rio Ruiz, Hanser Alberto, and Anthony Santander were knocking in runs left and right. Good job by Baltimore for over-performing! They even finished with a better record than the Boston Red Sox, who had the 4th-highest payroll in comparison to their 30th!
This season will bring the Baby Birds back to reality since it's no longer a shortened season. That means more losing. They captured our hearts for a while in 2020, but that doesn't take away that they have one of the worst rosters assembled in the league talent-wise. All they can do is hope they continue to develop their young players well, make good draft selections, and sing praises that their surefire upcoming Comeback Player of the Year Award-winner, Trey Mancini, is healthy and playing baseball again after battling colon cancer in 2020.
Boston Red Sox
Key Additions: Adam Ottavino, Kike Hernandez, Marwin Gonzalez, Garrett Richards, Franchy Cordero, Hunter Renfroe
Key Subtractions: Jackie Bradley Jr., Andrew Benintendi, Dustin Pedroia
Strength: Playing with no pressure in Boston now!
Weakness: Giving up home runs
Face of the Franchise: Xander Bogaerts
Player to Watch: Alex Verdugo
There could not have been a worse season for Red Sox fans in 2020: manager Alex Cora got dismissed, they traded Mookie Betts for "financial flexibility" and he went on to win the World Series, and they finished last and gave up approximately 30,000 homeruns while doing so (or at least it felt like it). The 4th-highest payroll in the league was suddenly far-removed from their 2018 World Series ring.
They've since moved on as a new team, though, and have a new identity: not the contending powerhouse that has the weight of the city on their shoulders, but rather a team with young, promising talent that might be competitive during their rebuild.
Cora is back as the manager, they strengthened their weakness by adding pitchers Ottavino and Richards, and they got a platoon of toolsy-hitters in Kike Hernandez, Marwin Gonzalez, and Hunter Renfroe. Getting Cora back and making a few minor free agent moves will surely make them better, but the real reason the Sox can have a positive outlook going forward is how young they've gotten in rich talent recently. They got 24 year-old Alex Verdugo in return for Mookie Betts; he will ALWAYS be linked to the trade that shipped off the MVP, but he batted .308 in 53 games last year and looks like he could have huge upside. Bobby Dalbec made his debut last year at 25 and looks like all he does is hit homers, and 22 year-old Jeter Downs, who was the prize piece in the Mookie deal, has yet to even play yet.
No, the Red Sox aren't built to field a winning team this year, but of the teams that are loading up on prospects, they might be going about it in the most well-done way possible because of their combination of talent that will get better in the future and talent to play now as well. They could be a tough out every now and then for the divisional opponents and should be better than 2020, but the green light Boston fans should be looking at is a little further down the line.
Tampa Bay Rays
Key Additions: Michael Wacha, Rich Hill, Collin McHugh, Chris Archer
Key Subtractions: Blake Snell, Charlie Morton, Hunter Renfroe, Nate Lowe
Strength: "Out-nerding" everyone else
Weakness: Striking out
Face of the Franchise: Tyler Glasnow
Player to Watch: Randy Arozarena
Had the Rays not pulled a "Rays" in Game 6 of the World Series, we could be talking about them very differently going into this year. BUT, they decided to pull Blake Snell during the game of his life in the 6th because they always hand it over to the bullpen and proceeded to lose the championship. Snell wasn't too happy about it and he's now a Padre and the rest is history!
The Rays are a smart, analytics-driven team that figures out ways to be competitive with as little money as possible by winning small trades that somehow always work in their favor, but when you trade away a former Cy Young winner and lose in the fashion that they did, where the players can point a finger at the management/coaching, that's a huge blow to the psyche of the team. Sure, they have a lot of guys that will be looking for a bounce back, including rookie Randy Arozarena, who no one had even heard of and became the best hitter of the postseason, but this could potentially be a year where some mojo is lost. Manager Kevin Cash needs to win the locker room, Tyler Glasnow needs to take the helm as the voice of the team now that Snell and Morton are gone, and they need a spark guy in their lineup to give them some heart. They'll be competitive as they always are, but the start they get off to following their World Series loss could define the direction of their season.
Toronto Blue Jays
Key Additions: George Springer, Marcus Semien, Kirby Yates, Steven Matz, Tyler Chatwood
Key Subtractions: Chase Anderson, Taijuan Walker, Ken Giles, Jonathan Villar
Strength: Home run-hitting
Weakness: Reliance on youth
Face of the Franchise: Vladimir Guerrero Jr.
Player to Watch: Nate Pearson
The Toronto/Buffalo/Dunedin Blue Jays are back! This team literally had to play their home games in a Buffalo minor league stadium where you could hit the ball out to a freeway overlooking the small field due to the COVID international protocols, and they still made the postseason last year. Given they were sort of rebuilding because of how many young top prospects they had carrying the lineup like Vladimir Guerrero Jr., Cavan Biggio, and Bo Bichette, they were a pleasant surprise that was ahead of schedule!
They'll continue to be away from their home park to start the year this season, which puts them in another minor league stadium in the city of bright lights, yes, Dunedin, Florida, and that's just another hurdle they'll have to face with subpar facilities. However, because of how promising they were last year, they made some absolute moves and look even better going into this year. They signed the prize outfielder of free agency, 2017 World Series MVP, George Springer, freeing him from the organization with the cheating stink still all over them, got a former MVP candidate Marcus Semien at shortstop from Oakland, and added a few pitchers to make up for their losses this offseason.
If the young hitters live up to their potential, the lineup will rake in the division with a lot of hitter-friendly parks; the problem will be their pitching depth. Hyun-jin Ryu and Robbie Ray might be the only consistent and reliable starters, which is going to be an issue going against pitching powerhouses like the Yankees and the Rays. 24 year-old prospect Nate Pearson threw hard and looked solid in his debut last year, but suffered from injuries and may need more time to develop going into the year. That being said, their additions outweigh their losses and they look ready to make the leap; Springer will add leadership to help develop the young guys still learning in the lineup and they're a team who was ready to spend this offseason, so they could easily make a move for some pitching help this year. They'll be close to the top of the AL East if they live up to their potential, and my bold prediction is that they leapfrog the Rays.
New York Yankees
Key Additions: Corey Kluber, Jameson Taillon, Darren O'Day, Justin Wilson
Key Subtractions: Adam Ottavino
Strength: Depth in spite of injuries
Weakness: Questions in the rotation
Face of the Franchise: Aaron Judge
Player to Watch: Jameson Taillon
The Yankees are just the safe bet to win the division. The premiere franchise in sports re-signed their hitting MVP DJ LeMahieu and added a stable full of pitching depth to put around their ace, Gerrit Cole. They're far and away the best team in the division, but somehow, with the fanciest facilities and all the pampering that comes with being a New York Yankee, no one, not even the absolute mastodons of human beings, Giancarlo Stanton or Aaron Judge, can stay healthy. It feels like every month a new player suffers a setback, which speaks volumes of how deep their roster is that they can continue to compete at the level that they do.
Their new additions going into the year will only add more question marks on their health: Luis Severino hasn't pitched since 2019 and could return from Tommy John surgery midyear, they took a flyer on Corey Kluber, who won a Cy Young twice, but he pitched ONE inning for the Rangers last year after getting injured, and former top-prospect Jameson Taillon, who they traded for from the Pirates, is looking to turn into the stud we always thought he could be after he's had to overcome battling cancer and TWO Tommy John surgeries, last pitching in 2019. The rotation is uneasy given the past, but has the potential to have one of the highest ceilings in the majors.
With health, they're one of the deepest rosters in the major leagues and World Series contenders. We haven't seen what this team is fully-capable of yet, which is scary considering how well they've overcome so many obstacles. Their depth makes them one of the favorites to come out of the American League and take the division back from Tampa.