Ronald Acuña Jr. is 23 years old.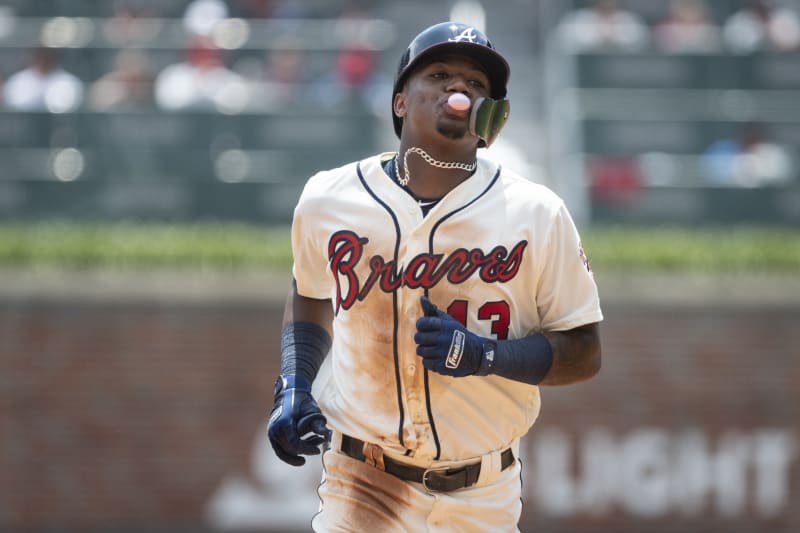 Ronald Acuña Jr. Hit 41 home runs and stole 37 bases in 2019.
Ronald Acuña Jr. won the Rookie of the Year Award and has now won the Silver Slugger Award two years in a row.
Ronald Acuña Jr. is somehow one of the most underrated players in Major League Baseball.
We're in the midst of an era where the talent in sports has never gotten better at a young age than it is now; in basketball, the players are groomed to promote their own personal brand before they're even allowed to get a drink, and the AAU system is a pipeline to go pro after just one required year of college. In hockey, the faces of the NHL, Connor McDavid, Auston Matthews, and Nathan McKinnon are all 25 and under. The NFL has reached a revolution where teams use young quarterbacks on rookie deals to build their Super Bowl-winning teams. The same thing is occurring in baseball- the stars that shine the brightest have never been performing at such a high-level at such a quick rate. It was first Bryce Harper and Mike Trout in their rookie seasons, then Juan Soto took over the Nationals at 21 and won a World Series, then Fernando Tatis Jr. set the league on fire in San Diego last year and is only 22- so the Padres handed him a $340 million 14-year extension this offseason.
Lost in the shuffle of it all is Ronald Acuña Jr. of the Atlanta Braves. Back in 2019, they gave him an 8-year, $100 million contract with team options, which now, compared to these other massive deals that are being handed out to young superstars, makes it an absolute bargain for a player of his caliber and his potential. Barring a restructuring of the deal, he's going to be gravely underpaid when he looks to his left and sees Tatis making that kind of money after having only played 143 total games.
In 2020, Acuña wasn't even the face of his own team, let alone the league. The Braves' first baseman, Freddie Freeman, won the National League MVP last year, and is the vocal clubhouse veteran leader having been with the team for over 10 years now; having spent his whole career on the team making All-Star games and winning Gold Gloves while having the off-the-field reputation that he has, he embodies the culture of the team the same way that Chipper Jones did.
Then the rest of the team is also stacked with bats and personalities that play with a similar Latin flair that Acuña has- him being from Venezuela, NL home-run leader Marcell Ozuna being Dominican, and Ozzie Albies being Curaçaoan. Their chemistry and exuberance altogether makes for one of the most exciting teams to watch- they flash their chains, they openly celebrate, and they all walk with a swagger in their step when they hit a 500-foot tank to center and get greeted with a team dance in their dugout.
While Freeman is the face of the team and Acuña makes up a part of their group of dynamic athletes, it causes him to get lumped in as merely a cog in the Braves' working clock; sure, a lot of the credit to their team success deserves to go to their depth, but it causes the general perception of excitement surrounding Acuña to be lessened in comparison to guys like Tatis or Soto, who are considered the future of the league and are going to be playing on salaries that reflect exactly that. He'll tell you confidently that the depth of the lineup that he's in is a blessing as this Braves team is looking to overcome two postseason meltdowns in a row and make the World Series, but his individual talent gets glossed over as "just another twenty-something year old phenom in the league." Maybe those postseason blunders in which they got blown out in a win-or-go-home game to the Cardinals in 2019 and then blew a 3-1 series lead in the NLCS to the Dodgers in 2020 DO contribute to why he might be overshadowed, but the Braves look poised to be in contention for a long time, and all he's doing is getting better; he became the 4th-best in walk-rate last year, his quality of contact and exit velocity has gradually increased since entering the league (more swagger-filled home runs are in the making with that stat) and he's been in the top 5% in sprint speed each season.
Being the "face of the league" does not necessarily mean "best". Mike Trout may be the best player to ever play the game down the line, but baseball certainly doesn't see him in the same way that they see Tatis Jr. or Soto, who are reaching different audiences, including those who weren't traditionally baseball fans, from the flair that they play with at such a young age and the risks they take as they carry themselves like smiling gladiators, thrilled to be playing a kid's game for a living, but possessing the eye of the tiger that wants to destroy all opposing competition.
Acuña is in that group. He hits for power and will bat flip it into the stands. He'll beat his chest with his fist after sprinting to steal a base, gold chains draped over his torso while doing so. He'll make an acrobatic dive by sacrificing his body in the outfield and rob you of an extra base hit and smile while doing so. He's only 22, and with his continuous improvement, is one of the faces of the future that will usher in the new era of fun baseball. Get used to it.