Baseball feels as if it's been in a consistent climb to market its stars and grow the game to wider audiences in comparison to the other major professional sports leagues.
---
When you're wearing helmets and are a cog in a team's system for success by getting only several at-bats a game in a lineup of nine players, or you're a pitcher who may only make one appearance per week, you don't get as much exposure as a basketball player, who is helmet-less and one of five on a court, letting their individual style fly, be it through their gameplay or things like getting a signature sneaker.
However, baseball has increasingly become filled with young talent who have the desire to get more national exposure and appeal to new audiences. Basketball has LeBron. Football has Tom Brady.
---
The MLB is such a team-oriented sport that there is a consistent back-and-forth between who holds the mantle.
Here are the ten guys who hold that title as of now.
---
10) Trevor Bauer
It may not always be for the most "positive" reasons, but Trevor Bauer dominates the baseball conversation and deserves to be on the list. Let's run a bit of a timeline for Trevor:
-2016 ALCS: cut his hand fixing a drone and caused him to miss his start
-2019: heaved a baseball from the mound over the fence in frustration when the manager wanted to take him out of the game; traded to Cincinnati 3 days later
-Entire summer of 2020: bashes Rob Manfred and the Astros for their cheating scandal and lackluster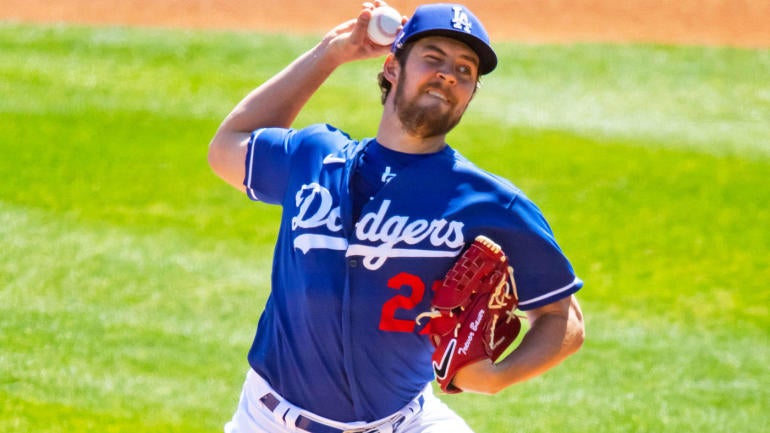 punishment on Twitter, in interviews, and on his media company, Momentum
-2020 season: wins NL Cy Young with Reds
-2021 offseason: becomes the highest-paid player in MLB by signing with the Dodgers and trolling the Mets in the process by selling fake Mets Trevor Bauer merchandise
-2021 season so far: has his baseballs pulled in the middle of a start by the league to be investigated for foreign substances
He's quite the interesting guy, I'd say.
He loves playing the role of the heel, whether it be to the league, the Astros, or the media, but he is undeniably changing the way that individual players are being covered in baseball by stealing its limelight.
---
9) Francisco Lindor
Lindor is completely charismatic in a way that causes everyone watching a game to be unable to take their eyes off of him; he plays with pure joy, he's a switch-hitter that hits for power despite only being 5'11 and 190 lbs, he turns highlight-reel-level double plays at shortstop, has hair that's been dyed from blue to blonde, to platinum, and is literally nicknamed "Mr. Smile" because of his giant grin from getting to do what he loves for a living.
But what makes him one of the faces of baseball isn't necessarily all just being a top-10 talented player in the league, but rather what he represents. The New York Mets have been a laughing stock of a franchise for on-field and off-the-field reasons since their World Series appearance in 2015, but now that Steve Cohen is by far the richest owner in the league, it feels like the dawn of a new era in New York, and Cohen going out and acquiring Francisco Lindor from Cleveland and then signing him to a 10-year, $341 million deal makes Lindor a beacon of hope.
He gets to play on the big stage now and have that smile projected all over the Big Apple. He has the opportunity to be THE franchise guy on a team that desperately wants the return of winning ways. He is undeniably someone that the world will be watching for all of the right reasons.
---
8) Clayton Kershaw
Kershaw is one of the outliers on this list because at 33 years old and in his 13th season in the majors, it feels like he's been around forever. However, at his continued success as a veteran, he's a household name that has been one of the most relevant athletes of this generation and continues to be. Unfortunately, all eyes have been on him year after year not because of how league-defining he's been, but rather his consistent postseason meltdowns after being one of the best regular-season pitchers of all time.
The media would frenzy over whether or not this would be the year he would get over the hump and perform when it counted to get a ring or continue on and be another name on the list of athletes who could never take home the hardware. He and the "cursed" Dodgers finally exercised those demons when they won the World Series in 2020, and he even went 2-0 in his starts to put to bed the "can't perform in the postseason" narrative. He may be in the twilight of his career, but as long as he's in the league as the captain of the most iconic franchises in all of sports, he'll be one of the faces of baseball.
---
7) Ronald Acuna Jr.
Acuna is only 23. He plays with swagger by walking like the biggest, baddest player on the field at all times, hits for power, dives for balls in the outfield, steals bases and has unmatched speed. His gazelle speed literally runs out routine groundouts and turns them into infield hits.
He's the spark plug, energy guy on an Atlanta team that is the young, fun team that could very well take down the Dodgers on their best day, but his coolness factor and promise for what is to come in Atlanta considering he's already good at all the five tools of baseball this early makes him must-see TV.
---
6) Bryce Harper
A few years ago, Bryce Harper would have easily been even higher on this list. Called up to the majors at only 19, essentially baseball's "LeBron James" level prodigy, he set the world on fire from the very beginning with his aggressive play, charisma, and of course, the supermodel-flowing hair. He was the youngest to ever start the MLB All-Star Game, the youngest ever unanimous MVP in 2015, and won the Homerun Derby in his own team's stadium in 2018. He also pioneered the "Make Baseball Fun Again" movement when he wore those iconic words on a hat.
But ever since signing his 13-year, $330-million deal in Philly, his individual play has still arguably improved and become more balanced, but he's fizzled out of the limelight by being on Phillies teams that have been either at or below .500 his entire time there (not to mention the Nationals won the World Series the first year after he left).
The Phillies committed to putting a winning team around Bryce when he signed because he's fully capable of carrying the team. Winning and losing aside thus far, his story arc is still just entering the Philly chapter. Whether it be his press conference statements, the bombs he hits, or the energy he brings, he's one of the most competitive figures in the league and one who defines the current state of the game.
---
5) Mike Trout
Mike Trout might be the best player to ever play the game of baseball when it's all said and done, but he may never be the FACE of baseball, and he's perfectly fine with that; he just wishes he could do some more winning. Not only does he play for the forgotten team in LA behind the Dodgers on the Angels, but he's got no playoff wins, one playoff hit, and only 4 winning seasons. He's also been trashed in the media by commissioner Rob Manfred for not putting himself out there more to market himself, as we really only know that he's a family man who loves the Philadelphia Eagles and the weather.
Mike Trout really just cares about baseball, and he's so much better at it than anyone else, that appearing in dozens of commercials doesn't even matter. The 3x MVP's play on the field does all the talking. If the Angels could only put a winning team around him- then maybe the general public would be able to fully acknowledge his greatness.
---
4) Juan Soto
Juan Soto is about to make A LOT of money soon. He's barely 22 years old, a World Series Champion, an All-MLB 1st-Teamer, and an NL Batting Champion through 3 years in the league. But what makes him such an iconic figure to the game right now is his young, playful semantics.
He already has a move coined as the "Soto Shuffle" when he sways his hips and grabs his crotch to adjust himself in the batter's box. He's got the most disciplined approach at the plate of anyone at such a young age, but that doesn't take away from his aggressiveness as he does stuff like mock the Houston Astros in the World Series, dropping his bat to pimp his homerun.
And then he has moments like where he was finally able to have his first drink when they won the whole thing since he wasn't age 21 until days prior. He's the ultimate man-child playing a kid's game, and his maturity this early means he's bound to dominate the league (and get a massive contract) for a LONG time.
---
3) Aaron Judge
After a 2017 campaign in which he won AL Rookie of the Year, the Home Run Derby, and set the rookie home run record with 52 in one season, Aaron Judge took over the most iconic franchise in baseball. Since then, it's unfortunately been a bit of a downward slope because he simply can't stay healthy and on the field. He catches fire in spurts, hitting 450+ foot moonshots and diving catches in the outfield, but then manages to find himself on the injured list right as we think he's ready to make the leap as a team leader.
That being said, he is still one of the most recognized and talked about players in the game of baseball. He's 6'7 282, a behemoth of a strong man, and until he had it fixed this offseason, had a can't-miss gap in his front teeth when he plays with that "aw shucks" grin after hitting a bomb.
The New York sports talk radio guys probably blast him day after day for having a gladiator body that breaks down like a rusty pickup, but that smile on the gentle giant who the Yanks have fallen in love with makes him a top 5 face of the MLB. All we want is for Judge to stay healthy so we can see him do what he does for a full season.
---
2) Mookie Betts
Mookie Betts pulled off a storybook-level season last year. After winning an MVP and World Series in Boston, the 7th-highest payroll in the MLB, mind you, they decided they didn't want to pay him to stay under the luxury tax, so they sent him to the Dodgers, who then signed him to a 12-year, $365 million extension as they went on to win the World Series and the Red Sox finished last in the AL East. He became the poster child for a really simple concept that a lot of MLB teams can't seem to grasp: you should pay your players that are good, and you should especially pay your players who are REALLY good. Mookie's revenge story, getting glory in just his first year in LA, where he hit bombs, stole bases and won a Gold Glove for the 5th year in a row, was so satisfying to see.
Outside of Mike Trout, he's easily the most all-around player that the game has. And when it comes to being the face of baseball, he approaches the game with humility and joy, he's a role model and has been one of the most active, outspoken advocates for social justice among the players, and he's also a PROFESSIONAL BOWLER! Mookie is a delight, and at 28, he's just entering his prime on the best team in baseball.
---
1) Fernando Tatis Jr.
It all began on Monday, August 17th, 2020, with one swing of the bat on a 3-0 count. The Padres were beating the Rangers by 7 runs in the 8th with the bases loaded, and for his second homer of the game, Fernando Tatis Jr. launched a grand slam to the opposite field, dancing in the dugout afterward. The "old men" guard of baseball that protects the unwritten rules (or in this case, the Rangers) who were LIVID that he swung on a 3-0 count when the game was pretty much out of reach were in shambles. There were angry statements, press conferences, articles, and everything in between all chastising Tatis for the swing and enjoying himself.
And we all love him for it now.
He single-handedly murdered the no-fun-league advocates with a single swing. The team became a moment known as "Slam Diego" when they had their fourth grand slam in four games. The 22-year-old shortstop with the iconic dreads, the unmistakable diving plays at a premier position, and the Silver-Slugger-winning home run swings that he joyfully celebrates with his teammates with bat-flips and choreography have changed the league to one that realizes how important showmanship is now to growing the game. He's considered to be THE future of the league as a 6'3 phenom that plays with an innocence and joy that's unmatched.
He's made the Padres, one of the biggest underdogs in sports that has consistently had to look up to the big bad Dodgers and Giants in their division, absolute darlings, and he's here to stay- he just signed a 14-year, $340-million extension.
And he hasn't even played a full-length season of games yet.
We haven't seen much of Tatis thus far this year, as he's been on the injured list to start the season, but he'll be back. And we can't wait to see more in Slam Diego.
---
Featured Image: ---