Based on everything we've been hearing, this is going to be looked at as "the quarterback draft" with 5 QBs projected to go in the top 10: Trevor Lawrence, Zach Wilson, Mac Jones, Justin Fields, and Trey Lance in one order or another.
---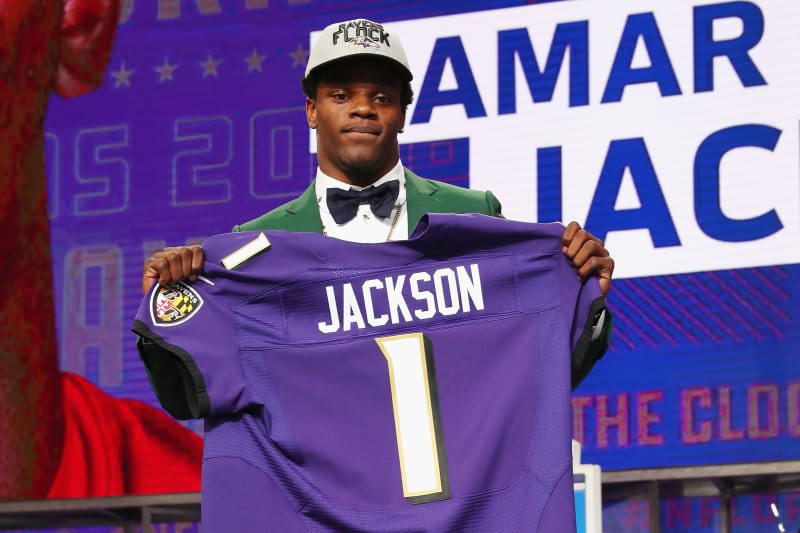 With so many teams seeing the value of a franchise quarterback playing on a rookie deal, the demand for draft positioning to be able to take a stab at turning their organization around. However, if we take a look back at some of the previous drafts, taking one with a top 5 pick doesn't guarantee success by any means.
---
Here are some examples of some blunders:
2017 // Mitchell Trubisky (#2 pick)

2016 // Jared Goff (#1), Carson Wentz (#2)

2015 // Jameis Winston (#1), Marcus Mariota (#2)

2014 // Blake Bortles (#3)

2010 // Sam Bradford (#1)

2009 // Mark Sanchez (#5)
---
In fact, most of the current faces of the league have come from unique paths to becoming the guy to lead their franchises to success. Obviously, Tom Brady is the outlier to all draft scouting whatsoever as pick #199 in the sixth round, but there are other conceivable ways to find the guy.
---
Here are some examples of the routes some current stars have taken via the draft and some candidates that could have a plausible similar path.
---
The Russell Wilson / Dak Prescott Route
In 2012, the Seattle Seahawks had just signed Matt Flynn to a 3-year deal after he lit it up for Green Bay in an irrelevant Week 17 domination of the Lions when the Packers rested Aaron Rodgers. However, going into the 2012 Draft, the two top consensus quarterbacks were Andrew Luck and Robert Griffin III, and Russell Wilson, despite being a highly-successful dual-sport college athlete who some scouts labeled "the next Drew Brees," fell so far in the draft that it was impossible for Seattle to pass up on him, and they took him with the 75th pick in the third round. It was all purely because Russ was 5'11- deemed "undersized."
Fast forward to 2016: Dak Prescott was taken 135th overall in the 4th round by the Dallas Cowboys, the eighth quarterback selected in the draft, purely because the Cowboys needed some insurance in the backup department behind their franchise guy, Tony Romo. Dak led Mississippi State to their first #1 ranking in their program's history in 2014 and was a consistent winner, but with criticisms of his physical mechanics and having unspectacular grades during combine testing, his collegiate success was completely forgotten and led to his fall.
As other teams drafted names like Brandon Weeden, Brock Osweiler, Paxton Lynch, Christian Hackenberg, Cody Kessler, and Connor Cook ahead of them in their draft classes, both Prescott and Wilson went into their jobs not even expecting to be the starter on their own team, and won the competition and never looked back.
Potential Similar Routes
While the "big five" names in the draft aren't expected to fall out of the top 10, there are a few other quarterbacks that could still be drafted relatively high by a team just needing some insurance. Kellen Mond out of Texas A&M could fall due to some inconsistency in college; Kyle Trask out of Florida played great, but cynics will tell you that he's relatively immobile and had the benefit of throwing to two top receiving targets in the country, and Davis Mills out of Stanford was a top prospect that suffered last year by testing positive for COVID.
Any of these prospects will certainly slide but could still potentially land in a spot with a potential to play despite projecting as backups. There are some teams with complete rosters who could still take a quarterback outside of that top 10 range, just as Dallas and Seattle took Prescott and Wilson years back.
Say one of them shocks the coaching staff in Chicago and beats out Andy Dalton, a backup in Dallas last year. Maybe Pittsburgh or Washington drafts for some insurance behind their quarterbacks Ben Roethlisberger and Ryan Fitzpatrick; you never expect to see an injury, but they're 39 and 38 years old playing a violent sport, and if something were to happen, they would definitely need someone to step in. Don't rule out someone with no starting expectations getting opportunities in 2021.
---
The Patrick Mahomes Route
We now know him as the Super Bowl Champion and MVP with the largest contract an American athlete has ever signed in history, but before then, 9 teams passed up on him as he went 10th overall in the 2017 draft. Coming out of college, there was a consensus amongst team scouts that his impressive stats might not actually be "real" given he played in the Big 12, where defense essentially doesn't exist, he was largely reliant upon his college play style, and he had a 16-21 record at Texas Tech, leading to him falling (and Trubisky being picked before him at #2).
The rocket arm and potential ceiling was too good to pass up for the Chiefs, and they traded up 17 spots to take him despite already having one of the most-steady Pro Bowl quarterbacks in Alex Smith. He was in the perfect spot: on a playoff team with an innovative offense learning from one of the best mentors in the sport. Smith was traded the following season, paving the way for Mahomes to take over the franchise, and the rest is history.
Potential Similar Routes
Whether they decide to take a quarterback at #4 or not, Atlanta is an obvious contender for a path similar to the one the Chiefs took with Smith and Mahomes. They've got Matt Ryan for at least another year, given his expensive contract, and the 35-year-old former MVP would be the perfect teacher for the successor in Atlanta. Trey Lance has been regarded as "raw" and needs a year to develop, and Justin Fields is from the Georgia area and would be a great fit. Still, even if they decide to pass and take a quarterback later in the draft, the Falcons will be looking to rebuild soon enough.
Another candidate? The reigning Super Bowl champion Buccaneers. Brady might be playing for the next several years if he continues at this pace, but if I'm Tampa Bay, I want a young prospect learning under the greatest of all-time for as long as possible.
---
The Jimmy Garoppolo Route
Speaking of which, that's exactly what the Patriots did in 2014, taking Jimmy G with the 62nd pick in the 2nd round to have him as an understudy. The only problem was that the Pats had no idea Brady would be playing this well this long… He essentially held a clipboard and took notes from Tom for three whole years, and when it was rumored that Brady wanted Jimmy out of the building, he was eventually dealt to the 49ers in October of 2017; Belichick was reportedly furious.
Jimmy has been solid when he hasn't been injured, and even though he won't receive credit for it, he ultimately quarterbacked them to a Super Bowl appearance.
Potential Similar Routes
I bring Jimmy's case up for one specific suitor: Jordan Love. Last year, the Packers traded UP for Love to be Aaron Rodgers's successor rather than draft a weapon to get him a ring, and he made it clear he wasn't very happy about that. There wasn't really anything Green Bay could say or do, though, since he went out and won the MVP last year and looks better than ever. He may be 37, but he is THE guy in Green Bay, and if the front office were to move on from him for Love before he wants to, that would not sit well with the fans.
That might mean extending Rodgers, making him a Packer for life, and having to cash in on the unknown commodity in Love while he's still on a rookie deal; Love can't be a backup forever. Maybe there's a team with a young, talented roster that loses hope mid-year and wants to take a flyer with a trade if they can't get tank realistically for the top pick; say, Drew Lock, Jalen Hurts, or Cam Newton show that they don't have it- they could easily give up some draft capital to get Love in the building.
---
The Lamar Jackson / Justin Herbert Route
Both were quarterbacks coming off of incredibly successful collegiate careers. Lamar Jackson won the Heisman in 2016 and essentially broke every school record at Louisville, while Justin Herbert was a 3-time Academic All-American and the MVP of a Rose Bowl victory his senior year at Oregon. And still, they both managed to fall out of the top 5 in the draft because of seemingly irrelevant scouting analysis; Lamar went 32nd overall in 2018 as the Ravens traded into the last pick of the first round to pick him up, and Herbert was the third quarterback taken at 6th overall last year.
The scouts, most notably Bill Polian, criticized Lamar and said that he should switch positions to the receiver because he was too small and shifty for his play to translate into the NFL. He also decided to employ his mom as his representative rather than his agent, which for some reason didn't sit well with teams. And, of course, there is the unfortunate and seemingly the ever-present elephant in the room: he's a black quarterback.
Justin Herbert also received non-football-related criticisms ahead of his draft. Just because he was an introverted bookworm who had grown up and gone to school in the same area his whole life, he was thought of as an unfit vocal leader. He was also noted as "quirky" or that he could be "too tall."
None of these related to their skill or play whatsoever. It's almost as if the teams were looking for reasons to pass upon them, and they ended up missing an opportunity at an MVP-winner and a Rookie of the Year.
Potential Similar Routes
As more and more time on analysts' hands creates more time to manufacture speculation, we're already seeing irrelevant criticisms surrounding quarterbacks; Trevor Lawrence is not going to slip out of the #1 spot, but he made one quote where he stated he doesn't play with anything to prove; suddenly the media is questioning whether or not he loves football. He has nothing to prove because he's already the most highly-touted prospect since Elway with a successful college career, not because he doesn't love football. The man was largely responsible for the "#WeWantToPlay" petition that many players posted on social media when there was the potential for the season getting canceled from COVID. He loves football.
This year, the burden falls upon Justin Fields. He led Ohio State to the National Championship game last season and was the #2 prospect coming out of high school, but Ohio State has a bad track record of quarterbacks translating to the NFL because of their schematics, and some have said he has a "last one in, first one out" work ethic, which his coaches have refuted given that no scouts were allowed into their training facilities all year; and that #WeWantToPlay petition was STARTED by Fields. As Mac Jones out of Alabama and Zach Wilson have reportedly passed up Fields in many mock drafts, all of this feels like the same sort of conversation that Lamar and Herbert bore the burden of. That might mean he slips to a team that's better suited to win now if he falls.
---
These just examples just go to show that it doesn't necessarily take a top 5 draft pick to change the future of your franchise by landing a quarterback.
The NFL is a wild ride.
---
Featured Image: ---