---
It's been wildly entertaining to see the sponsorship/promotional deals- we've seen some of the most unlikely pairings, such as a 360-pound offensive lineman promoting beautiful and intricate candles, to the perfect combinations, like a southern quarterback from Auburn literally named Bo Nix getting a deal with Milo's Sweet Tea.
---
Ahead of the 2021 college football season that is merely weeks away, here are the perfect deals that should be made to match some of the most iconic programs.
---
Alabama Crimson Tide // Little Debbie
According to an interview with GQ, Nick Saban apparently came out and said that he has no time to decide what to eat for breakfast, so he eats two Little Debbie Oatmeal Creme Pies every single day.
That's psychotic behavior, but it might take psychotic behavior to be the best coach the sport has ever seen with a program that has won 6 national titles since 2009.
One could also say their consistency embodies Little Debbie. They're the constant warm blanket of foods that raised and nurtured us in our childhood. You could always rely on a Little Debbie, just as you can always rely on Nick Saban screaming and throwing a headset on the sidelines on his way to another College Football Playoff appearance.
---
Michigan Wolverines // Prudential Life Insurance
This summer, Michigan Head Coach Jim Harbaugh, who has never beaten their dreaded rival, Ohio State, said this summer, "We're gonna do it or die trying."
Ohio State is a preseason top-5 team once again and won a whopping 2 games last year.
If you're at Michigan, you might want to start getting some life insurance before their matchup in November.
---
Ohio State Buckeyes // Ford
Ohio State operates like Ford in that it's just an assembly line of talent, which Henry Ford popularized, that seems to be the exact same team every year in their system: a recruiting powerhouse with a rotation of dynamic quarterbacks and skill position players dominating the Big Ten.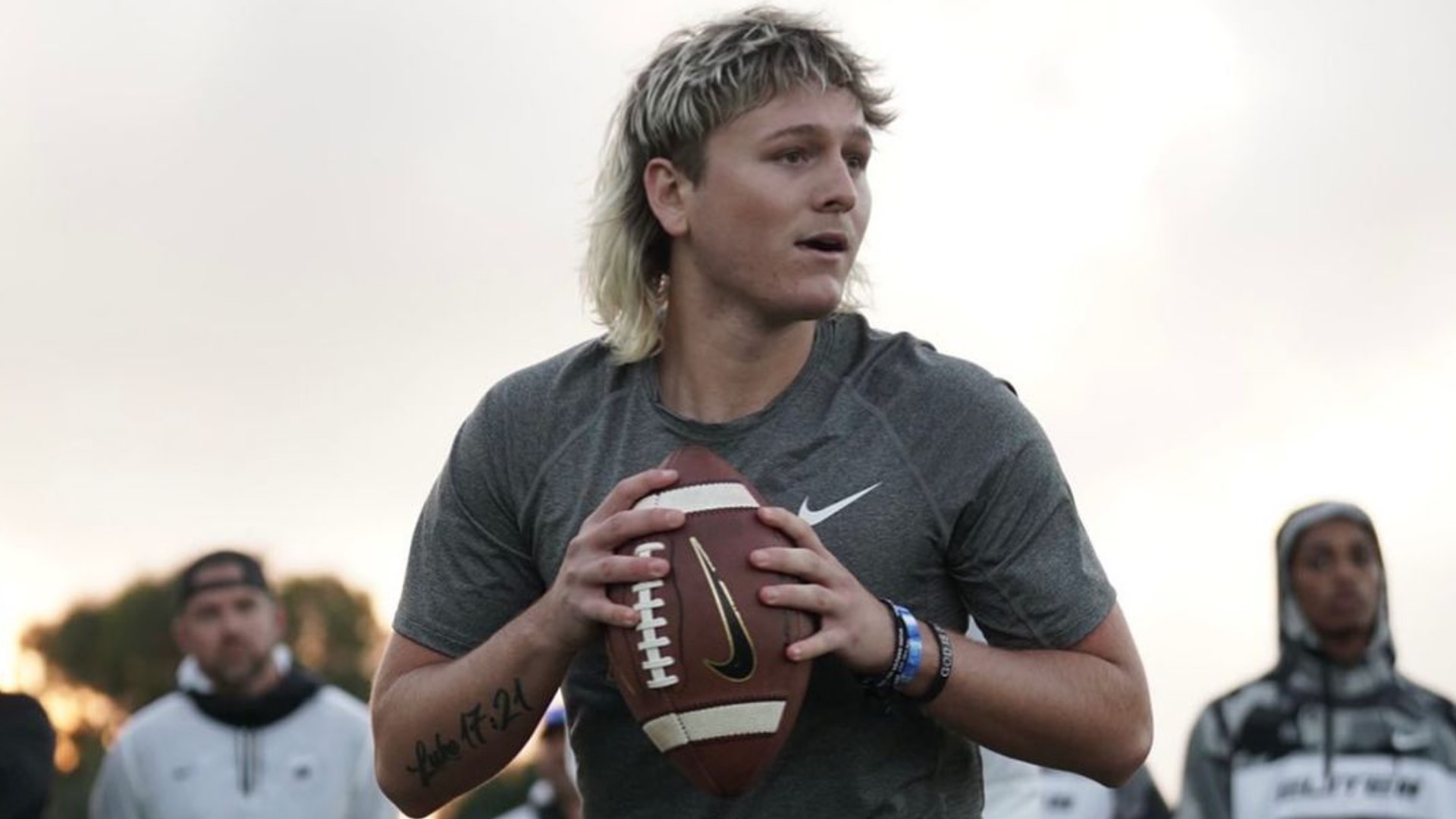 They lost Urban Meyer, and Ryan Day came in and steered the ship the exact same way. They literally won the title game with their third-string quarterback in 2014 because of their methodical operation. Now, they're back at that state of the embarrassment of riches with two five star quarterbacks and two four stars on their roster that could all potentially be starters, including Quinn Ewers, who accelerated through his senior year of high school to go make the big NIL money and be the next blonde-mulleted Trevor Lawrence.
But much like many "car-people" refer to Ford as an acronym for "Found On Road Dead" because the assembly line makes it cheaply made, Ohio State is a machine that often can just be good enough to eventually lose to Alabama or Clemson.
---
Notre Dame Fighting Irish // Uber
Uber will take you to your destination. Notre Dame has had that capability of getting to the destination with three Championship/Playoff appearances since 2013.
They just don't actually do anything else other than show up when they're there, losing 42-14, 30-3, and 31-14.
---
Clemson Tigers // Ziprecruiter.com
Seven years ago, Clemson coach Dabo Swinney said that if players began to earn money and college athletics was therefore professionalized; he would probably go do something else, saying there was enough entitlement in this world as it is.
Well… it's 2021, and now with the new NIL rules, there are Clemson players doing commercials for Dr. Pepper and getting money from Bojangles, amongst other things.
Maybe Dabo heads over to Ziprecruiter on a job search now to take his services elsewhere…
---
Georgia Bulldogs // Chick-fil-A
Even founded in Georgia, Chick-fil-A is the model of consistency and reliability when it comes to American fast-food chains. They say "my pleasure" without fail every time, they rarely, if ever, will mess up your order, you will pretty much always get efficient customer service no matter how busy it is, and it's always closed on Sundays.
Georgia football under coach Kirby Smart is similar. They're efficient enough to win any game on their schedule no matter how tough the SEC is… with one exception.
Their "Sunday" that they're always closed for is when they play Alabama. They've lost 6 in a row and will never forget the 2018 National Championship 13-point blown lead.
---
Oklahoma Sooners // Moon Shoes
Remember the iconic Moon Shoes, the Nickelodeon toy that was mini trampolines for your feet??
Oklahoma needs a trampoline to make the leap. They've made the College Football Playoff 4 out of the 7 years and haven't gotten a single win despite having some of the most efficient offenses in the country led by Baker Mayfield, Kyler Murray, Jalen Hurts, and Ceedee Lamb, all Heisman candidates or winners. They've never had a solid defense, but now they're the #2 ranked team in the preseason AP Poll and have a chance to go where they've never gone before.
(Also… soon enough, they'll be moon-shoeing their way out of the Big 12 and into the SEC.)
---
Texas Longhorns // Chili's
What do the Texas Longhorns have in common with one of the largest chain restaurants in the United States, you might ask?
They both like one particular word A LOT: "back."
We all know the iconic Chili's commercial "I want my baby-back-baby-back-baby-back ribs," just as well as we know the yearly declaration, "Texas football is BACK!" the moment something goes well at the beginning of the year, only for them to finish with 3-7 losses every year since 2009. We're still waiting for Texas.
---
Featured Image: Tristan Thornburgh/Bleacher Report