Welcome to Week 1 of the 2021-2022 NFL Season.
Football is finally back!
---
I do not count preseason as being back! If this is the first time reading one of my articles, welcome to my weekly picks blog!
---
Each week I will give you guys' predictions for every game in the NFL that week.
I will be giving predictions in three ways: Straight up (Picking the winner of the game), ATS (Against the Spread), and Over/Under of the total.
---
Then, I will give my 3 best bets every week in more depth, which will only be ATS. One of them will be my Greene Guarantee of the week.
---
So without further ado, let's get into it!
---
Best Bets for Week 1
1) San Francisco 49ers (-7.5) @ Detroit Lions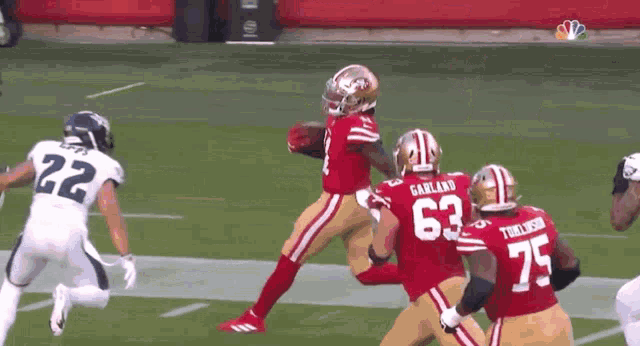 It is year 6 for Kyle Shannahan, and to me, the seat is much hotter than most people think. In 5 years as the 49ers Head Coach, the team has made the playoffs once during his tenure sporting a record of 29-35. With Vegas setting the O/U win total at 11.5, there are lofty expectations in the tech capital of the US. This is a game where they can really get off to a good start.
The Lions have gone through a complete overhaul with new HC Dan Campell, including the QB position with Jared Goff at the helm. The 49ers in almost every position have the advantage, and the only reason the spread for this game isn't double digits is because of the uncertainty of who is going to start at QB for the 49ers, and the game is on the road. The 49ers have the better offense, defense, and coaching staff, and I think Vegas missed the mark on this spread.
San Francisco is 7-3 in their last 10 week 1 matchup and 5-2 ATS in their last 7 games in September, while the under is 7-0 in their last 7 week 1 matchup. Detroit is 7-3 ATS in their last 10 September games and 5-11 ATS in their last 16 games played on the turf, while the over is 6-2 in their last 8 games as an underdog.
While the number looks enticing to go with the home dog, remember that this is a new era for Lions football with no Matt Stafford; give me the 49ers with an easy victory in Week 1.
49ers 30 Lions 17
---
2) Washington Football Team (+1) vs. Los Angeles Chargers
This is a classic game of fading the public. Everybody, and I mean everybody, is all over 2nd-year sensation and Offensive Rookie of the year Justin Herbert. While his talent is undeniable, he is actually top 3 in bet% for the MVP this year. Let's say he will have a rough start to the year because this Washington defense is elite.
Last year, the Football team was 2nd in yards allowed per game at 304.6, 2nd in passing yards per game at 191.8, and 4th in points allowed per game at 20.6. At the same time, the Chargers have a lot of talent that was hurt last year coming back, like Joey Bosa and Derwin James. New Head Coach Brandon Staley isn't going to be able to fix a middle-of-the-pack defense last year by week 1. Washington is 6-2 ATS in their last 8 games overall and 5-1 ATS in their last 6 games as an underdog, while the under is 6-1 in their last 7 home games.
A lackluster offense should begin with gunslinger Ryan Fitzpatrick listed as QB 1 on the depth chart. Over the years, we have seen plenty of FitzMagic moments, and I think we get another one in week 1.
Washington Football Team 23 Chargers 20
---
3) New York Giants (+3) vs. Denver Broncos (Greene's Guarantee)
If you have read any of the previous blogs, you would know I am all over this Giants team this year, and I have them winning the NFC East. That's how much I like them. Well, the underdog story starts in week 1 vs. the Broncos. Both these teams are very similar. Each team has an absurd amount of talent on both sides of the ball yet aren't super bowl contenders because of their QB situation.
For the Giants, Joe Judge has chosen to stick with Daniel Jones while the Broncos have moved on from the Drew Lock era and have chosen journeyman Teddy Bridgwater as the starting QB. When the lines first came out, the Broncos were actually a 1pt favorite, but Vegas has up the line to 3 points since the QB switch. Big mistake, in my opinion. The Broncos are 2-6 ATS in their last 8 games as a favorite. The Giants are 6-17-1 ATS in their last 24 home games and 5-11 ATS in their last 16 games in September.
Those statistics are not helping my case for the Giants, but with a healthy Saquon and adding Kenny Golladay, Daniel Jones should have enough weapons to get the job done at home. Please give me the better Head Coach at home like a dog with both teams very similar in talent. I guarantee it.
Giants 21 Broncos 17
---
---
Featured Image: ---