I'm sure there are somewhat valid reasons for years past preventing those who are not die-hards or are merely NFL fans from investing in the sport. Throughout the Playoff's existence, it's been a sport dominated by 4-5 schools with a severe lack of parity. Every year except 2015 has had a minimum of 3 of the following schools out of the 4 spots: Alabama, Ohio State, Clemson, and Oklahoma. If you're not in the chosen elite, you're pretty much out of the dance with a bad loss. You don't get the benefit of the doubt that ol' Slick Nick Saban gets in Tuscaloosa if the Tide drops a game.
Even those that followed in the past may have fallen off the wagon last year after the COVID-ridden season was odd, with practically every school playing a different amount of games with cancellations left and right. There were Pac-12 schools that played a total of 4 games last year. The season was incredibly challenging to invest in.
Now, I am pleading with you: please follow college football this season.
This has the potential to be one of the most entertaining reality TV shows in the sport's history, and there are countless reasons why.
THE POWERHOUSES MIGHT ACTUALLY BE BEATABLE THIS YEAR
With fewer upperclassmen declaring for the NFL Draft last year unless they were at one of the "chosen elite" schools that we always see competing for titles and churning out all of the top draft picks like factories, there isn't nearly as big a gap between the top and the middle-class. There are more schools that could easily challenge the top of the pyramid! Schools that normally fall flat on their faces when they try look as if they could seriously have a chance to sneak their way into the playoff this year. Penn State, Michigan, and Iowa normally fall flat on their faces in the Big 10- they've all looked really impressive so far!! The Pac-12 normally is completely disrespected on a national scale being out west and generally not having any top-tier competitors- Oregon has already beaten Ohio State to get that respect!!
On top of better competition, some of the usual suspects of the playoff's past- Ohio State, Clemson, Notre Dame, LSU, and Oklahoma, have all either lost already or have looked incredibly pedestrian and milquetoast in games that they've supposed to wipe the floor with the competition.
We could easily get new blood this year as opposed to writing off your team's season after one loss.
THE SEC MIGHT ACTUALLY BE ABLE TO CHALLENGE BAMA
Alabama is in the midst of one of the greatest dynasties in the history of collegiate or professional sports- 6 titles since 2009 and they've been in every single College Football Playoff outside of 2019, when their quarterback went down with history. They're the Death Star if the opposing Rebels didn't actually have Star Wars ships and had to fight the Dark Side with American Airlines planes.
However, this year they've sort of looked.. Vulnerable?
After having maybe the best overall season in history last year, they lost a lot of their talent to the NFL Draft (as usual) and now have a true freshman quarterback, Bryce Young. In their game at #11 Florida, they jumped out to an early 21-3 lead, but Florida did what no team EVER does against Alabama: they got off of the mat and fought back. They still lost 31-29, but usually Alabama just curb stomps the other team in the second half and it's not a competition.
The rest of the SEC, meanwhile, is filled with hungry challengers. #2 Georgia has a brick wall for a defense and looks like it might not ever give up another point this year. #8 Arkansas for some reason can't stop winning with their big boys!!! #15 Texas A&M has the "Jimbo Fisher swag" where he openly has said he wants to (cover your ears, kids) "beat his ass." Lane Kiffen, Nick Saban's former assistant who got yelled at by the man on a national stage on the sidelines, is now at #13 Ole Miss, where he tries to score a million points a game on the ultimate muscle-flexing tour to show Saban he's ready for him when they go to Tuscaloosa next week. The SEC is a gauntlet, as usual.
THE COMEDIC MELTDOWNS MAKE IT INCREDIBLE
It feels like the sport with the most embarrassing, meme-worthy viral moments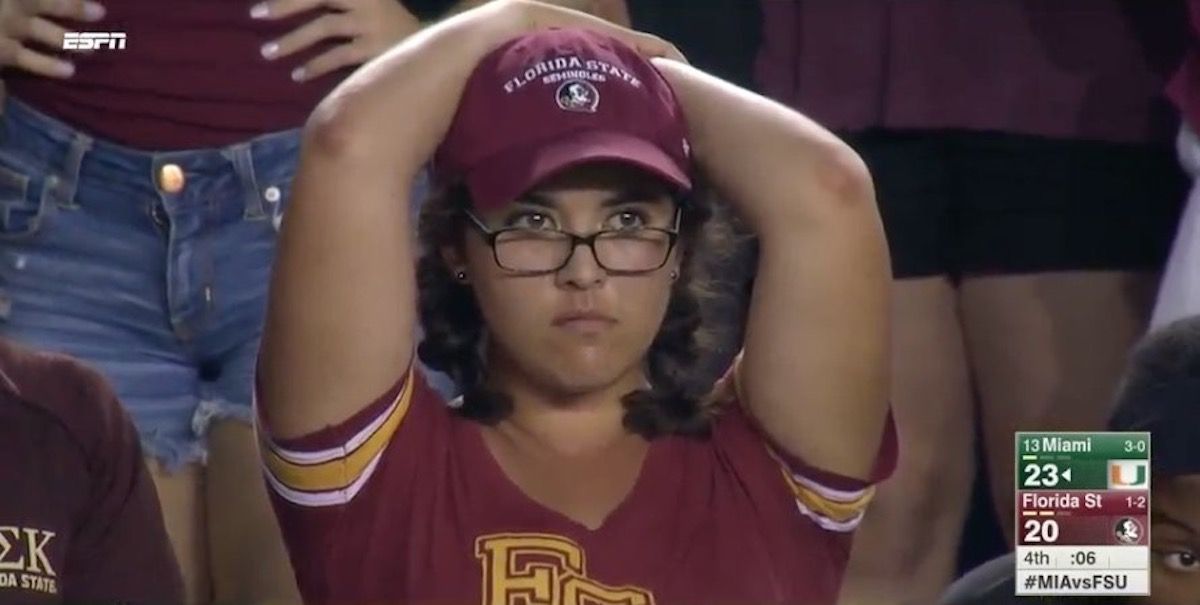 of any sport when a team melts down, and it is glorious. There are college kids in stands going full "surrender cobra" pose in the stands after Florida State allows a Hail Mary last-second touchdown to Jacksonville State. There are husky old coaches standing on the sidelines making a dumb, thoughtless face when they can't comprehend how they blew a lead. There are sorority girls openly crying. THIS is pageantry. It's an alternate dimension. Join us, and let it fill your senses with cascading tears and laughs and internet fodder for a lifetime.
YOU'RE GONNA SEE A LOT OF THESE GUYS ON COMMERCIALS PRETTY SOON
The Name Image and Likeness rules have changed, and now collegiate athletes can make money by doing product promotions, and they've hit the ground running. There are 300 pound linemen promoting therapeutic candles. There are southern quarterbacks promoting chain fried chicken places. Bryce Young, Alabama's quarterback, is said to have already made over a million dollars in NIL money. The point is, you're going to be seeing their faces on your TV a lot more. Get used to them and get to know them.
It's a world where you can argue about nothing for hours on end. It's a sport that is touting some of the most-balanced, advanced talent we've seen in what feels like forever. It's a reality show with characters that deserves your complete attention, be it you're an NFL fan, casual observer, or on the outside looking in. College football has never been more entertaining.
WATCHABILITY CHEAT SHEET:
Fun Offenses: Ole Miss, Oregon, Ohio State, Florida, Maryland, Pitt
Fun Defenses: Georgia, Notre Dame, Iowa, Wisconsin, Arkansas, Cincinnati
Fun Quarterback Play: North Carolina, Liberty, Ole Miss, Arizona State, Fresno State