October is this week- it's officially spooky season. Many of us will be decorating our houses, getting our costumes, and watching scary movies in preparation for Halloween on the 31st.
Quite possibly the most-infamous Halloween monster is Michael Myers from the Halloween slasher franchise. We don't know much about Myers other than he wears the scary mask, kills every dumb person in sight on Halloween night, and he's virtually un-killable. Every time Jamie Lee Curtis pulls out the shotgun and gives him what we think are the blows that will finally end him.. Only for him to disappear off screen and a sequel movie comes out, and he gets right back to killing.
The thing is, we all collectively watch that story every Sunday, and we have for the past several years. Every time we think Derrick "King" Henry is dead, unable to produce like the absolute monster that he is on the field, he puts the mask on again and goes on another killing spree.
The Titans offensive scheme differs entirely from the way the league is going. Passing and play-action rates are at an all-time high, with yardage and attempt records on pace to be shattered by our golden age of quarterbacks. Tennessee has been able to put up points and compete as a playoff team the past several seasons, but their engine runs entirely through pounding the rock with their bruiser running back. Henry has led the league in rushing attempts the past several seasons, putting miles on those legs, but it's the way he does it that is so physically impressive. He bounces off defenders with his pure muscle of a 6'3 238 pound build and thrusts them into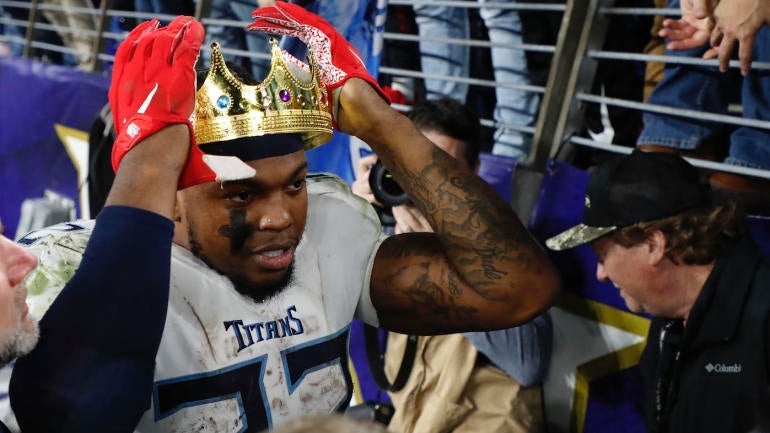 a different dimension with a bullying stiff-arm. He led the league with 1353 yards after contact last season in which he ran for over 2000 yards and was second with 967 the previous year.
So, when you run that often for that many yards in a style where you take a pounding every carry, how do you keep it up? Really, the answer is, you don't. The shelf lives of running backs have gone down tremendously over the years, which is why the "should you pay your bell cow running back a massive second contract" debate exists. It's a dangerous game paying a position that is so easily replaceable and has had so many massive names fall from grace so quickly from the amount of hits they take.
So, naturally, after the 2019 season when he won the rushing title, going into the year, we all assumed he would regress and that the 4-year, $50-million extension was a huge mistake on Tennessee's part. He would be bound to break down in the back half of that deal.
Then, in 2020, he won Offensive Player of the Year and ran for over 2,000 yards, proving us wrong again. The talk surrounding Henry thus far had been the same conversation on top of losing Titans offensive coordinator Arthur Smith, who now coaches the Falcons and was a major part in creating an offense to maximize Henry. He had an off game week 1 in the Titans loss against the Cardinals, and everyone wanted to play the "AHA! Gotcha! Derrick Henry has finally fallen off!"
Henry followed it up by rushing for 182 yards and 3 TD's in their win against the Seahawks the following week and 113 yards in their win against the Colts the next. He's still doing it.
There's a scene in the most recent Halloween movie where Mike Myers, after having escaped prison, takes a good long look at his mask in the trunk of a car, ready to get right back to his killing spree as if nothing's changed.
Derrick Henry does the exact same thing lacing up his cleats every week in the locker room.