Ten weeks into the NFL betting season, trends have formed on what teams and players are typically the first to score during a game.
---
Bookies.com tracked the NFL during those first 10 weeks to gather information on what teams and players have scored first.
After tracking each game, we analyzed each category to determine the trends on these popular NFL props.
---
So, how should you attack the last eight weeks of the season?
Hopefully, these trends will point you toward what might be a good First Touchdown bet at betting apps moving forward.
---
NFL Teams Scoring First – Most & Least Often
---
While the average NFL team has found itself scoring first in half of its games, a few teams have trended toward being a constant favorite to score first. In their 10 games this season, the Arizona Cardinals have scored first in eight of those contests. This is obviously no surprise, as the Cardinals are tied for the best overall record this season at 8-2 with the Titans and Packers. It also isn't a shock to see top offensive teams such as the Bills, Chargers, and Buccaneers toward the top of the list of teams that score first.
The most surprising finding from gathering this information? The 4-5 Vikings are tied for second by scoring first in 7 of their 9 games. So, how do they find themselves down in the NFC playoff race? Probably due to the fact that Minnesota has played in eight one-score games this season. Head coach Mike Zimmer and the Vikings have struggled to just close out games after leading a majority of their games early. Five of the top 11 teams are either at or below .500 through Week 10.
While the top teams that have scored first had a few surprises, the NFL teams that have scored first the least in 2021 are a familiar cast of flailing characters. Out of the six teams listed above, four have a combined five wins this year. The Jets, Jaguars, Lions, and Texans have been some of the worst teams in the NFL this year and will consistently be heavy underdogs as the First Team to Score a Touchdown across all sportsbooks.
---
Which NFL Players Have Scored First Most This Season?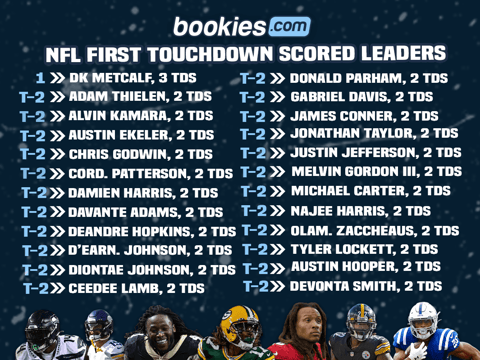 ---
Russell Wilson has locked on to his top target early in games this year, as Seattle Seahawks wide receiver DK Metcalf leads the NFL with the most touchdowns scored first in games (3 TDs). While Metcalf typically has the top-3 NFL odds to score first in a game, he has been a solid choice – but is he worth it value-wise?
As an example, if you were to have bet $10 on DK Metcalf to score first this past Sunday vs. the Packers, you would have made $80 at +800 odds on DraftKings Sportsbook. Over Seattle's nine games, you would have made $180 if you bet $10 on DK Metcalf to score first in every game if his odds were consistent at +800.
After the top spot, 23 different players have scored twice as the first scorer in a game this year. While most of the names won't shock you, the appearance of Chargers backup TE Donald Parham Jr., Bills projected fourth WR Gabriel Davis and Falcons WR Olamide Zacchaeus on the list was not expected.
After seeing names like this, it shows the volatility of betting on this prop every week. While there may be consistent 1st TD production from top receivers and starting running backs, don't be surprised when a low-profile player steals one from your bet slip. For example, the Bills Defense had better odds of scoring the first touchdown than Gabriel Davis this weekend against the Jets – even though Davis has done it twice.
One potential trend that could work in the future weeks is to target teams that have structured target share in the red zone. Based on the season so far, teams such as the Vikings have four first touchdowns scored by top wide receivers Adam Thielen and Justin Jefferson – who have significant red-zone targets in 2021.
---
Methodology
Bookies.com tracked the NFL during the first 10 weeks of the 2021 season to gather information on what teams and players have scored first during each NFL game.
After tracking each game, we analyzed each category to establish trends on how each NFL team and player have performed on these popular betting props.
---
Featured Image: Bookies.com