As the holiday season nears, we're all shuffling to buy presents for our loved ones, friends, or acquaintances in reflection of the year. In that same celebratory vein, let's take a look at the presents that the NFL season has given us thus far. Who is what gift under the tree this season?
Lottery/Scratch-off tickets- Derrick Henry, Tennessee Titans Running back
If you get lottery tickets for Christmas from someone, maybe a relative as a playful stocking stuffer, it's merely a gamble that they hope can turn into a miracle for you. It's a lost cause if it doesn't work out, but it's just a shot in the dark on the holiday!
The Tennessee Titans are hoping for that miracle with Derrick Henry.
Henry broke his foot and had to have surgery that would knock him out for the majority of the year, but he's working to hopefully return in time for the playoffs for a run. The Titans are 2-3 since his injury, are 9-5 on the year, and still have the lead in their division.
However, to make a run at the Super Bowl, Henry is that lottery ticket you're just hoping is a miracle in his return. He'll have little time to adjust and get game reps before crunch time in the season, so he'll likely not be the normal Derrick Henry that was the heart and soul of the Titans team when they looked dominant to start the year. Without him, or even Henry operating at a compromised level, the ultimate goal is a lost cause. The most points they've been able to put up in his absence has been 23, which won't be able to stand up to the high-powered offenses in the AFC. They're just hoping they have a winning ticket in his return at this point in the big picture.
A Red Ryder BB Gun- Justin Herbert, Los Angeles Chargers QB
The iconic item at the top of the wishlist for Ralphie in A Christmas Story, deemed too dangerous by his parents, no matter how cool it was. "You'll shoot your eye out, kid."
Justin Herbert is that cool BB Gun. The problem? His own play-caller is the one that thinks he's too dangerous. When the Chargers' offense is at their best, it's when he's let loose and able to throw rocket passes down the field and be Justin Herbert, the human rifle that he is. He threw a 65-yard TD bomb on the run against the Giants that went viral as the second-longest completion of the year, and he's fourth in air yards on the season. However, there have been moments where his play-calling has been far too conservative, almost as if they're holding him back by forcing him to throw midrange passes and dump-off screens, because he's actually 25th in Intended Air Yards per pass attempt at only 7.3. Head coach Brandon Staley has been known to be aggressive by going for it on fourth downs, but the drives where they need to score in critical possessions would benefit from letting Herbert throw the ball down the field more often as opposed to just playing out the downs. There are multiple ways to be aggressive.
Staley needs to get over the fear of shooting his eye out. Let Herbert shoot.
A Candle- Tom Brady, Tampa Bay Buccaneers QB
Any time you're unsure about what to get someone, whether it be your aunt or a coworker or a distant relative, what's the one gift that has never let anyone down? A candle. It's always there. It's the safety net move that will always be reliable because no one will turn them down. No one is going to be opposed to getting something that livens up the atmosphere and looks elegant on a shelf while doing so.
Tom Brady is as constant as giving candles for Christmas. He is old and reliable. He will seemingly never end. He's 44 and still leading one of the Super Bowl favorite teams for the second straight year and could easily win another MVP this season on his consistency alone, but he's also leading in passing yards and touchdowns as the Bucs look poised to make another Super Bowl run.
You can never go wrong with buying a candle, just like you can always find safety in betting on Tom Brady being as great as he is, no matter his age, team or circumstance.
The Car Keys Wrapped in a Small Box- Arizona Cardinals
You don't expect a "big gift" from such a small box wrapped under the tree, but in those corny car commercials, they always open the tiny box revealing keys, go outside, and see the reality of their gift: a brand new Hyundai with a colossal red bow on the hood! Boy, the small box sure fooled me!
That's been the epitome of the Arizona Cardinals season. Going into the year, the NFC West was viewed as the most loaded division in the NFL, but the Cardinals were seen as the weak link of the four; they're a young team almost entirely dependent upon Kyler Murray with a coach reportedly already on the hot seat after two years of overly-conservative offense. After their 7-0 start, it still wasn't perceived as much by the masses- potentially just a flash in the pan to start the year that would eventually even itself out when other teams would rise to the top. The Cardinals also don't necessarily have that historical pedigree or home field advantage that makes them intimidating.
We're 13 games in, and they still are very real. They're 10-4, tied for the lead in the division, and they've proven they're a complete team by winning even in Kyler Murray's absence. The defense headlined by Budda Baker and Chandler Jones is fourth in total points allowed, and don't let the "dome team" stigma make them appear soft- they've won every road game by double-digits.
They may look like a minuscule box under the tree. Come playoff time, they might be the car with the big bow outside.
A New Tool Set- Indianapolis Colts
Upon receiving a tool set, it's practical. It's not flashy. You may think to yourself, "really? I guess I'll just stick this in the garage and come back to it at some point. I was hoping for that video game I asked for or something fun." Time will pass, and you will be enlightened. It will come up in the most clutch and critical spot when you need to fix an emergency as you are wiser. Whatever hammer or screwdriver you needed when you spent hours fumbling with an IKEA bookshelf will be there for you. You will see the value, and the gift gets better over time.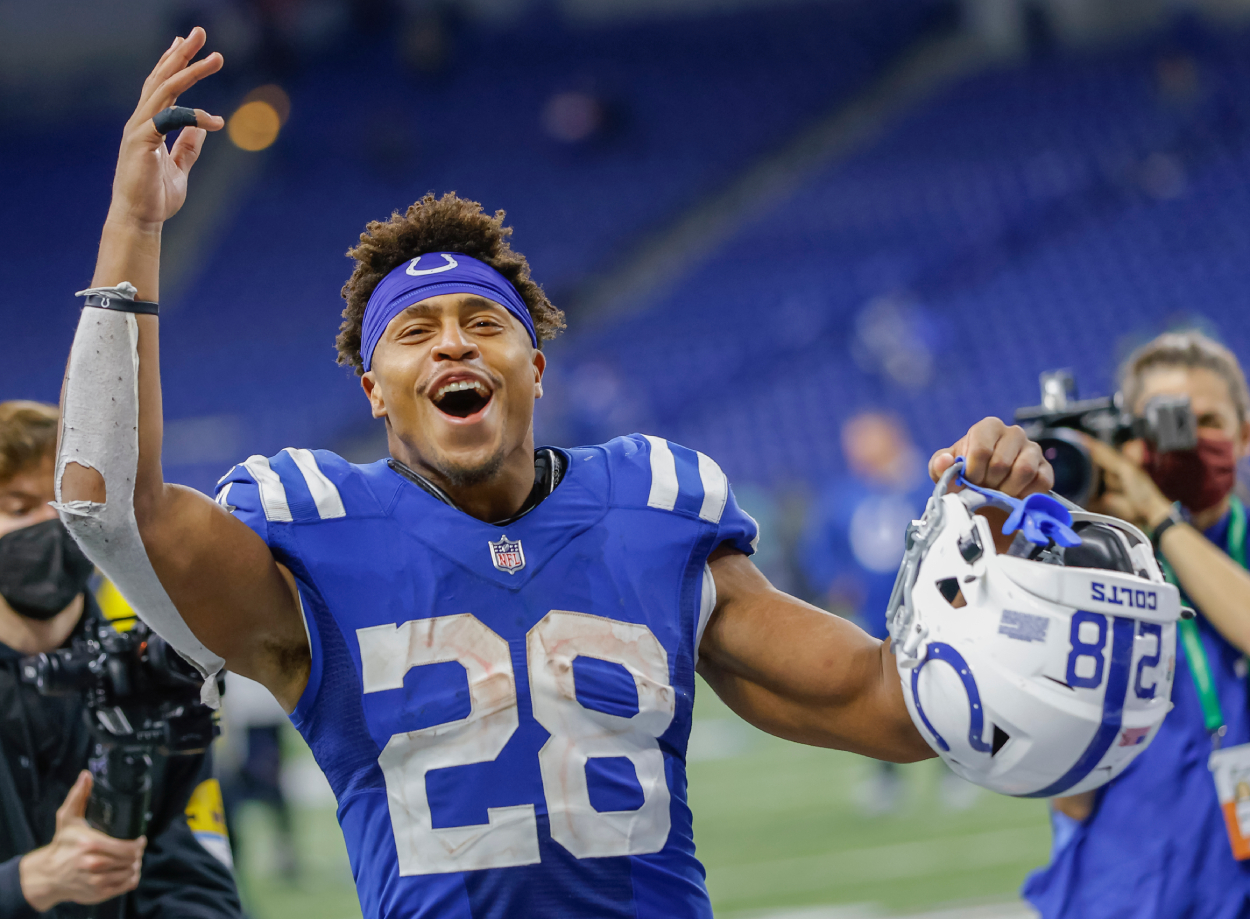 In the same "blue collar", hard-working aura, the Indianapolis Colts have grounded and pounded their way into becoming the tool set gift- they've only gotten better and more valuable as a team over time. To start the year, they got off to an incredibly ugly start with a 1-4 record, massive injuries, a Carson Wentz signing that looked uninspiring, and had to compete with a hot Titans team in the division.
Since that rough start, they're now 8-6, Wentz has played better and limited turnovers, the defense has been lights out, and they're winning games by wearing the teams down with an old school style: letting their running back, Jonathan Taylor, cook as he's looked like an MVP candidate. They're undefeated in games where he's rushed for at least 100 yards (7 times this year), he has the most runs of 20 yards or more, and leads the league in total yards and touchdowns. The Colts slow, physical play style in which they have the ball for 54% of the game is going to be a huge problem as a foil for high-volume, skill-based AFC teams if they end up making the playoffs. They're the tool set that gains value over time in the most critical moments that didn't initially appear to be flashy.
A Gift Card- The New England Patriots
When you get a gift card, there's nothing really to it. It's simply money to a place that you like to shop at. Oftentimes it's perceived as the "cop out" gift when people either didn't have time to put thought into buying something creative or flashy or the gift that you give someone you don't know too much about.
But you know what's always going to be awesome? Having money to buy things and shop. You can never, and will never, disappoint someone by saying, "Here's some money to go do something for yourself that you get to choose your experience." Gift cards will still always be a universally great gift, no matter the person.
The Patriots are that gift card. They will never be flashy or personal, but their greatness will forever remain the best in the most evil way possible if you live outside of the Massachusetts area. Even in the absence of Tom Brady, Bill Belichick has cloned him in the form of rookie Mac Jones. However, like the lack of creativity of a gift card, they're winning in quite possibly the most boring way possible, but it's working and they love it. In their Monday Night Football win against the Bills, they threw the ball THREE TIMES. It's ugly football all due to Bill Belichick, the greatest coach of all-time, always figuring out a way to win, be it with Tom Brady, a rookie quarterback playing in a monsoon, or with the strength of their defense that's allowing the least amount of points per game on the year. They're 9-5, second in the AFC, and they're still here. They are the greatness of a gift card that may appear thoughtless.