Now that we've approached the end of the NFL Season, it's time to reflect. Fans will be beginning to ponder the short-term and long-term futures of their teams and evaluate what to do going forward, and this season, the longest and wildest yet, has been one of many highs and lows that impact your mental state as a dedicated fan. Rather than a power ranking of the outlooks of teams going forward, let's evaluate the state of what really drives the conversations throughout the week leading up to Sundays: NFL Fan Base Happiness.
`1. Kansas City Chiefs
They've been to the AFC Championship three years in a row and have Patrick Mahomes under contract for the next decade. Even with the slow start this year, they're just fine now and back to their old selves at the top of the conference. Chiefs fans know they're inevitable
2. New England Patriots
While the ceiling on this Patriots team isn't as high, the Pats fans have their swagger back in a way that no one else really does. After losing Brady, they feel like they're back! Mac looks like the successor and is proving everyone wrong! Bill is silencing the doubters and molding him into the next Bostonian sports great after the expectations were relatively low! Welcome to Boston, loozah!
3. Tampa Bay Buccaneers
They're the reigning champions! They're just happy Tom Brady chose them in the first place and are just riding him until that 44 year-old arm falls off. It doesn't matter how insane of a roller coaster Antonio Brown has been when you're living in the grace period that they are right now.
4. Los Angeles Rams
Rams fans are already California cool. They have the luxury of 70 degree weather and are probably more concerned about Dodger baseball and Lakers basketball in the first place, but now the team looks like it's getting hot at the right time of the year after a bit of a slump midseason, and for the long-term, they have a team that chases stars and wants to win. That aggression and desire to bring a title while also LOOKING like a title-contender is what a fan wants.
5. Dallas Cowboys
The Cowboys finally have a defense, Dak, Zeke, and the receiving core are all getting healthy, and outside of a Philadelphia team that can run the ball well, they're far ahead of the rest of the division for the foreseeable future! America's Team might own the East for the long-term.
6. Indianapolis Colts
The Colts have a reputation of overcoming terrible unforeseen circumstances after Andrew Luck suddenly retired and Josh McDaniels randomly bailed on them at the last minute to stay with the Patriots, and they've continued to win ever since. The narrative has stayed the same this year- they started 1-4 after trading for Carson Wentz and he looked like the bad Carson Wentz, but since then, they've been the hottest team in football and look like it doesn't matter if he's good or not! The defense is lights-out, Jonathon Taylor looks like an MVP candidate, and they're now 9-6. They're embracing the blue collar.
7. Cincinnati Bengals
The Bengals never seem to have nice things, and now they've got these players all under age 25: Joe Mixon, Tee Higgins, Ja'Marr Chase, and Joe Burrow, who is probably the coolest and toughest man with the most moxy in the league as he shrugs off hits and pressures like they're nothing. They have a leader and a franchise guy, and in only 1.5 years of Burrow so far, they're already close to being a Super Bowl contender and being solid for years to come.
8. Buffalo Bills
After running back one of the best teams in franchise history, the Bills fans finally had expectations to firmly take the throne away from the Patriots in the AFC East, and it hasn't happened until recently since they've relatively been underwhelming by blowing out bad teams and losing to the good ones. However, they got revenge on the Pats in dominant fashion and Bills Mafia is back to having Super Bowl expectations as long as Josh Allen is their guy.
9. Philadelphia Eagles
This season could have been an absolute disaster in Philly with their new head coach who had press conferences that made him look like a stooge and low expectations for Jalen Hurts with a surrounding roster that was bleak as the rival Cowboys look dominant. Now they've gone on this run with their offensive line that's got them at 9-7 and in the playoffs, overperforming, and with draft capital to spend next year! (Even though Philly sports fans will never truly be happy)
10. Tennessee Titans
The Titans just continue to win with as many injuries and COVID issues as they've had, and the fans have got to be thrilled at the season they've had with overcoming the odds of losing their best player for the year and using the most ever starting players ever. You also wonder how long this magic of bullying the other teams that are better can last into the playoffs without Derrick Henry, but the Titans LOVE being doubted. They're going to be doubted as the #1 seed, and that's incredible. Feed off of it, Titans fans.
11. Miami Dolphins
The wildest roller coaster of a season so far has had the Dolphins losing 7 in a row at 1-7, fans wishing they would trade for Deshaun Watson despite his sexual allegations, to now winning 7 in a row, in playoff position, and all the way back in on Tua. They firmly believe in Brian Flores as the guy who makes adjustments now and is a coach that can change teams.
12. Green Bay Packers
Looking like the most complete team in football all year, they would be a lot higher if Aaron Rodgers didn't, you know, threaten to leave or retire and could potentially be traded this offseason in his one last dance with Davante Adams…
13. Miami Dolphins
The wildest roller coaster of a season so far has had the Dolphins losing 7 in a row at 1-7, fans wishing they would trade for Deshaun Watson despite his sexual allegations, to now going on a 7 game win streak and all the way back in on Tua. They firmly believe in Brian Flores as the guy who makes adjustments now and is a coach that can change teams. It was too little too late as the last blowing loss knocked them out of contention, but they're back into feeling like they're a few pieces away.
14. Denver Broncos
We all know that Teddy Bridgewater and Drew Lock are both not the solutions in Denver. They also had to trade Von Miller for salary purposes, so this year was a bit of a gap year. BUT, Denver is a candidate for an Aaron Rodgers or Russell Wilson to land next year, so it's essentially a year to prove the strengths of your defense and your skill players, which they've done. The Broncos fans are happy they are what they are and are waiting for next year.
15. Arizona Cardinals
While they overperformed to start the year as the best team in football at 7-0 and are going to make the postseason out of a loaded NFC West, you're having deja vu if you're a Cardinals fan where you suffer from a meltdown to fizzle out another year. You've got Kyler for the long haul, but this one is just a bummer.
16. Los Angeles Chargers
Justin Herbert looks like he could be an absolute GREAT at quarterback for over a decade, and you're in the first year under Brandon Staley, but this season has to be incredibly frustrating for Chargers fans because they could be better than their record. Staley is overaggressive by going for it on fourth down more than anyone, they're 9-7 and behind the Chiefs, but several of those games have come down to the mental mistakes the Chargers have made, and they're one of the most up and down teams. They're set for the big picture with Herbert, though, and that should be enough to keep them happy for now.
17. Las Vegas Raiders
It's been a year from hell for the Raiders: they were hit with the Jon Gruden, Henry Ruggs, and Damon Arnette fallouts all within the same month, yet they still managed to stay in playoff contention until January! They've won 9 games despite all of the turnover within the organization and Derek Carr has looked like a leader, but the team lacks any sort of long-term direction. Somehow, someway, they're a game away from making the playoffs. The Raiders are as wild as their new location.
18. Baltimore Ravens
Ravens fans love Lamar and Harbaugh and his coaching staff. Going into the year, with their injury luck, it's a testament of how gritty they are in general to have been as competitive as they've been. But missing out on the playoffs in a year of prime Lamar is not something to be happy about, and unfortunately they've been the unlucky snakebitten team dealing with critical injuries and COVID cases. You've just got to put faith that the foundation has been laid going forward.
19. San Francisco 49ers
We thought this would be the bounce-back year for the Niners after going from the Super Bowl to having one of the worst injury-riddled seasons in 2020, and there was a ton of hope surrounding the selection of a new rookie quarterback in Trey Lance, but Lance was deemed not ready, and the team has been… okay? You essentially are happy Deebo Samuel and the run game looks great, and are hoping that Lance will look like a solid starter next year after a year developing behind Jimmy. Making the postseason despite all of the adversity gives you hope in Shanahan that might have been lost for a minute there, though.
20. Atlanta Falcons
The Falcons might be the worst team to ever reach this amount of wins ever. They're the worst in DVOA and Matt Ryan unfortunately looks like an immobile corpse. But for Falcons fans, Arthur Smith looks like a good hire, Kyle Pitts was a great draft pick, and the Braves already broke the Atlanta sports curse in October. You can't be broken any more and are hoping to send off Ryan and eventually get a new successor quarterback.
21. Pittsburgh Steelers
Steelers fans love everything about this team except the quarterback… Ben is essentially Old Yeller at this point and this send-off season is them taking him out to behind the woodshed gracefully. Tomlin and the surrounding talent will have the team back as a competitive team next season with a new veteran quarterback put in should they go that route to replace Ben,
22. Chicago Bears
There exists a sliver of hope in Chicago, and his name is Justin Fields, who has shown flashes in his limited capacity given the circumstances. Outside of their rookie quarterback who they're praying doesn't get ruined by the incompetent front office and head coach that they still haven't fired yet, Chicago fans are either still angry or apathetic and don't have any faith that they'll make the right decisions. Each week in Chicago is like an AA meeting until Matt Nagy and/or Ryan Pace are fired.
23. Detroit Lions
Despite going the longest of any team without a win this year, the Lions have been one of the most competitive teams in football(?) Dan Campbell's first season has been a bit of a wash given how little talent they had to start the year, but since they've kept losses close and seem to rally around him, he's definitely earned some respect and the vibes around the team have been more positive than one would think with only 2 wins on the year. They'll continue to rebuild and get a solid draft pick.
24. Washington Football Team
The Football Team had another mediocre year in which a bad team was frisky and competitive again, so that's something you can walk away from being happy with along with Ron Rivera being the face of the team and a great coach yet again. But with the most incompetent leadership group in sports, a quarterback who gets injured in week 1, and a defensive group fighting each other on the sideline, is the most exciting thing about the team figuring out what the name is going to be???
25. Carolina Panthers
The Panthers have sneakily been on one of the most miserable tears of the year. They thought they were solid starting off 3-0 with a resurrected Sam Darnold that they chose over one of the rookie quarterbacks, and since then they've gone back to carriage-turned-pumpkin Darnold, the corpse of Cam Newton, Christian McCaffrey is pretty much broken, and the coach that was given a 7-year contract is 2 years in and is not only getting "fire Rhule" chants from the fans, but there's also reports that their Wall Street type of owner is "embarrassed" by the contract he gave him. The coach that you thought was building something last year looks like they need to fully rebuild one year later. The Panthers were in the Super Bowl just 6 years ago…
26. Cleveland Browns
The Browns, one of the most miserable, lowly, losing franchises in sports, finally came into the year with high expectations after winning a playoff game last year, setting up the fan base for heartbreak. The coaching, the defensive personnel, the run game, and the offensive line were all elite, and Baker Mayfield headed into the year with a chip on his shoulder being in a contract prove-it year, only for Mayfield's poor play and injury that he played through to start the year lead a team that was absolutely miserable to watch, even when they were eeking out wins. On top of that, you have the Odell Beckham chapter where he threw a fit in order to leave the organization. There's definitely tension heading into what the Browns will do next year with Baker given that he's the only quarterback of recent history that hasn't been abysmal and led them to their first playoff win in decades, but it's clear that they can't pay him that amount of money a #1 overall pick normally gets and he feels slighted by it. The crossroads has been a beatdown on this fan base.
27. Minnesota Vikings
If you're the Vikings, you could have potentially made the postseason should Kirk Cousins not have gotten COVID and played against the Packers this week instead of Sean Mannion. Instead, everyone hates Kirk Cousins on the sidelines, including head coach Mike Zimmer, who might be the most miserable man in sports the way that he talks about all of his players in press conferences. It feels like another end is here, but is the era even over? Zimmer is probably gone, but unless you trade Kirk Cousins and his terrible contract, you're stuck with him in purgatory as he leads you into competitive games only to lose in heartbreaking fashion. He's just good enough to put up good fantasy stats but not come up in the clutch for you on film when it counts to win. Justin Jefferson might be the best wide receiver in the league, but the Vikings are stuck in the middle unless a drastic change is made.
28. Houston Texans
We thought all hope was lost for the Texans given the Deshaun Watson situation that has been unspoken about all year and their terrible offseason of signing random veterans to cheap one year deals, but somehow, they won the exact same amount of games this year without Watson as they did last year with him. And, believe it or not, rookie Davis Mills looks good!!! He'll continue to be the frisky rookie starting next year, and the rebuild will continue. With a former Team Chaplain Jack Easterby running a dysfunctional scene off the field, it's hard to have faith in what they'll do in free agency and regarding the Watson situation, but Coach David Culley and Davis Mills did a lot more than we thought was possible with a dumpster-fire of a situation going into the year.
29. New York Jets
There's usually a lot to be embarrassed by as a Jets fan, and this year was no different. They're firmly towards the bottom of the league despite their reboot with the worst overall defense, second-worst point differential in the league, and went through four different quarterbacks (including Joe Flacco, who is somehow still employed). There's a bit of optimism in that this is only year one of the new era in Head Coach Robert Saleh, Zach Wilson has improved as the year has gone on as a rookie, and they'll likely have two top-ten draft picks next season. The misery has plagued Jets fans since the 2011 AFC Championship appearance, but they at least have stock in the long-term game.
30. Seattle Seahawks
The Seahawks have become completely apathetic about the state of their team because there is no light at the end of the tunnel as the decade of being a powerhouse team is about to have the plug pulled whilst on their deathbed. They're losing games with an old roster but don't have the capability of getting younger because all of their draft stock was put into the Jamal Adams trade, who hasn't been on the field hardly at all. Russell Wilson is already pretending he doesn't want to be traded in the most passive-aggressive fashion, Pete Carroll might be let go, and Bobby Wagner could potentially be traded too. Even if they were to blow up the whole team and send Wilson to a contender for draft picks, the Seahawks are one of the worst-drafting teams in recent NFL history and can't be trusted. It's like watching an action movie star get old and keep trying to play the lead attractive roles that he can't do any more. After an entire era of being a playoff contending team, they're suddenly in a hole that will take a LONG time to get out of.
31. New York Giants
The Giants might be one of the most embarrassed franchises in sports as a whole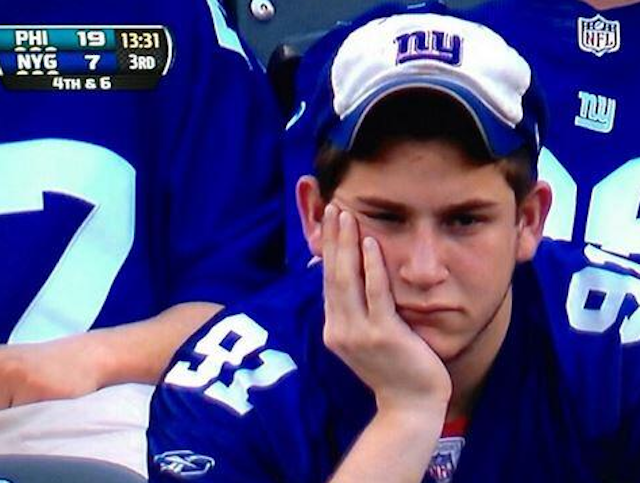 at the moment given how seriously the fans and New York media amplify their highs and lows, but they have every right to. They drafted Saquon #2 overall and all he does is get hurt. Daniel Jones has been less than optimal behind a terrible offensive line. They've scored the least amount of touchdowns in the NFL over the past two seasons combined and only have 4 this month. GM Dave Gettleman is out of there after his decisions essentially tanked the franchise's future. Joe Judge, who we thought was a "hard-nosed, blue collar" coach is now speaking in Donald Trump-esque hypotheticals pleading for his job, essentially saying "guys that left to other teams to get paid more still really want to play for me," but the report is that he might be back next season with Daniel Jones too. The incompetence of the organization from the top down is unbelievable at this point- they've spent so much money and will rank 28th in cap space going into the year, and the handling of their PR is something out of a mockumentary. Keep dreaming of the Eli Manning glory days, G-Men.
32.
Jacksonville Jaguars
Urban Meyer. That's the only explanation needed.