They are the beating heart of fans' passion for the game and athletes' drive to win.
---
Rivalries can take years to develop, and when they do, their imprint and influence can last a lifetime. For this reason, we've surveyed 1,780 sports die-hards to see what they think of the most heated competitions across the four major sports leagues in the U.S. We also pulled related data from sports-reference.com to analyze these rivalries in detail over the past 10 years.
According to our sources, what are the most intense rivalries in each league? We'll dive into our data to analyze some of these matchups and see which teams have the upper hand. Also, how do sports rivalries come to fruition in the first place? To learn the answers to these questions and more, read on!
---
Caution: Bad Blood Ahead
---
For the first part of our study, we asked sports fans to select which teams they support and their most prominent rivals.
According to their responses, these are the top NFL, NBA, MLB, and NHL rivalries.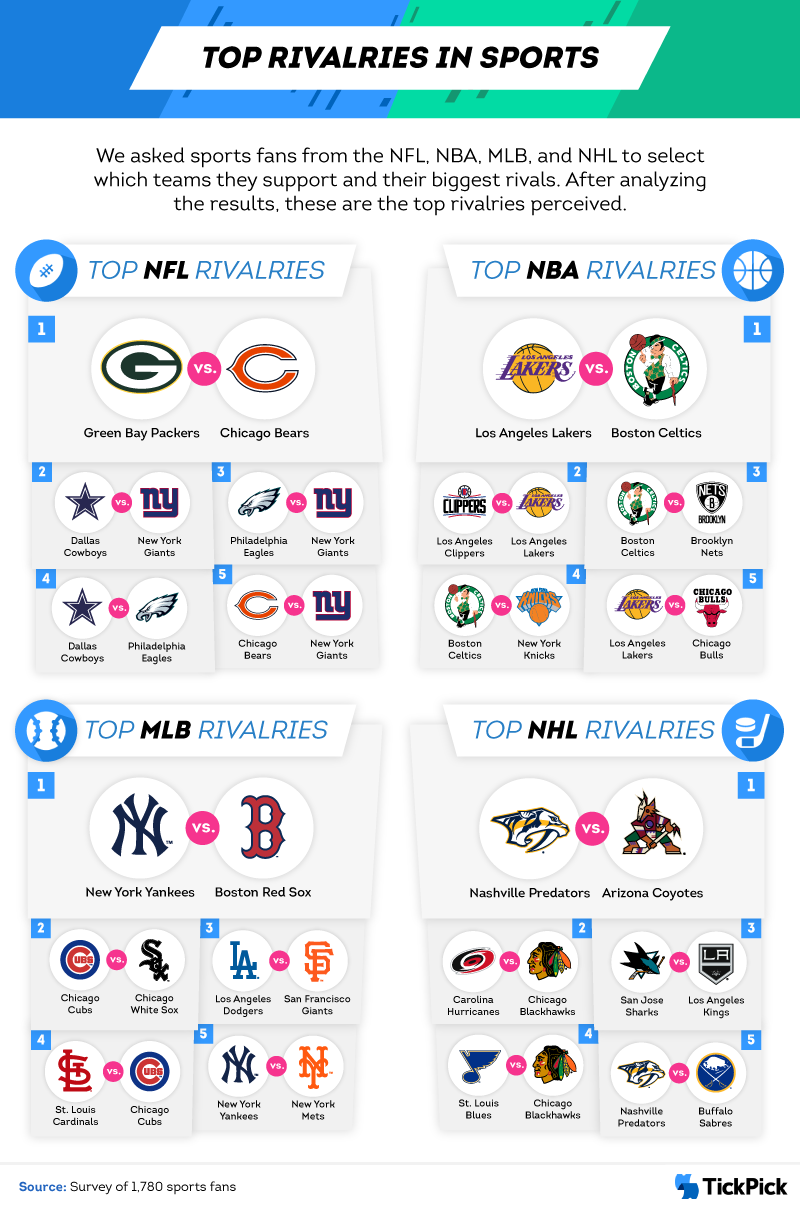 ---
Watching sports casually is fun, but rivalries elevate the experience to new heights. In the MLB, respondents claim that the Boston Red Sox and the New York Yankees have the worst blood between them. The two teams met up in 2018 in the American League Division Series (equivalent to the quarter-finals), and the Sox bested the Yankees – they then went on to win the World Series that same year.
Another classic sports rivalry lives in the NFL, between the Green Bay Packers and the Chicago Bears. Oftentimes, teams within the same division form intense rivalries due to the frequency of playing each other twice per year. The same idea applies in the NHL, where people said that the Arizona Coyotes and the Nashville Predators were the league's biggest rivals – both teams are in the Central Division in the Western Conference.
Meanwhile, although the Los Angeles Lakers and Boston Celtics play in different conferences, they've met in the NBA Finals a whopping 12 times, which is enough to create one of the sports' most glorious rivalries.
---
By the Numbers
Now that we've established what people think are the biggest rivalries across the top four American sports leagues, we can take a look at the actual sports-reference.com data to see how competitive these teams truly are.
---
From league to league, let's see who's dominating who.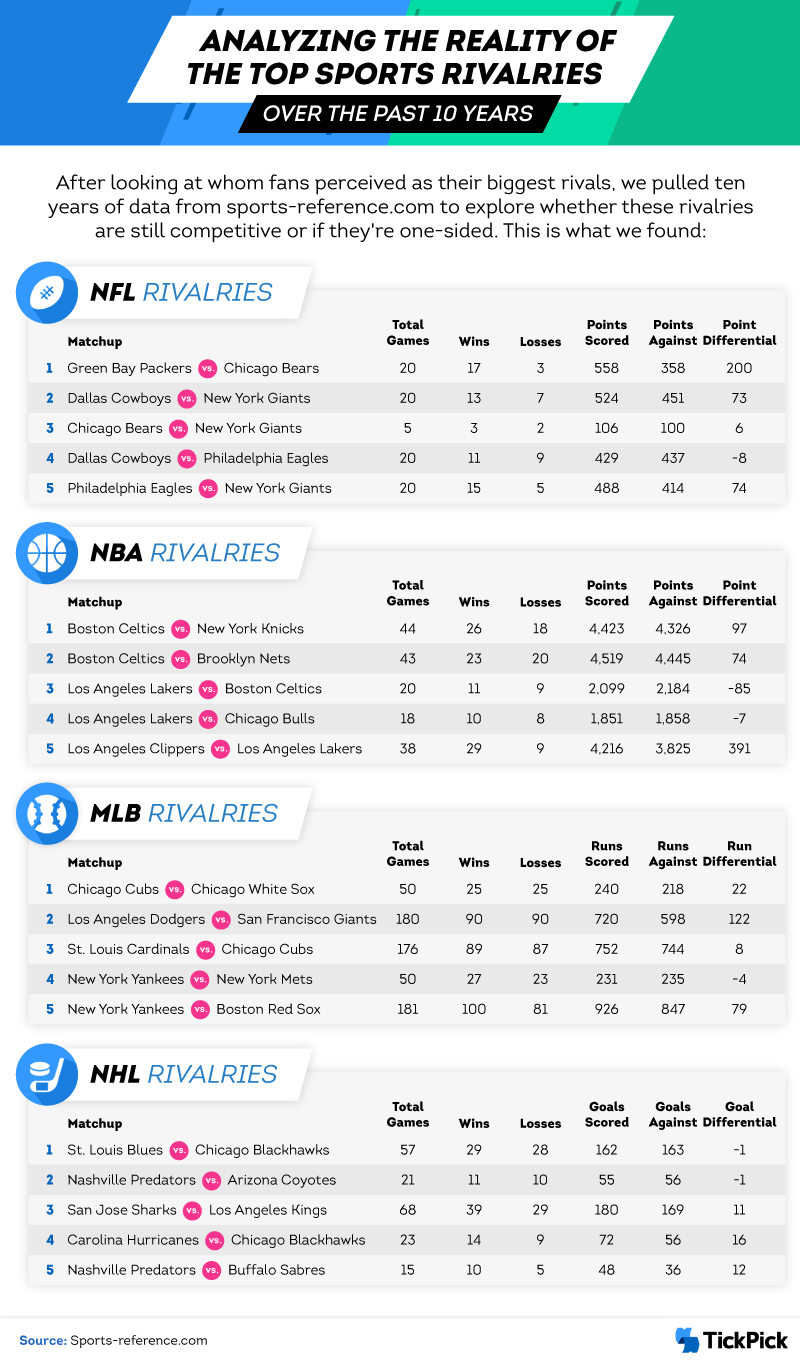 ---
The Celtics and Knicks are rivals in their own right, too, and the teams are dead even in their wins against each other over the last 44 games. That being said, the Celtics have historically put up more points. On the West Coast, the Lakers and Clippers are natural rivals, but it's the latter that can truly consider themselves LA's team over their last 38 matchups – they've won 29 of those games, and have scored 391 more points in the process.
Circling back on the Packers/Bears rivalry, the Green Bay-based team has shown utter dominance in this matchup, winning 17 out of their last 20 meetings, and putting up 200 more points than their opponent. The Bears haven't won a playoff game since 2010, whereas the Packers won their divisional playoff matchup just last year.
In the NHL, you'd be hard-pressed to find rivalries where the historical scoring wasn't tight. The biggest discrepancy can be seen with the Chicago Blackhawks and Carolina Hurricanes rivalry, in which the former has given up 16 more goals in 23 games.
---
In the MLB, substantial differentials are more common, but the sample sizes are bigger too.
For example, in the last 180 games, the LA Dodgers and the San Francisco Giants sit at 90 games won a piece, but the Dodgers have scored 122 more runs.
---
Although rivalries can be deep-seated, 65% of our respondents said theirs have switched over time. When asked why they decided to move on, 8 out of 10 admitted that their rival had been too successful against their favorite team for too long and decided it was time to wave the white flag.
Based on some of the bigger point/score differentials between rivals noted above, it wouldn't be surprising if some of these fans on the losing end were, at the very least, reconsidering investing any more emotion into hating the rival in question.
---
Getting Intense
---
Let's take a look at what can kick a rivalry into gear; what kind of words come to mind when respondents think about rivalries; and the negative downsides that can arise from such tensions.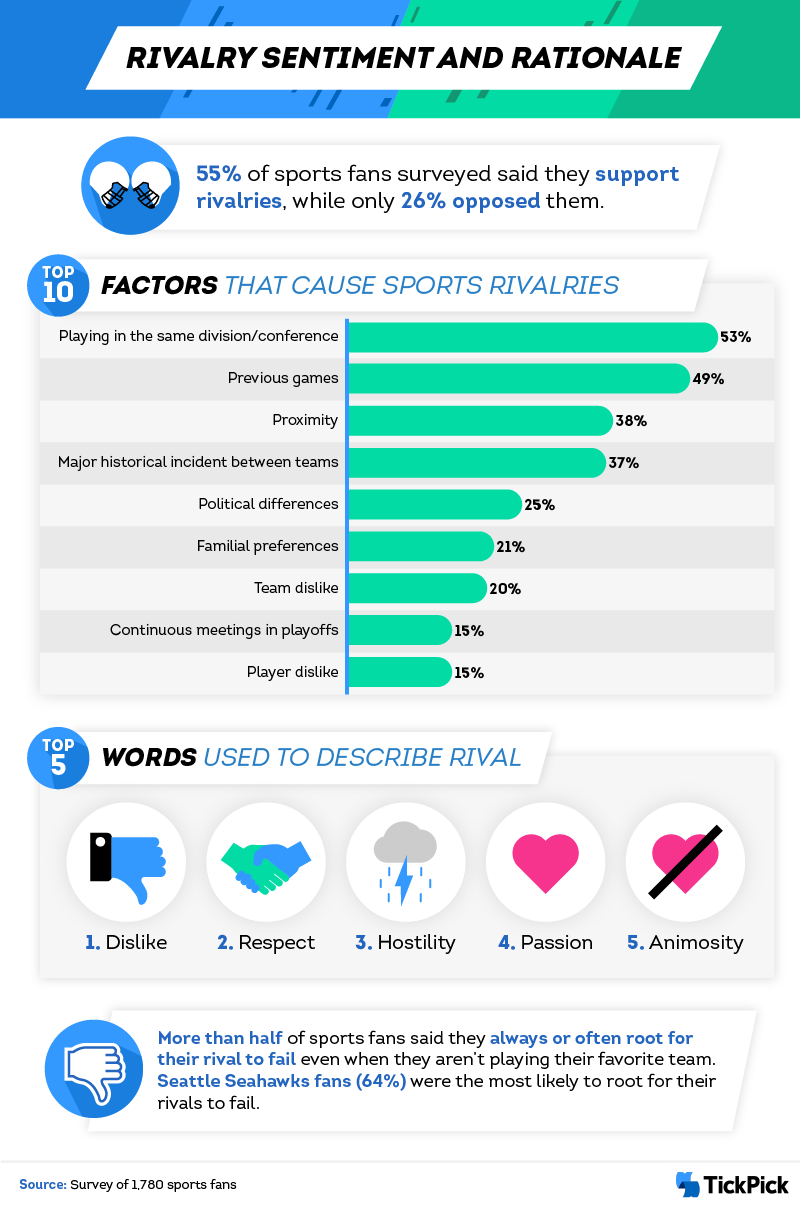 ---
The majority of respondents thought that rivalries were good for sports, whereas just over a quarter weren't as sold on them. How do rivalries even manifest in the first place, though? Well, as previously mentioned, playing in the same division/conference can fast-track a rivalry between two teams. Previous games, like the twelve NBA Finals, encounters between the Celtics and Lakers, can also spearhead the makings of an intense rivalry.
When describing the word 'rival,' both negative and positive connotations were used by respondents. While some associated the term with adjectives like dislike, hostility, and animosity, others thought that respect and passion were more fitting.
Taking a closer look at negative aspects of rivalries, many respondents were specifically unhappy about the increase in arguments and fighting that happens both online and at the events themselves. Unfortunately, people get into scuffles at games all the time, and many are between fans of rival teams.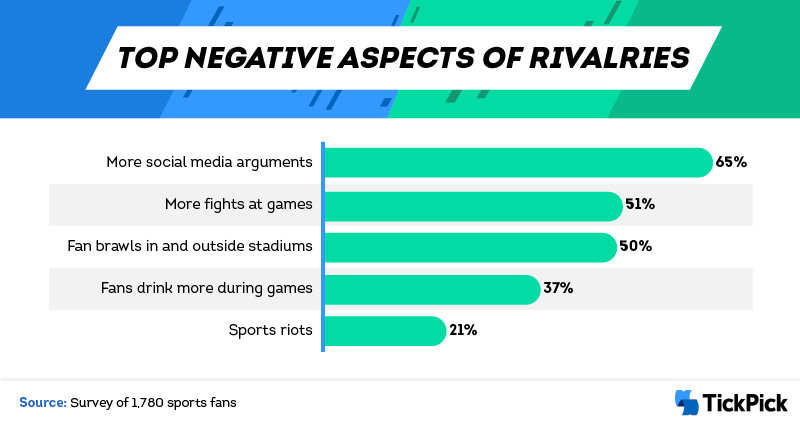 ---
Here are a few more interesting data points we'd like to share:
New England Patriots fans (54%) were the most likely in the NFL to hate their rival. San Diego Padres (56%), Boston Celtics (63%), and Colorado Avalanche (68%) fans were the most hateful toward their rival in their respective leagues (MLB, NBA, NHL).
Tennessee Titans fans (64%) were the most likely in the NFL to drink excessively during rivalry games. Philadelphia Phillies (56%), Detroit Pistons (56%), and Toronto Maple Leafs fans (58%) were the most likely to drink heavily during rival games in their respective leagues (MLB, NBA, NHL).
---
On the other hand, 83% of respondents felt rivalries make sports more exciting; 70% believed they push teams and athletes to greater heights, and 59% appreciated the fact that they give fans an outlet to express frustrations.
---
Rival Relationships
Just because you may not support the same team as someone else doesn't necessarily mean you can't engage with your rivals.
---
What are some things that respondents think are OK to do with a sports nemesis?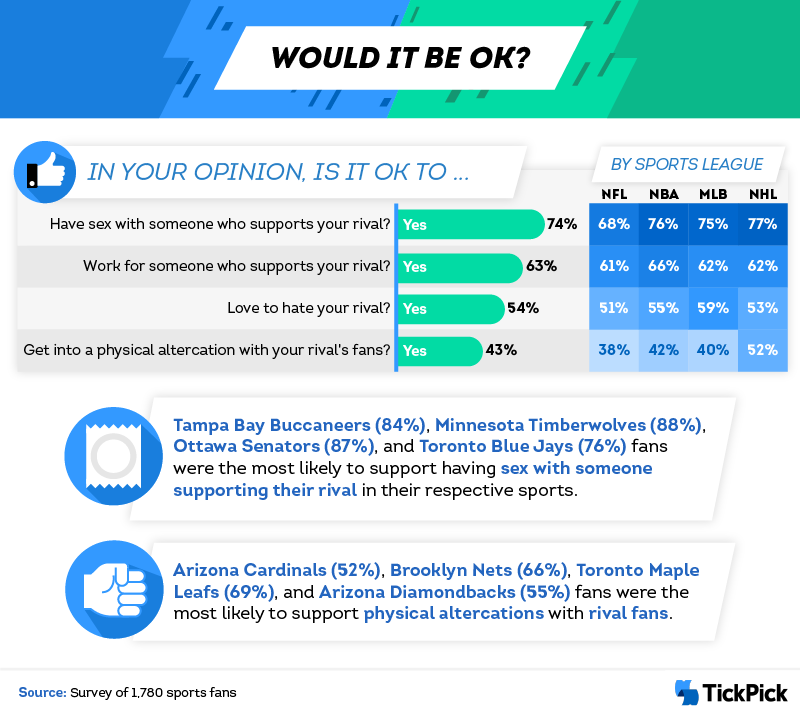 ---
Just under three-quarters of respondents didn't think an intense sports rivalry should get in the way of having a physical affair with a supporter of the other team. The majority of them were also on board with working for someone who supported a rival team – Chicago Bears (75%), Detroit Pistons (72%), Detroit Red Wings (84%), and Chicago Cubs (64%) fans were the most likely to work for someone supporting their rival team.
Meanwhile, New England Patriots (54%) fans were the most likely to love to hate their rival, and fans of the San Diego Padres (56%), Boston Celtics (63%), and Colorado Avalanche (68%) were the leading haters in their respective leagues.
And while only 43% of fans overall supported a rivalry leading to a physical altercation with fans, more than half of NHL fans felt the same. Fighting is a major part of the game of hockey, so it's plausible that a lot of hockey fans would want to join in on the action from the stands, too.
---
A Beautiful Thing
Respondents gave their votes for the top rivalries across the four major sports leagues, and our research uncovered the truth behind them. We learned that even though two teams can be intense rivals, one can have the significant upper hand, as seen with the Clippers over the Lakers and the Packers over the Bears.
We also learned that rivalries are more likely to start between teams playing in the same conference or division or when enough significant history builds up between them to make future meetings more heated. Seeing a live sporting event is fun, but seeing two rivals go at it takes it to a whole other level. When using TickPick.com, you can easily get yourself to one of those games without the hassle of unnecessary fees. TickPick offers the best seats out there for unbeatable prices, 100% guaranteed.
Since its founding in 2011, TickPick has sought to be the most transparent and consumer-friendly secondary ticket site as the original no-fee ticket marketplace. Name your price on seats through their bidding platform or search for the best prices using their algorithm designed specifically for fans. Head over now to grab tickets for an event you've had your eyes on – without breaking the bank.
---
Methodology and Limitations
We surveyed 1,780 sports fans from the NFL, NBA, MLB, and NHL to explore the rivalries that exist in each sport. Among them, 64% were men, and 36% were women. Respondents ranged in age from 24 to 63 with a mean age of 38.
For short, open-ended questions, outliers were removed.
To help ensure that all respondents took our survey seriously, they were required to identify and correctly answer an attention-check question.
Survey data has certain limitations related to self-reporting. These limitations include telescoping, exaggeration, and selective memory. We didn't weigh our data or statistically test our hypothesis.
For this project, we also collected 10 years of sports-reference.com data from our respondents' teams listed as their biggest rivalries to explore whether those rivalries remain competitive.
---
We extracted data from the following sports leagues:
---
Featured Image: TickPick