Welcome to the Conference Championship weekend of the 2021-2022 NFL Season. If this is the first time reading one of my articles, welcome to my weekly picks blog! Each week I will give you guys' predictions for every game in the NFL that week. I will be giving predictions in three ways: Straight up (Picking the winner of the game), ATS (Against the Spread), and Over/Under the total game. Then, I will give my three best bets every week in more in-depth, and those will only be ATS; one of them will be my Greene Guarantee of the week. So without further ado, let's get into it! (All lines presented by DraftKings)

NFL Divisional Round Weekend Recap
Sometimes in life, I wish everyone who reads this blog could see what I was going through this weekend. That was the most incredible football weekend I ever experienced. I think it would have gone viral if you could have been a fly on a wall to see my reaction to the Rams vs. Bucs game. I have never seen a more up and down came where one team was playing so well yet choking so hard like the Rams. I had a combined $250 on the line in that game, and watching them almost blow a 27-3 lead would've put me in gambling retirement at the young age of 22. Yet, I finally, yes, I defeated Brady and won lots of the money with another Greene's Guarantee hotting with the Rams +3, making us 12-8 on the season and winners of five straight weeks. Overall we went 2-2 on Spread picks, but the two that hit were my favorites in Rams and Chiefs. We only have two games this week, so there will only be one best bet/guarantee of the week, so without furth ado, let's get into the pick.
Best Bet record: 33-25 (3-1 in the Postseason)
PJ'S Guarantee Record: 12-8 (2-0 in the Postseason)
49ers (+3.5) vs. Rams (Greene's Guarantee)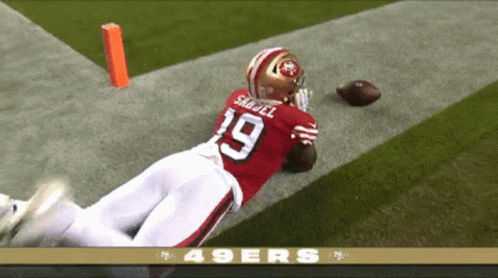 How far I have come with the San Francisco 49ers. They were my most faded team throughout the season as they were on the wrong side of six of my best bets this season. Yet, the Niners are giving me 2007 and 2011 New York Giants vibes. An underperforming team that just got hot and healthy at the right time. Besides gut, there are a couple more reasons I like the Niners in this spot. First of all, the Niners have beaten the Rams in six straight games, and five of those spots have been underdogs. Also, the entire season, the Niners have allowed only two QBs to throw for over 275 yards, and you know the Rams love to throw the football. San Francisco is 6-0 ATS in their last 6 January games and 6-2 ATS in their last eight games overall, while the under is 4-0 in their last 4 games as a road underdog. Los Angeles is 4-1 ATS in their last five games overall and 5-2 ATS in their last 7 division games, while the under is 17-4 in their last 21 games as a home favorite. I am always 100 with my viewers. I have a +2900 future for the 49ers to win the Super Bowl but getting the hook vs. a rival team that they have beat the last six times is too hard to pass up. Niners go back to the Super Bowl.
49ers 23 Rams 20