With the latest NBA season well underway, the Brooklyn Nets and Golden State Warriors currently hold the best NBA Championship odds to claim the crown in June.
Both of these teams, and most other teams in the league, are led by prolific superstars on the court, but which are the most popular players off the court?
---
Analyzing 20 different metrics across three main categories, we've been able to determine the NBA's most marketable stars, as well as which have the most influence over social media audiences.
---
Top-Five Most Popular NBA Players
We've outlined the most influential and marketable NBA players based on social media performance, audience ratings, and overall likability. Here are the top-five players based on those evaluations.
1) LeBron James // Los Angeles Lakers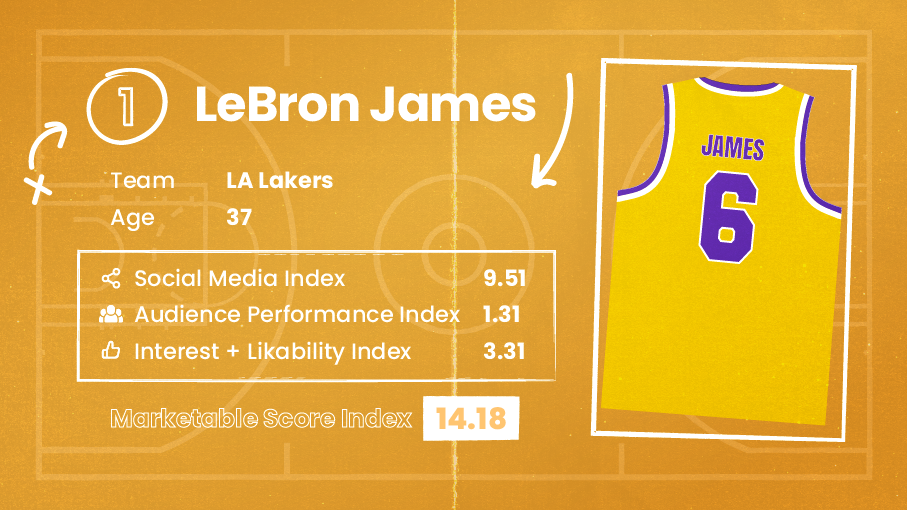 "King James" is considered to be among the greatest players to grace the court, so it should come as little surprise that he is the NBA's most popular player. Impressively, James has featured in 10 NBA Finals and is one of only three players in league history to have won the title with three different teams (Miami Heat, Cleveland Cavaliers, Los Angeles Lakers).
2) Stephen Curry // Golden State Warriors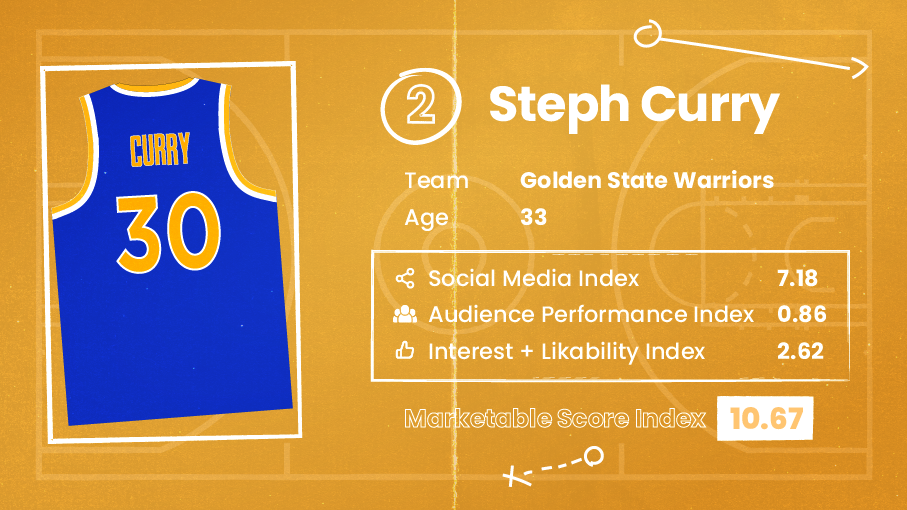 Steph Curry is rightfully regarded as one of the greatest shooters in history. He recently overtook Ray Allen as the NBA's all-time 3-point leader. Curry also led the Golden State Warriors to five consecutive NBA Finals appearances between 2015-2019, winning three. This run of form is made even more impressive considering the Warriors hadn't reached a Finals since 1975.
3) Derrick Rose // New York Knicks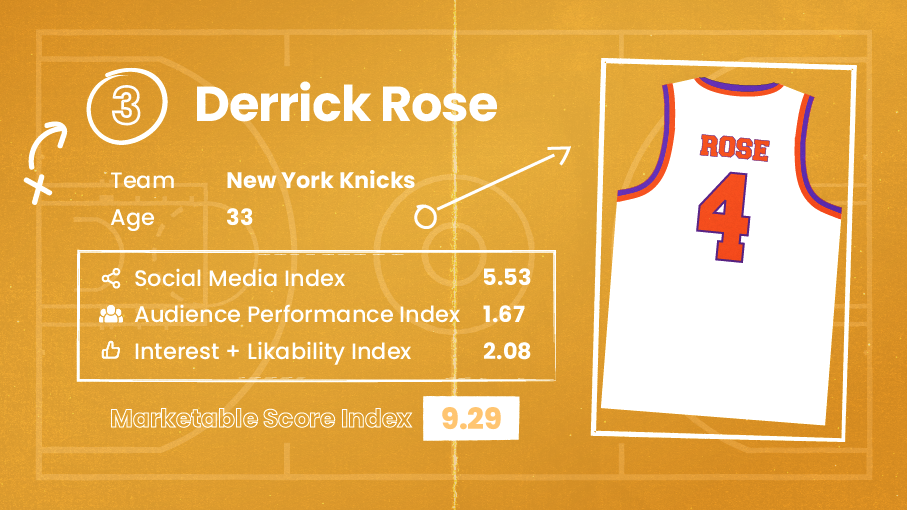 Derrick Rose started his NBA career with the Chicago Bulls, where he was named 2009 NBA Rookie of the Year in his debut season. He was also crowned NBA MVP in 2011 at just 22 years old, which set a record at the time as the youngest recipient. Leaving the Bulls in 2016, Rose has also enjoyed spells with the Knicks, Pistons, Timberwolves, and Cavaliers.
4) Devin Booker // Phoenix Suns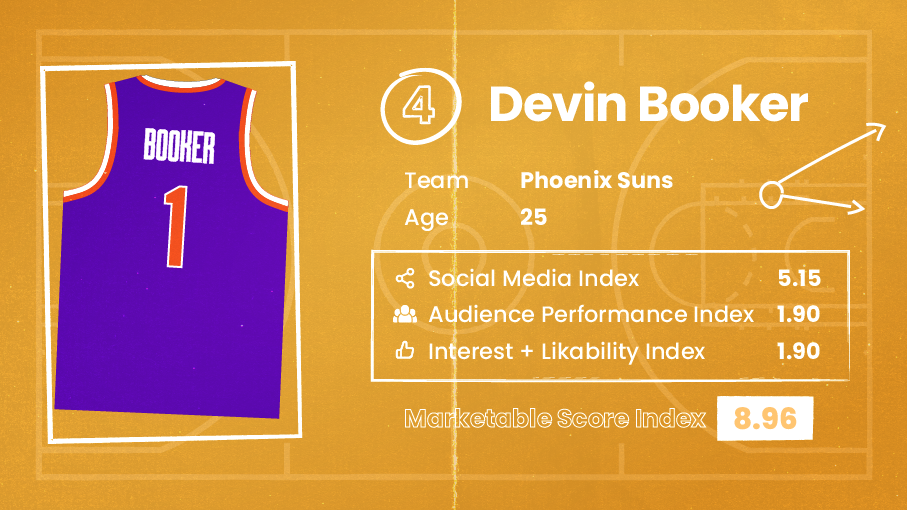 Devin Booker was drafted by the Phoenix Suns in 2015 and has picked up numerous personal awards during his time in Arizona – including a place on NBA All-Star teams in 2020 and 2021. Booker also led the Suns to a surprise NBA Finals in 2021. Off the court, Booker has earned acclaim for his work as a global ambassador for the Special Olympics.
5) Luka Dončić // Dallas Mavericks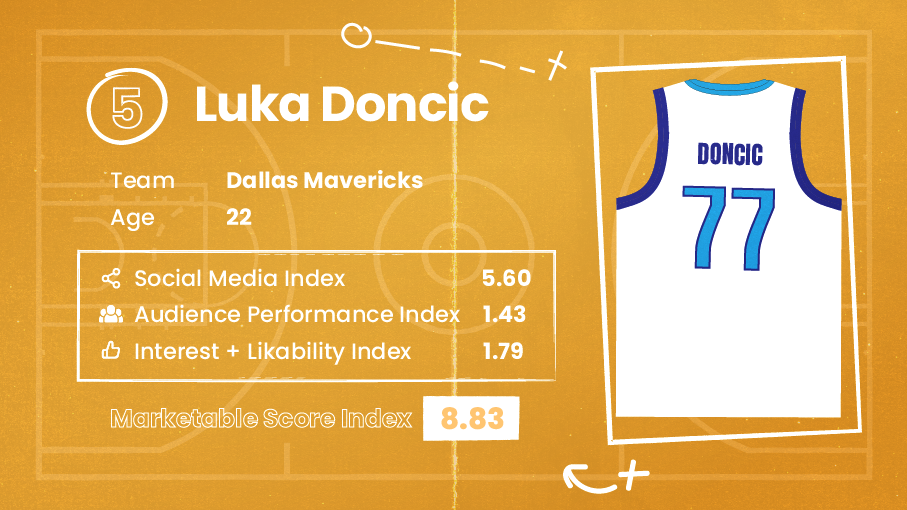 Slovenian star Luka Dončić joined the Dallas Mavericks in 2018 and immediately dazzled the league, earning 2019 NBA Rookie of the Year honors. Dončić followed his stellar debut season by earning back-to-back NBA All-Star spots in 2020 and 2021. His early success has put him squarely in the upper echelons of basketball stardom.
---
Which NBA Teams Have the Most Influential Players?
Analyzing the 50 most marketable NBA players revealed that the Lakers boast the greatest number of social media influencers. The California team currently has six players from our list on their roster. Those players include DeAndre Jordan, Russell Westbrook, Anthony Davis, Carmelo Anthony, and Dwight Howard alongside LeBron James.
Next up, the Golden State Warriors have five stars among the top-50, while Brooklyn Nets players are featured four times. Rounding out the top teams with the most influential players are the Philadelphia 76ers, Chicago Bulls, and Phoenix Suns, each with player appearances in the top-50.
Methodology for Determining the NBA's Most Popular Players
We analyzed 20 different metrics (each weighted as one point) to determine the most popular NBA players in the league.
Social performance: Measured according to post, followers, engagement rate, audience quality, authentic engagement per post, real follower percentage, influencer follower percentage, suspicious follower percentage, audience quality score, audience reachability percentage, average likes per post, average comments per post, and yearly social growth.
Audience performance: Measured according to audience performance and economics.
Interest and likability performance: Measured according to Google search volume, online buzz, positive sentiment, and negative sentiment.
---
The selected 50 NBA players were scored and ranked based on the categories outlined above.
Each player was then given a combined overall score between 0-20 (20 being the highest possible score) based on the summed average from each category
---
Featured Image: The Action Network