NFL Free Agency has been an absolute whirlwind thus far. It does not care about your March Madness bracket. It does not care about the heat of the NBA and NHL seasons. It does not care about the MLB lockout ending. It will drop news whenever it pleases! With so much change that has flipped the league upside down, let's evaluate whether each team has improved, gotten worse, or is unfortunately still stuck in the middle after this wave of offseason movement.
AFC SOUTH
Jacksonville Jaguars: IMPROVED
Getting rid of Urban Meyer alone would improve the team! They tend to overspend every offseason, and this one was no different, but they added Christian Kirk, Evan Engram, and Zay Jones for Trevor Lawrence to throw to, got him some offensive line protection, and will hopefully use the #1 pick wisely.
Indianapolis Colts: IMPROVED
The Carson Wentz era is over after they traded him away to Washington. It's been an absolute carousel of quarterbacks in Indy ever since the unexpected retirement of Andrew Luck, but with a roster that had the most Pro Bowlers of any team last year, bringing in a former MVP in Matt Ryan even in the twilight of his career is enough for this team to bounce back after their egregious meltdown.
Tennessee Titans: STUCK IN PURGATORY
They replaced an injury prone Julio Jones with Robert Woods, coming off of an injury. They're good enough to make the postseason still with a healthy Derrick Henry and Tannehill, but they're right where they've always been: behind the top talent of the improving AFC.
Houston Texans: STUCK IN PURGATORY
Outside of getting rid of Deshaun Watson from their books for draft picks and replacing their head coach, the Texans have done nothing to improve their outlook at all as a bottom of the league franchise. They're still rebuilding.
AFC NORTH
Cincinnati Bengals: IMPROVED
The Bengals saw their biggest weakness that prevented them from winning a Super Bowl, the protection of their prized quarterback Joe Burrow, and addressed it head-on by signing three veteran offensive linemen. They lost their tight end Uzomah at the cost of re-signing Jesse Bates III, but their main priorities were addressed, and they even replaced him with Hayden Hurst. They'll be back.
Baltimore Ravens: IMPROVED
They signed one of the best safeties in football, Marcus Williams, to a massive deal. With a healthy Lamar, they're right back to being in the playoff conversation.
Cleveland Browns: IMPROVED
While they may have improved by trading for Deshaun Watson, one of the highest-ceiling quarterbacks in the NFL when he's on the field, they've also divided the entire fanbase morally with his accusations off of the field. They may be a better team if he sees the field and plays alongside newly acquired receiver Amari Cooper and a team in contention, but what was the cost? It's such a gross situation.
Pittsburgh Steelers: STUCK IN PURGATORY
The Steelers biggest weakness last season? An aging Big Ben at quarterback on his retirement tour. While they have moved on, got Brian Flores on board as an assistant, and signed Myles Jack as a high-ceiling defender to their already dominant defense, plugging in Mitch Trubisky puts them right where they were last season unless he somehow makes a huge leap in a new situation.
AFC EAST
Buffalo Bills: IMPROVED
Sure, the Von Miller 6-year, $120 million contract looks hefty on paper given his age and previous health, but there are plenty of opt-outs to it that make it completely fair for a superstar who played a pivotal role in getting the Rams a Super Bowl. The OJ Howard tight end acquisition also gives Josh Allen another target to throw to now that Cole Beasley is gone. Superstars wanting to come to Buffalo tells you all you need to know about how dominant they're viewed around the league with their championship aspirations.
New York Jets: IMPROVED
They're in a similar boat as the Jaguars: they'll have a ton of draft capital and continue to go on a spending spree to flip almost their entire roster because they don't exactly have a high bar to clear to show any signs of progress. They brought in CJ Uzomah as a target for the developing Zach Wilson to throw to and improved their secondary with a DJ Reed signing. Slow and steady, Jets!
Miami Dolphins: IMPROVED
While the only real turnover was losing head coach Brian Flores to what is an awful off-the-field situation and forthcoming lawsuit, the replacement, Mike McDaniel, is credited with turning Deebo Samuel into Deebo Samuel the second half of the 49ers' season, and the energy surrounding him and what is assumed to be a highly-innovative offense is palpable. They brought back edge Emmanuel Ogbah, signed Teddy Bridgewater as Tua insurance if anything happens to him, and picked up Chase Edmunds and Raheem Mostert to create a dynamic running attack similar to what McDaniel had in San Francisco.
New England Patriots: GOT WORSE
While it's generally seen as taboo to say that any Bill Belichick team is facing regression because of how inevitable his evil empire of success is, this is a team that lost JC Jackson, Kyle Van Noy, and Shaq Mason. It's likely that Mac Jones will play better next year with a season under his belt, but overall, the team has not done anything this offseason to get better in any way.
AFC WEST
Denver Broncos: IMPROVED
How does adding Russell Wilson at quarterback and signing Randy Gregory sound? As Russ said in his opening press conference, "Broncos country, let's ride!"
Los Angeles Chargers: IMPROVED
With Justin Herbert entering the sweet spot of his rookie deal, they're in win-now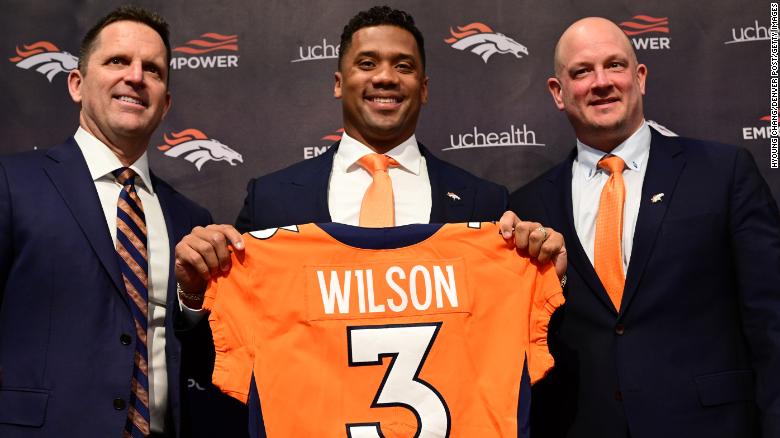 mode as they try to get into the playoffs. They re-signed Mike Williams, traded for Khalil Mack, and added JC Jackson to try and complement Herbert's dynamic offense with a shutdown defense.
Las Vegas Raiders: IMPROVED
As the Josh McDaniels era begins in Vegas, it'll be interesting to see if all of these acquisitions they've made this offseason will still be enough to bring them back to the postseason; they'll go as far as Derek Carr can take them but it just got a whole lot easier; they re-signed Maxx Crosby and added Chandler Jones to pair nicely with him on the pass rush, traded for Rock Ya-Sin in the secondary, and pulled off the blockbuster by trading for a top 3 receiver in the league, Carr's former teammate, Davante Adams. If Carr performs well under McDaniels and they can put together a secondary, this is a SCARY team.
Kansas City Chiefs: IMPROVED…?
The defense of the Chiefs will be taking a step back as Melvin Ingram and Tyrann Mathieu are still unsigned and corner Charvarius Ward left for San Francisco, but they did give Mahomes a new toy in Juju Smith-Schuster on a 1-year prove it deal off of injury to take the heat off of, you know, throwing to Kelce and Tyreek every play. It's another year of wondering if Mahomes alone can carry the Chiefs to the AFC Championship.
NFC SOUTH
Tampa Bay Buccaneers: IMPROVED
When Tom Brady announces he's coming back for another year, the entire outlook on your season changes. Veterans sign for less money and see it as a win-now opportunity. The workplace is seen as a positive environment. There feels like there's a moral obligation to win for the GOAT. That's no different here- Ryan Jenson came back, they traded for his former teammate in Shaq Mason, Chris Godwin re-signed, they added receiver Russell Gage, and shuffled contract money around in case any other veteran wants to hop on the Tommy train and win a ring in Tampa.
Atlanta Falcons: GOT WORSE
Calvin Ridley got suspended the entire season for gambling on the team and a large portion of the fan base was insulted that they compromised Matt Ryan in order to enter the Watson sweepstakes. Then, after openly shopping Ryan, they dealt him to Indy to take on the largest cap hit in NFL history to replace him with Marcus Mariota, who hasn't started since 2019. Not great!
Carolina Panthers: GOT WORSE
They lost the gross Watson sweepstakes, they lost Hassan Reddick and probably Stephon Gilmore, they put Christian McCaffrey on the trading block, and is Sam Darnold really going to quarterback this team AGAIN in 2022?
New Orleans Saints: GOT WORSE
While they at least replaced Marcus Williams with Marcus Maye from the Jets at safety, they lost one of the best tackles in the game in Terron Armstead, they still are in limbo at quarterback unless Jameis takes a major leap after they re-signed him, and what might have been the biggest piece of their puzzle, Sean Payton, is gone for good.
NFC WEST
Arizona Cardinals: GOT WORSE
Losing Chandler Jones and Christian Kirk certainly doesn't help when your quarterback is sending out subliminal messages on social media about how he deserves to be paid for dragging this terrible team to the postseason. There's a lot of bad energy in Arizona.
Los Angeles Rams: IMPROVED
The loss of Von Miller and Robert Woods is canceled out when you sign Allen Robinson to a bargain 3-year deal, Stafford signs a very team-friendly extension, and they're expected to bring Odell Beckham Jr. back. The champs are still here.
San Francisco 49ers: GOT WORSE
They're still searching for a Jimmy Garoppolo trade suitor as they try to somehow talk themselves into Trey Lance as the guy going forward. It certainly doesn't help losing Mike McDaniel as an offensive mind, their tackle Tom Compton, and DJ Jones on the interior defensive line. While they're still good in a bad NFC, they didn't do anything to get better.
Seattle Seahawks: GOT WORSE
Trading away the best quarterback in franchise history isn't ideal.
NFC EAST
Washington Commanders: GOT WORSE
They adopted a nickname no one likes thus far, and, let's put it this way: they traded assets for Carson Wentz at quarterback and took on his contract, and after they acquired him, their odds to win the Super Bowl GOT WORSE.
Dallas Cowboys: GOT WORSE
They dumped Amari Cooper's massive contract as a salary dump since they have an embarrassment of riches at receiver after re-signing a younger Michael Gallup, but they lost Randy Gregory to an embarrassing turn of events on social media along with La'el Collins, Blake Jarwin, and Connor Williams. If offense was what carried them last year, Dak's job just got a little more difficult.
New York Giants: STUCK IN PURGATORY
All they have done thus far is lose Logan Ryan, add Tyrod Taylor as a backup QB, and replace their head coach with the man credited towards "fixing" Josh Allen in Brian Daboll, but they put Saquon Barkley on the trading block apparently. For the sake of every New Yorkers' sanity, please, let this be the final Daniel Jones "prove it" year as they look to finally make a decision on their commitment to him.
Philadelphia Eagles: IMPROVED
Not only will the Eagles have some upcoming draft capital, that pass rush just got a whole lot scarier with Hassaan Reddick, and they even managed to bring back Fletcher Cox for another season. Unless they decide to make a change at quarterback, they're running it back with Jalen Hurts, hoping he ages into a year of improvement after making the playoffs last season.
NFC NORTH
Green Bay Packers: GOT WORSE
Congrats, Green Bay! Aaron Rodgers didn't break up with you! It will only cost $150 million for 3 years, a Davante Adams trade, and a release of Za'Darius Smith! If they don't use those draft picks acquired from Vegas on receivers to replenish their offense, Rodgers might blow a fuse.
Chicago Bears: GOT WORSE
Trading Khalil Mack and losing Allen Robinson because you don't feel like you're capable of winning with this roster after a GM and coaching regime change is never a good sign.
Minnesota Vikings: STUCK IN PURGATORY
The Vikings have legitimately not made any significant moves outside of giving Kirk Cousins yet another ludicrous extension worth $35 million. The Cousins formula hasn't exactly led to success…We'll see what the new coaching era can do with Captain Kirk.
Detroit Lions: IMPROVED
The Lions are pretty much running it back, but they'll have a year with Dan Campbell under their belt, the #2 overall pick, and they brought in receiver DJ Chark out of an unfortunate situation in Jacksonville. The bar isn't high to clear, so progress can easily be made in Detroit!