The AFC West became a murderer's row of NFL talent this offseason. It is the AFC Best now. It's a royal rumble between a tiger vs. a shark vs. a bear vs. a lion twice a season between each team for playoff position. It's a primetime matchup virtually every time they face one another.
The Kansas City Chiefs are still the Kansas City Chiefs- although they traded away Tyreek Hill this offseason to cut their losses knowing they can't pay the man, they've hosted the AFC Championship game for the last 4 years. They're confident that as long as they have Patrick Mahomes, Travis Kelce, and Andy Reid at coach, they can contend for a Super Bowl.
Then there's the Chargers who are just primed to cash-in on Justin Herbert's cheap rookie contract despite him being one of the top quarterbacks in the league. They've been on the brink of making the postseason in both of his first two seasons, and this offseason of spending shows that they want to go all-in and fix any of the holes on the roster whatever the cost. They re-signed big money receiver Mike Williams, they traded for elite pass-rusher, Khalil Mack, and signed the top cornerback in free agency, JC Jackson, They now not only have one of the most high-powered offenses, but will be able to get a defensive stop if they need to in a "rock fight" style game.
Then there's the Broncos. They've felt like they've been a quarterback away ever since Peyton Manning retired. So what did they do? They went out and traded for Russell Wilson, the Super Bowl champion and best quarterback in Seattle Seahawks history. Oh, and they stole Randy Gregory from the Cowboys.
However, the most curious case in the AFC West is the Las Vegas Raiders. If you ask anyone on the street who the weak link of the division is, most of them would probably say the Raiders. Did we all just forget that they made the postseason last year amidst an otherworldly amount of turmoil off the field last year? They fired Jon Gruden midseason after his emails that were offensive in every way possible were unearthed, Henry Ruggs III was arrested for manslaughter, and Damon Arnette posted a video touting guns and threatening to kill someone before being released.
To be fair, it wasn't all sunshines and rainbows before last year during the Gruden era- there was the Antonio Brown fiasco, the yearly meltdown after getting off to a hot start to the year, and the failure to accurately evaluate their draft capital by making the most head-scratching moves. Gruden ended his 10-year $100 million contract with a total record of 22-31.
Somehow, they overcame all of those elements of adversity with an interim coach (and some luck around the league) and went on a 4-0 run to sneak into the playoffs.
Where does that leave them now? Well, they hired Patriots Offensive Coordinator, Josh McDaniels at Head Coach, gave pass-rusher Maxx Crosby a massive extension to lock him up, signed All-Pro edge Chandler Jones to pair right next to him, and they traded for Davante Adams- a top 3 wide receiver over the past several seasons and Derek Carr's college teammate at Fresno State. The duo set 14 conference records together in just their two seasons together. There were always rumors of the Raiders moving on from Derek Carr at some point, but when trading for one of his best confidants at receiver, one would think a contract extension is inevitably on the way now.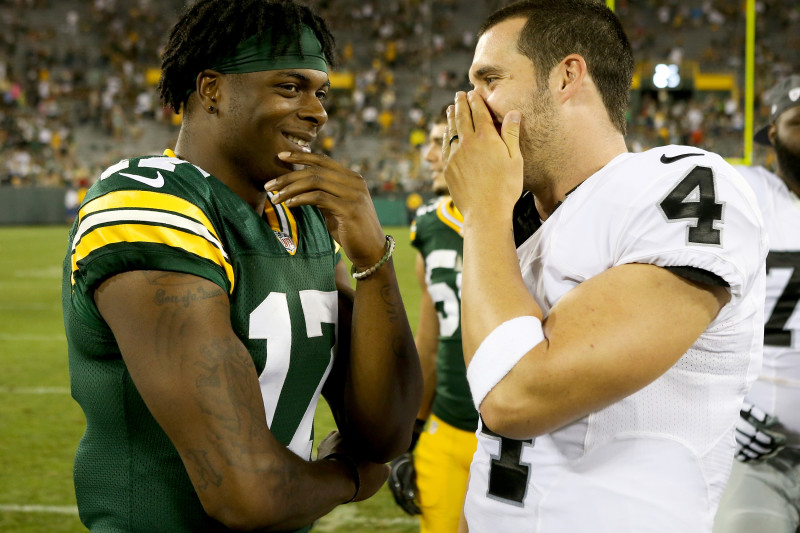 So, why is it that we continue to discount the Raiders as a legitimate contending team and automatically default them to the worst team in the AFC West? Is it because of the regime's history of poor decision-making and lack of competence? Well, the front office and coaching has a completely new regime. Is it because they have a weak defense that has been in the bottom 10 for the past 4 seasons? They addressed it head-on with the development of Crosby and the signing of Jones.
So, does it all just come down to believing in Derek Carr or not? There appears to be an unfair league-wide perception that he's one of the softer quarterbacks in the league; he may be the weakest of the four quarterbacks in his division, but he's never been given a good opportunity to succeed amidst the dysfunction and roster turnover. Before he broke his league in 2016, that Raiders team was on their way to a 12-4 record with him being the leading candidate to be the MVP.
He doesn't have to be superman to bring them success, and the Raiders can truly be building something now. They rebuilt their regime, they'll have Davante, Darren Waller, Hunter Renfrowm and Josh Jacobs as weapons, and they have a strong pass-rush locked in for the forthcoming seasons. With a desirable big market in their massive futuristic coliseum on the Vegas strip, it could be a desirable free agency landing spot to build up their weaknesses in the secondary and their offensive line. If Carr remains steady given they decide to lock him up, and Josh McDaniels proves to be a stronger head coach now that he's left the Belichick nest for the second time, don't default the Raiders to the bottom of the barrel by any means.