"He's never been away from home; that could mean a lack of maturity coming into the league."
"He's a quiet introvert. That's not the type of leader we need in our locker room that is assertive."
"He might be too book smart. Does he really love football? Are his outside interests too big of a distraction from his commitment to the game?"
All of these quotes are along the lines of some critiques given to a player ahead of the NFL Draft in 2020. If you notice, NONE of them have to do with the actual game of football. It's as if they were creating storyline reasons as to not draft the player.
Sound familiar? That's because that player is Justin Herbert, the quarterback out of Oregon that fell to the Chargers at sixth overall and was the third quarterback taken. Herbert now has Super Bowl aspirations, won Offensive Rookie of the Year, and set the NFL record for the most passing yards thrown in his first two seasons.
Two years later, we're here again with another prospect out of Oregon.
Kayvon Thibodeaux, the edge-rusher that is essentially the human equivalent of Thor's hammer, was the consensus #1 overall pick going into the 2021 college football season and did nothing that would garner anyone changing their minds on his talent. In 11 games, he had 49 tackles, 12 for losses, and 7 sacks. All of them are highlight-reel level plays due to his incredible agility and first-step movements to the ball all while having the strength of a full-grown grizzly bear. He is an absolute athletic specimen that has been considered to be a game-changer for almost two years now as the 2nd-ranked prospect coming out of his Southern California high school.
However, after having being mocked as the #1 overall pick for a good majority of the year, after the football was done being played, he suddenly started slipping in drafts. He's been mocked as high as first as some scouts saying he could fall to the middle of the first.
It's another non-football related fall that will probably cause Thibodeux to be a steal somewhere if the scouts fall prey to this ideology similar to Herbert in 2020.
So, why is Thibodeaux falling? It started with an interview that he gave when explaining his decision to go to Oregon as opposed to a football factory like Alabama. Thibodeaux explained that he wanted to be set up for life outside of football afterwards. By attending Oregon, the Institution that Nike CEO Phil Knight plays such a large part of in business and in the athletics department, he knew that he would have business ventures at his disposal immediately. He has already collaborated with Knight and Tinker Hatfield to create his own NFTs, he has launched his own cryptocurrency called "$JREAM," and started up the Jream Foundation.
However, in doing so in the interview, he also threw a bit of a wet blanket on the University of Alabama, saying, "Do you know the stigmatism of an Alabama education?" as if the education was "less than thou" and that he would have the reputation of a dumb jock solely attending college to eat sleep and play football as a dumb jock.
Now, not only will that throw some salt in the wounds of some NFL scouts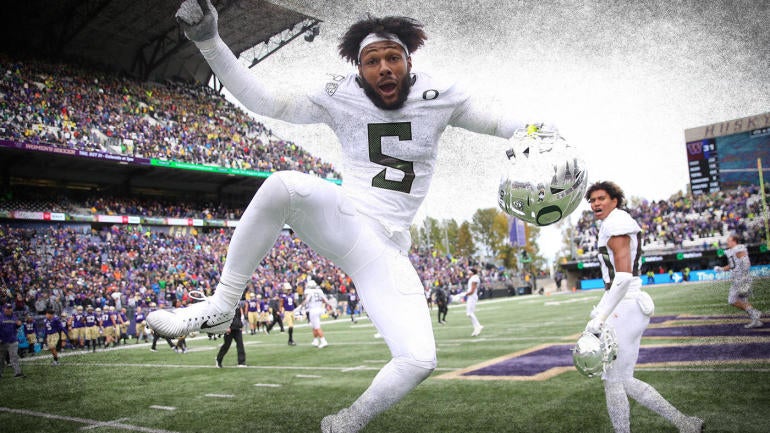 who are buddy-buddy with the Alabama athletic department that has produced so much NFL talent out of their program, but it's caused teams to question his love of the game solely because he has interests in furthering himself outside of a game that, when played at the top-level, is a 10-15 year career.
It's caused him to slip in most of the mock drafts. Reports have come out questioning his effort he's willing to put in and if he really has the fire to prove himself on the field with the professionals. Maybe the truth of the matter is that he's been ready to play amongst the professionals this entire time, and he knows it. Maybe there was so much fatigue of him being the undisputable #1 that we decided to nitpick and find flaws in a dominant player. Maybe he didn't need to run the 40-yard dash in shorts in front of a plethora of team analysts like a dog and pony show in order to show that he's faster than everyone else. Maybe, he's just that talented, and he's conserving it for when he's ready.
The media press around Thibodeaux because of this backlash has been unfortunate and a bit unfair, and it makes you want to root for him wherever he lands. He could be taken at the very top and this was all just a smokescreen for teams to fall out of love with him in hopes that he falls, or, if he's sitting in the NFL Draft room in Vegas, patiently waiting on a phone call, maybe he winds up in the hands of a team that feels like they stole a gem later than they should have.
If you listen to any of Thibodeaux's thoughts on him slipping, he's at peace, and knows that wherever he lands, he's just ready to get on the field and prove that he actually was deserving of being the first pick taken in the draft while also being a well-rounded individual off of the field too.
We'll be rooting for Thibodeaux this draft in hopes that he's as tenacious as he projects to be.