The NFL Draft is officially over. None of the 262 players drafted within the 7 rounds have played a snap yet, but we are already judging who got better and who botched their opportunity to do so. Hope has never been at an all-time high because of the opportunity to add talent with this young incoming crop of players.
However, fan bases WILL react because of the media circus. Even if it's improper to judge the actual talent that the player possesses because they haven't had the opportunity to step on the field to prove themselves, there are elements of a draft that we have every right to judge. There is the draft value and where everyone else WOULD have taken the player as opposed to if you want the player or not. There is the positional need. There is the strategy of using assets to move up or down in the draft. It shows the vision and direction of the team and who is driving the car down the right or wrong path. When the fans boo at the draft, it isn't at the player- it's the vision.
So, after the three days and 262 picks have gone by, what's the state of morale amongst the fan bases? How is everyone feeling? Let's take a temperature check and determine the happiest and probably upset fan bases when it comes to the decision-making this year.
HAPPY: Philadelphia Eagles Fans
The Eagles made the playoffs last year with Jalen Hurts as the quarterback, and while he may not have been completely lights-out, he's playing on an extremely cheap 2nd-round rookie contract. This draft, they've given the rest of the roster even more tools to set him up for success and not necessarily have to be "the guy" like many other franchises are so dependent upon their quarterback.
They drafted Jordan Davis, the monstrous defensive tackle out of Georgia that is the size of a bear with the agility of a moving car, they traded for the Titans' proven #1 receiver in AJ Brown, the blockbuster deal that will finally give the Eagles a sure-fire passing target after missing so often, then they managed to get Georgia linebacker Nakobe Dean in the third round, who was initially projected as a first-rounder, but had some medical issues create red flags- either way, that's a flier on what could be a top-tier talent.
This season, the Eagles will be so loaded that they can win with Hurts, see if he's the long-term solution in the process, and have one of the most complete rosters in football going forward after extending Brown for 4-years too.
PROBABLY ANGRY: Green Bay Packers Fans
Everyone thought that after the running joke of never using a first-round pick on a receiver for Aaron Rodgers and trading away Davante Adams this offseason that this would finally be the time for the Packers to spend big draft capital on a top-tier receiving talent in what was one of the most loaded receiver drafts in years.
They spent their two first-round picks on defensive players out of Georgia.
They DID end up moving up to get a receiver in the second round in Christian Watson out of NDSU the next day, but for them to pass up the opportunity to go get one of the guys projected to be game-changers at the top and for the jokes to continue on, the Cheeseheads had every right to be upset on Thursday night. Watson better pan out, to say the least.
HAPPY: Baltimore Ravens Fans
The Ravens seem to win the draft every year in their accumulation of assets, and this one was no different. They picked Safety Kyle Hamilton out of Notre Dame, who many considered to be the best athlete in the draft but fell because of positional value, they traded away Hollywood Brown to the Cardinals for more than what they initially drafted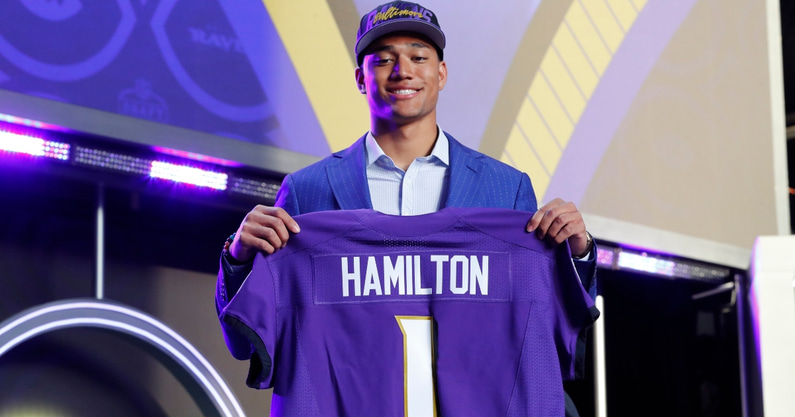 him for back in 2019 and all he's done so far is drop passes from Lamar Jackson, and used that asset to get Iowa Center Tyler Linderbaum, who could be an instant starter to protect Lamar for years. Like the Eagles, they also got to take a flier on a first-round talent with an unfortunate medical at pick 45- David Ojabo, a linebacker out of Michigan, tore his achilles, but was thought of as a game-changing player.
The Ravens just feel like they outsmart everyone and have a proven identity.
PROBABLY ANGRY: Chicago Bears Fans
The Bears didn't have a first-round pick because they spent it to move up and get their quarterback, Justin Fields, last year. They also now have a new coach and GM regime, which is a clean house for Fields and the end of an era that they'd like to forget.
However, they did absolutely nothing this year to continue to maximize this rebuild around Fields. The one main offensive target for him they got in free agency was Byron Pringle, who's already running into trouble with the law. They traded away Khalil Mack on the other side of the ball, and they didn't use a pick on an offensive target until round 3 in receiver Velus Jones Jr. out of Tennessee.
In a league where the most-valuable asset is a quarterback on a rookie contract, they've already wasted one year of Fields, and they showed no urgency at all to give him the tools to be set up for success as soon as possible.
HAPPY: New York Fans (Jets AND Giants)
The Jets and the Giants have been plagued with not only some of the worst records over the last 5 years, tied for the worst each at 18-49, but they also have so many hopeless embarrassing moments that happen under the New York Sports Media microscope that show how mismanaged they are, and it makes them feel like they've been run by dunces.
Now, there feels like a glimmer of hope going forward simply because it feels like they made logical decisions!!! It's easy to load up on talent when you have a plethora of picks at the top, but by merely making choices that seemed logical, in their new eras of first or second year coaches or GMs, all feels right in the New York market.
The Jets got Ahmad "SAUCE" Gardner at fourth overall, a cornerback out of Cincinnati that hasn't allowed a touchdown since high school, then got Ohio State receiver Garrett Wilson at 10th and a second-round running back, Breece Hall, out of Iowa State, the first one taken, to load up Zach Wilson with weapons, then traded back into the first to get Jermaine Johnson at 26th, the edge-rusher out of Florida State who many thought would go within the top ten picks. All seemed like home run picks for their value.
The Giants got the pass-rusher who many thought would go first overall a year ago, Kayvon Thibodeaux out of Oregon at 5th, then Offensive Tackle out of Alabama, Evan Neal, at 7th, who literally protected the most dynamite collegiate program his entire career and is 6'7, 351 pounds of pure muscle. All is in place for this team to see if Daniel Jones really is the guy this year now that they have Brian Daboll at the helm in his first season as coach.
We have no idea if these selections will pan out. They'll be crucified in New York if they don't- it's the nature of the beast there. But right now, all of the choices LOOK smart, which is something New York teams aren't used to.
PROBABLY ANGRY: New England Patriots Fans
It is so easy to look down at Bill Belichick's six rings and trust the man and think nothing of any of his decisions. He's earned that right and is one of the few cases in sports where the head coach has also been an elite roster-manager as well, and they get away with doing things differently. However, it's totally fair to question the strategy at this point in recent history. Mac Jones was a solid rookie quarterback starter last year, but they've whiffed in terms of value over the years, and this one is definitely up there.
They moved down in the first to get Cole Strange, the tackle out of Chattanooga. Cole Strange may go on to block for Mac Jones and be an all-pro- it's just that no other team thought that he would go that high. The Patriots could have added a much better asset with that first round selection. The Rams broadcast was even laughing at the pick because they thought he would be available way later in the draft when they got their first pick at 104th overall.
Belichick got his man, and good for him. We're rooting for Cole Strange. But when it's the pick that's so far out of left field that no one understands why they wanted him so eagerly off the board, the fans have nothing to defend themselves with outside of just putting their faith into the man with more rings and football knowledge than anyone else.