Since the English Premier League (EPL) began in 1992, it has become one of the world's most popular and lucrative soccer leagues.
According to Safebettingsites data analysis, EPL clubs generated £5.45 billion in revenue during the 2021/22 season, a 149% increase compared to the 2025/16 season.
---
Edith Reads Safebettingsites' financial lead has shared her thoughts on the information. She holds, "The dramatic increase in EPL clubs' revenue is due to several factors.
These include higher TV rights deals, sponsorship opportunities, and increased match attendance."
---
How Do EPL Clubs Make Their Money?
The English Premier League is the most-watched football league in the world. Consequently, its clubs are some of the richest sports teams. Most of the league's revenue comes from broadcast rights, sponsorships, and matchday payments. Of these three, television rights are by far the most lucrative.
Thanks to the league's enormous popularity, its clubs earn significant revenue from broadcast rights. This includes domestic and international TV rights, which are sold to networks around the globe. These payments have increased significantly recently as the league's popularity has grown.
Sponsorships are another important source of revenue. Companies are willing to pay large sums to have their name associated with a successful team. Matchday payments make up a significant portion of club revenues.
Clubs earned £3.1 billion from the live broadcast of the EPL in the 2021/22 season. By comparison, they got £1.65 billion from sponsorship deals, while matchday revenues totaled £700 million.
---
With such a massive infusion of cash from television rights, it's no wonder that EPL clubs can sign some of the best players in the world.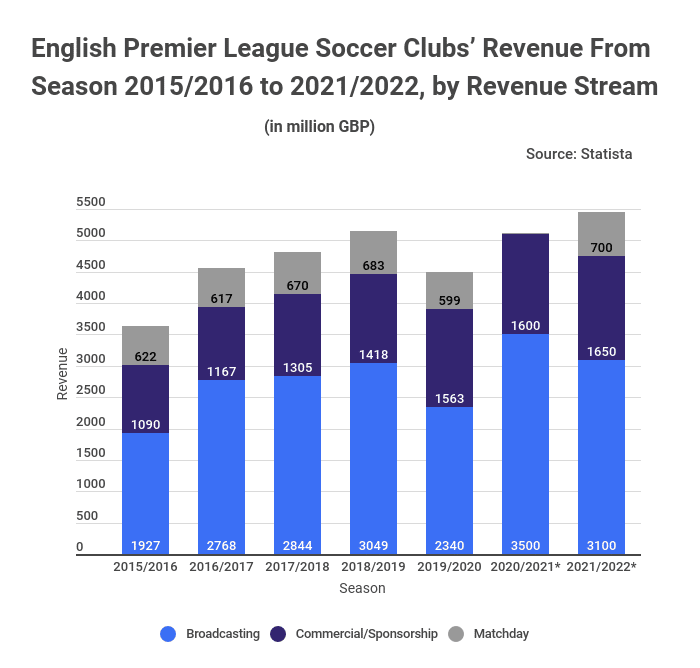 ---
Impact Of The COVID-19 Pandemic
The COVID-19 pandemic significantly impacted the 2019/20 revenues for professional football clubs in England. Containment measures to prevent the virus's spread meant that fans were excluded from matches. That resulted in a shrinking of funds by 13% from 2018/19 figures of £5.15 billion.
It's been a long and difficult two years for everyone, but there's finally some light at the end of the tunnel. The containment of Covid-19 has seen a return to normalcy in the stadia. Revenues have peaked in the last two seasons, and there is optimism that these will grow even further in the 2022/23 season.
---
The main reason is that fans can finally return to watch their teams live. This has been a huge boost for clubs, as they've generated much-needed income.
There are also plans to increase stadium capacity by allowing safe standing in the stands. That'll help ensure that the stadia remain a viable option for teams and their fans.
---
Featured Image: Getty Images