Many English Premier League footballers consider Twitter an excellent tool for connecting with fans and sharing news and experiences. But it can also be a medium for their abuse from fans who disagree with them.
Some footballers have become the punching bags of abusive fans, who use Twitter to voice their displeasure with them. This can cause the footballer a lot of stress, hurting their mental health.
---
One player who has been particularly affected by Twitter abuse is Cristiano Ronaldo. According to a Safebettingsites data presentation, he faced the most abuse in the EPL between August 13, 2021, and January 24, 2022.
The Portuguese star who plies his trade with Manchester United received 12,520 abusive tweets during that period.
---
Safebettingsites drew its conclusions from an Alan Turing Foundation and Ofcom study of over 2 million tweets directed at EPL stars during the first half of the 2021-2022 season.
"While many use Twitter to express their love for their club or player, others use it to troll them," says Safebettingsites' Edith Reads.
She adds, "Tackling this vice requires concerted efforts of Twitter's management and fans to make the platform a safe one for all its users."
---
Manchester United's Players Are The Most Trolled
A deep dive into the data shows that Manchester United's players dominate the top ten most abused players list. A record eight of them, two who have since left, feature in the top ten. These include Ronaldo's captain at the club, Harry Maguire, the second most abused player in the EPL. Maguire received 8,954 hateful tweets during the same period.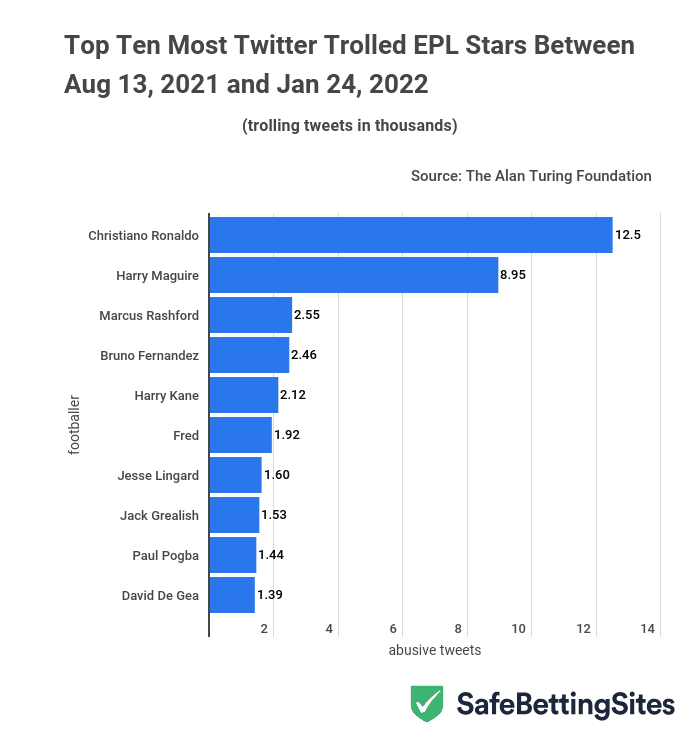 Marcus Rashford came in third, having attracted 2,557 trolling tweets. Most of these related to him missing a penalty while playing for England in the team's Euro 2020 final loss to Italy. Meanwhile, his teammate Bruno Fernandez of Portugal took the fourth position after he received 2,464 abusive tweets. Other Red Devils on the list include Fred (6th) and David De Gea (10th).
Jesse Lingard and Paul Pogba, who left the club for Nottingham Forest and Juventus, took the seventh and ninth spots. Harry Kane and Jack Grealish took the remaining two slots. Tottenham's Kane was the fifth most abused player with 2,127 trolling tweets, while Manchester City's Grealish was eighth with 1,538.
---
Stemming Twitter Abuse
The Alan Turing-Ofcom study found that up to 70% of EPL players have suffered some form of abuse on Twitter. These findings are concerning, to say the least, and highlight the need for greater awareness of online abuse and its potential impact on mental health.
Ofcom's director for broadcasting and online content Kevin Bakhurst insists that social media platforms need to be more proactive in rooting out the vice. He says trolling doesn't have a place in sport or the wider society. As such, social media firms need to be transparent about how they are protecting users and design their services with user safety in mind.
Bakhurst adds that supporters can play a pivotal role in protecting the sport. He adds that most of the game's online fans behave responsibly. Thus their reporting of abusive posts will go a long way in stemming the unfortunate behavior.
---
Featured Image: ---