The NFL is finally back, as is our annual tradition of overreacting to the most meaningless week of an 18-week stretch with the most pieces in flux, the most adjustments to be made by teams, and the most unknown learning curve after 6-7 months off for teams. All we have are our preconceived notions.
Many of you remember when we marked the Packers as dead in Week 1 after their 38-3 loss to the Saints and Jameis Winston. Many of you remember when we suddenly thought the Panthers might have fixed Sam Darnold after he got the win and led Carolina to a 4-0 start. Who could forget the Cardinals throttling the Titans on the road, 38-13, and looking "Super Bowl bound" as Kyler Murray had taken the leap?
The point is, it's one game, everyone. We're thrilled to have football back, so the overreactions are pouring in. Let's debunk the overreactions by either telling the media to either calm down or slow their roll by debunking the Week 1 storylines.
"THE BUFFALO BILLS ARE IMMINENT SUPER BOWL FAVORITES!"
The Bills have been the consensus Super Bowl pick during the preseason prediction cycle of the NFL media- they were 13 seconds away from beating the Chiefs in one of the best playoff games of the decade, Josh Allen is on a trajectory that is only going upward, they seem to be the most-balanced team in the AFC after they didn't undergo significant loss, only adding Von Miller to their already strong defense, and they have the "darling" element on their side as being a motivated organization looking to finally get over the hump.
They jumped right out of the gate by looking almost as dominant as we thought in the Thursday night opener against the Super Bowl Champion Rams and won 31-10. Allen was the MVP favorite that we all thought he would be, going 26/31 with 297 yards and 3 touchdowns. We're not quite sure how to pinpoint the skill of the feat, though- Buffalo still turned the ball over 5 times, and the Rams looked incredibly hungover from their Super Bowl with a slinged-up Matthew Stafford.
If you're the Bills, do you want this much energy of inevitability? The AFC is so loaded that there should not necessarily be an imminent favorite- so much has to go right in football in terms of luck with injuries and scheduling alignment that winning a Super Bowl is absurd. The Bengals won the AFC at 10-7 last year by peaking and getting healthy at the right time. They could be the best team, but inevitability is too lofty an expectation for anyone in football.
"THE GREEN BAY PACKERS ARE FINALLY DEAD."
As stated earlier- the Packers lost 38-3 week 1 to the Saints last year in what was one of the most abhorrent performances of Aaron Rodgers career. No, they no longer have Davante Adams like last season, but a couple of momentous plays that are week 1 caliber-errors that could have shifted the energy of this 23-7 loss occurred, such as a wide open 75 yard touchdown pass that was dropped and a 4th and goal run getting stuffed. The momentum they lacked to get into the game is yet another occurrence of slow starts in Green Bay. If they found a way to create a gameplan of, oh, I don't know, not allowing Justin Jefferson to get his career-high in receiving yards in merely the first half alone, they could have hung tough on the road with their division opponent. It's not great that the Vikings looked as competent as they did, but Rodgers needs time to get into a rhythm with his new team yet again. The Vikings feel like they've had the Packers' number for a while now, winning 3 of 4, so Green Bay will have 16 weeks to get right. In the immediate future, what better way for Rodgers to get right than a week 2 matchup against the Bears? R-E-L-A-X.
"TREY LANCE IS NOT THE GUY IN SAN FRANCISCO AND SHOULD BE BENCHED FOR JIMMY GAROPPOLO."
Did anyone see the weather in Chicago that the 22 year-old sophomore quarterback was playing in his third career start? It was monsooning so hard that the Bears literally penalized for using a towel to attempt to clean up the field. The conditions were not ideal to say the least, his All-Pro tight end George Kittle and running back were out, and the reality is that this is a player who threw 502 passes in his life heading into yesterday. The defense and talent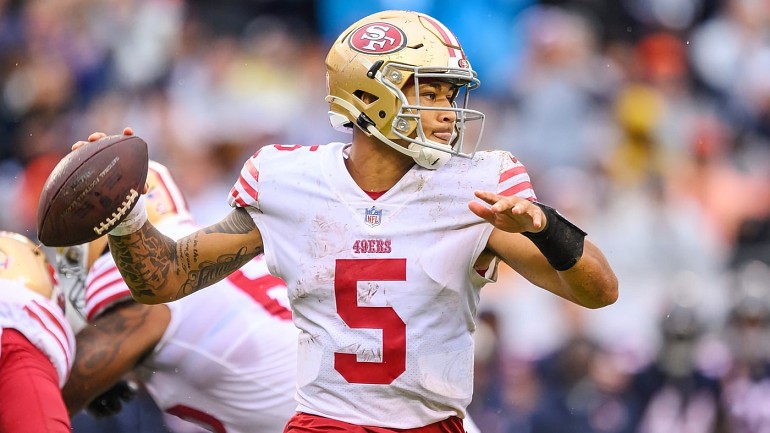 around him is strong enough for him to go through a learning curve as he figures mechanics out to avoid the misses that he should have made in even fair weather conditions, but the Niners clearly saw his physical tools at such a young age and have invested far too much draft capital and resources in him that it's too late now to back out and risk the PR-hit..
"MIKE MCDANIEL COMPLETELY FIXED TUA!"
You know who is 4-0 against the New England Patriots? Tua, that's who. The once hailed golden prospect out of Alabama that teams were allegedly tanking for has suffered injuries, scrutiny, and criticism ever since joining the NFL, appearing as the "weak link" on a Miami team that has been built to win in the present, and now, after adding Tyreek Hill and hiring Mike McDaniel, the offensive guru known for maximizing offensive production, Tua has no excuses to underperform and not be what we thought he would be coming out of college.
Tua opened up the year with a statline of 23/33 1 TD 0 picks to start the year in their 20-7 win at home over New England. While this New England team looks out of sorts on the level of a team that could be drafting in the bottom 10 this year, Tua essentially made no mistakes.
That's all, though. He's a guy that made no mistakes. That might be all that Mike McDaniel needs to build a winning team in South Beach, but we thought Tua was going to be the rocket-armed passer out of Alabama slinging 70-yard bombs to Devonta Smith. All we saw in their win merely confirmed what we already thought would be ideal for Miami- McDaniel would scheme open his speedsters Jaylen Waddle and Tyreek and Tua would do his best to not underthrow them. His lone touchdown came when Waddle made magic happen on a slant, and Hill still had to strip away an interception from a New England defender right before then. In a loaded AFC, Tua is still going to need to be able to learn how to capture that firepower to have a long-term position in Miami.
"THE BENGALS MAGIC FINALLY WORE OFF! I TOLD YOU!"
The Bengals are coming off one of the most impressive 8-week stretches to end the regular season to ride their way to the Super Bowl ever. It truly felt like a magical run- none of their weaknesses that caused Joe Burrow to run for his life prevented him from dropping dimes to Ja'Marr Chase until the very end win it cost them in the big game. This offseason, they did all they could to invest into their offensive line to invest in the safety of the man who saved the team from their normal cesspool of mediocrity.
And in the opener, it began by looking like a clunker.
The rival Steelers came into their house and pressured Burrow just the same as everyone else did last year as he was sacked more than anyone else in history. The Bengals at one point trailed 17-3 and Burrow threw 4 picks. Magic gone.
However, it never felt like the Bengals were out of it- that's just how cool, calm, and collected Burrow is at rallying the team, and that's the sign of a team that has what it takes to be competitive every single week.
The Bengals clawed their way back to tying it and sending it to overtime, and if it weren't for a couple of flawed snaps from their backup long-snapper impacting Evan McPherson's field goal attempts, they could have gritted out an ugly win against one of their blood rivals, and the story would have been completely different. This Bengals team competes. There's no reason to panic as long as Joe Cool is at the helm and upright.
"THE GIANTS ARE BACK!"
Saquon Barkley looked like the best running back in the league that we thought he would turn out to be when the Giants drafted him 2nd overall in 2018 in his Offensive Rookie of the Year season. After an abysmal stretch, he ran for 164 yards, a touchdown, and muscled his way through to the game-winning 2-point conversion to stun the reigning #1 seed in the AFC Titans in Nashville. Bringing in Brian Daboll as head coach, the coordinator credited with fixing Josh Allen in Buffalo, and starting off the season with a gritted-out win on the road after so much turmoil ever since the Odell Beckham boat photo was about as cathartic as it gets in the Meadowlands.
Let's realize what this team really wants, though: to move on from the current regime.
If the new GM and front office believed in Daniel Jones, they would have orchestrated a roster that believed in him and set him up to win this offseason. Instead, they chose not to extend him, and the roster looked prime to start scouting Bryce Young and CJ Stroud in 2023. Yes, they escaped Tennessee with a win, but Jones made some of the most abysmal decisions possible in his throws, and they had to scrap and fight their way to score points on a Tennessee team relying on Dontrel Hilliard as they were down 13-0 at halftime. The win looks nice, but we can't just ignore the moments of Daboll ruthlessly berating his quarterback committing malpractice on the sidelines.
The win was certainly encouraging after the franchise has undergone nothing but headline-stirring pain for the last half decade, but the real win is that they have a DIRECTION, not a 2022-23 winning roster.