We've reached the point in the NFL season and college football season where many fans have already started looking at 2023 mock drafts and watching college prospects to evaluate talent that would best fit their teams. It may be because you feel so close yet so far from perfecting a roster weakness that is glaringly in the way of making you a contender, or it could be because the season has now been deemed hopeless and an entire rebuild is needed.
The quickest way to perfect a roster? Drafting a franchise quarterback on a cheap rookie deal with a stout infrastructure. The problem? Finding the right guy with the right scheme in a perfect location has become a rarity. However, we've seen contenders become even quicker to throw their hat in the ring by bringing in another rookie in spite of quarterback stability- from the Chiefs taking Mahomes with Alex Smith, the Packers taking Jordan Love with Aaron Rodgers, to the 49ers taking Trey Lance with Jimmy Garoppolo.
With a variety of situations that could be landing spots for the rookie prospects, let's evaluate the locations for teams that could be putting themselves on the market. Where would we realistically WANT to go if we were a CJ Stroud, a Bryce Young, or a Will Levis? Let's treat the team situations like Zillow by finding the best possible suitors and a few of the worst.
DISHONORABLE MENTIONS
Tampa Bay Buccaneers
Tom Brady is likely in his final season (although the man seems to never want to commit to leaving). If Tampa were to become available, one might think, "Hey! They were in the Super Bowl just two seasons ago, right?" Well, Tampa's success was entirely embodied by Brady's unreal play, his ability to recruit veterans, the coaching of Bruce Arians. All of that has seemed to go away this season with their dreadful start, and it doesn't feel like it will get any better soon for a rookie with the oldest roster in football and the 31st amount of cap space going forward.
Indianapolis Colts
As the relative success in response to Andrew Luck's shocking retirement has given Indy a glowing reputation, don't let that or the names like Jonathon Taylor or Shaquille Leonard fool you. This is an organization that had an owner phone in Matt Ryan's removal midseason for Sam Ehlinger, they've had NO stability at quarterback season after season,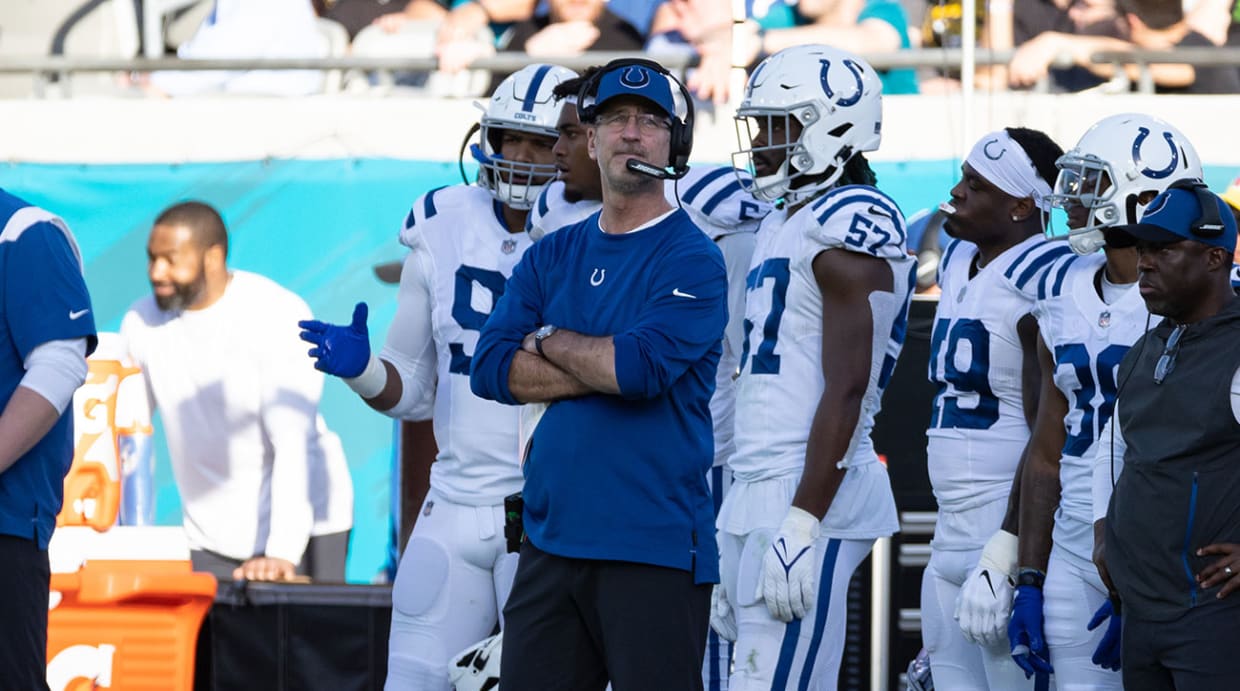 they've refused to spend at all on skill position players, they have the worst offensive line in football with Quenton Nelson approaching free agency, and just when you thought it couldn't get any more dysfunctional, Jim Irsay went entirely scorched Earth as a midwestern tornado of dysfunction. Not only did he fire Frank Reich, he hired Jeff Saturday as his interim replacement. Yes, that Jeff Saturday, who was a successful offensive lineman for the organization, but was last seen giving hot takes working for ESPN and likely eating chips in a film room for a HIGH SCHOOL team that he was coaching. When the Colts play on Sunday, they'll have absolutely zero experience with anyone on the offensive end calling plays. This makes Andrew Luck the ultimate domino in NFL history even further; now, just four years later, it's a place you'd least like to land as a quarterback after decades of greatness in Indy.
New Orleans Saints
The Saints have been going through an identity crisis ever since the Drew Brees-Sean Payton glory days have come and gone, but they were conceited enough about their organizational stability, their defensive firepower, and their coaching that they still continued to go all-in despite how far away they are, and the bill is about to become due. Jameis Winston, Andy Dalton, and Taysom Hill as a trio haven't been the answer, clearly, but they still gave up their pick to move up to give them a weapon in Chris Olave. So, next year, this losing roster is going to be without a stable quarterback, without a first-round draft pick, $62 million over the cap, the second-oldest roster in the NFL, and has a coach that has struggled out of the gate thus far. While New Orleans would be a fantastic place to play on paper, this is a team that is holding on for dear life to not have to rebuild.
THE BEST LANDING SPOTS
New York Giants
There's absolutely no telling if they'll even be in the market for a quarterback to be plugged in to play in 2023; they declined Daniel Jones's contract extension before the season and refused to give him weapons, but under his new coaching staff, a competent defense, and a healthy Saquon Barkley and offensive line to protect him, he's led the Giants to one of the most-surprising successful starts of the young season.
That said, the success hasn't quite been because Daniel Jones was carving up defenses and throwing no-look Mahomes passes. He's been enough to elevate their play by merely NOT turning the ball over at a historic pace.
The Giants could be licking their chops at the idea of inserting a quarterback who takes them over the top as opposed to one that has just had his flaws mitigated. They'll have the fourth-most cap space in football to acquire receivers that you may have actually heard of, Saquon Barkley will be in the backfield, a defense that has allowed the 7th-fewest points per game, and a coach that appears to have changed the culture of the franchise. It's an ideal place to be if you can handle the bright lights.
New York Jets
Speaking of New York, the Jets have entirely proven that they have a young core that is ready to win now that unfortunately whiffed on their #2 overall pick at the quarterback position in Zach Wilson. While they've had some winning ways this season when the pocket is cleared for Zach, he has time for play-action, and everything goes according to plan, he makes some sort of backbreaking, inexcusable mistake in almost any other situation.
Wilson has the worst overall completion percentage, meanwhile, the defense has gone to another level, allowing the 6th-fewest yards per game, and being young while doing it. This is a team that has developed young talent fast- Sauce Gardner and Quinnen Williams have dominated on the defensive side, while a quarterback could so easily slide in to have Alijah Vera-Tucker protecting him with a backfield of Breece Hall and Michael Carter.
It's time to cut ties and strike while the iron is hot.
Seattle Seahawks
Who would have ever thought that this could be the ideal landing spot after they cut bait with Mr. Unlimited in the offseason?
Geno Smith has been cooking late in his career- he's 32, having his first taste of success, and is just on a one-year "prove it" deal. Seattle could so easily bring in a young quarterback to be groomed behind Geno to ride out whatever he has left in the tank should they bring him back and invest in other, more crucial positions.
This is a roster where the quarterback would not only have DK Metcalf and Tyler Lockett through 2026, but the Seahawks have been winning with the most minutes given to their rookie class in football. They NAILED their picks with Kenneth Walker III looking like a bowling ball through the trenches, Charles Cross manning the offensive line, and the second-coming of the Legion of Boom in Coby Bryant and Tariq Woolen causing turnovers every which way. They have the youth, they have the coaching and stability, they have an insane amount of cap space coming up, and they have the Denver draft picks that only continue to look more valuable.
It's time to contact Dr. Frasier Crane about real estate agents in the pacific northwest.