Welcome to week 15 of the 2022-2023 NFL Season. If this is the first time reading one of my articles, welcome to my weekly picks blog! I will give you guys' predictions for every game in the NFL each week. First, First, First, I will provide predictions in three ways: Straight up (Picking the game's winner), ATS (Against the Spread), and Over/Under of the total. Then, I will give my three best bets every week in more in-depth, and those will only be ATS; one of them will be my Greene Guarantee of the week. Last Year I had a pretty successful season, so without further ado, let's get into it!
Best Bets for Week 15
The best bet record this year was 22-19-1
There might not be a hotter gambler in the game than yours truly. I once again went 2-1 on my best bets, but this week I hit the biggest parlay of my life on Sunday's slate. It was a surgical six (shoutout BookitwithTrent) of these teams: Bills, Lions, Eagles, Chiefs, Panthers, and Chargers, and it was $25 and paid over $500. Euphoric feeling, but I want more! Greene's Guarantees have hit six out of their last seven, and best bets are seven out of their last nine. Can we stay hot? Let's get into my best bets for week 15 of the NFL.
1. Seattle Seahawks (+3.5) vs. San Francisco 49ers
We start on Thursday Night Football, where I am all in on the Seattle Seahawks this week. This is such a sketchy line, and Vegas will not trick me. Do you mean to tell me that Seattle is only a 3.5-point dog when they got upset at home by the 4-8 Carolina Panthers? To add to that, the San Francisco 49ers just blew out the Tampa Bay Buccaneers 35-7. Did I also mention that the 49ers, by far, have the best defense in the NFL? Trap line alert!!! This is a great opportunity for a bounce-back spot for the Seahawks and a clear letdown spot for the 49ers.
The 49ers are 7-3 ATS in their last ten road games and 4-0 ATS in their last four games. The Seahawks are 8-2-2 ATS in their last 12 Thursday games and 0-4 ATS in their last four games. The 49ers are 2-8-1 ATS in their last 11 meetings in Seattle. The home team is 4-1 ATS in their last five meetings. Geno Smith and the Seahawks need this win to stay alive in the playoff race, and I think that is exactly what they do. The Seahawks get a huge division win on Thursday Night.
Seahawks 24 49ers 21
2. New York Jets (+1) vs. Detroit Lions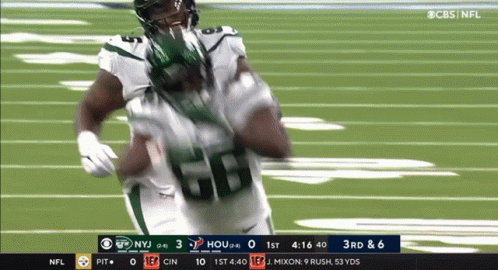 After last week's win over the Minnesota Vikings, everyone is hopping on the Lions bandwagon, claiming they are the team destined to make a run, the team no one wants to face in the playoffs. While the Jets have lost two out of their last three, and many have counted them out in the playoff race. While Lion's offense has been unbelievable this season, I think people forget how good the Jet's defense has been. Their 3rd in yards allowed per game (301.2), fourth in passing yards allowed per game (189.2), and sixth in points per game (18.7). I believe at home; this defense is more than capable of shutting down this Lion's offense.
The Lions are 6-0 ATS in their last six games overall. The Jets are 5-2 ATS vs. a team with a losing record and 7-3 ATS in their last ten games. This is a huge game for both teams, and such a close line gives me the home team to edge it out.
Jets 20 Lions 19
3. Tampa Bay Buccaneers (+3.5) vs. Cincinnati Bengals (Greene's Guarantee)
For the second time, this season Tom Brady and the Bucs find themselves as Greene's Guarantee of the week as they face a must-win game at home vs. the Bengals. While the Bucs play in, by far, the worst division in football, the Saints and Panthers have very winnable games this week, and a loss could threaten the Bucs' division title/playoff hopes. Once again, this is a great bounce-back spot for the Bucs as they were just blown out, as previously mentioned, by the 49ers 35-7, and the Bengals are coming off back-to-back huge wins vs. the Chiefs and the Browns, who they struggled with in the past.
Cincinnati is 4-1 ATS versus a team with a losing record. Tampa Bay is 1-6-1 ATS in the last eight at home and is 1-9-1 ATS in their last 11 overall. One thing the Bucs have is a good defense, and with Tee Higgins and Tyler Boyd banged up, I expect the Bucs to take advantage and win this game outright to stay .500. I guarantee it!
Buccaneers 20 Bengals 17