Football and food already go hand-in-hand but add in the Super Bowl, and it's the best of both worlds!
It's the time of year for classic favorites like buffalo wings and chip dips, but which dish deserves its own trophy as the best of the best?
---
We analyzed more than 9,000 Google search terms to determine the most popular Super Bowl foods across the United States.
We also asked people what their go-to drinks are for the big game, and you may be surprised what the number one drink is!
---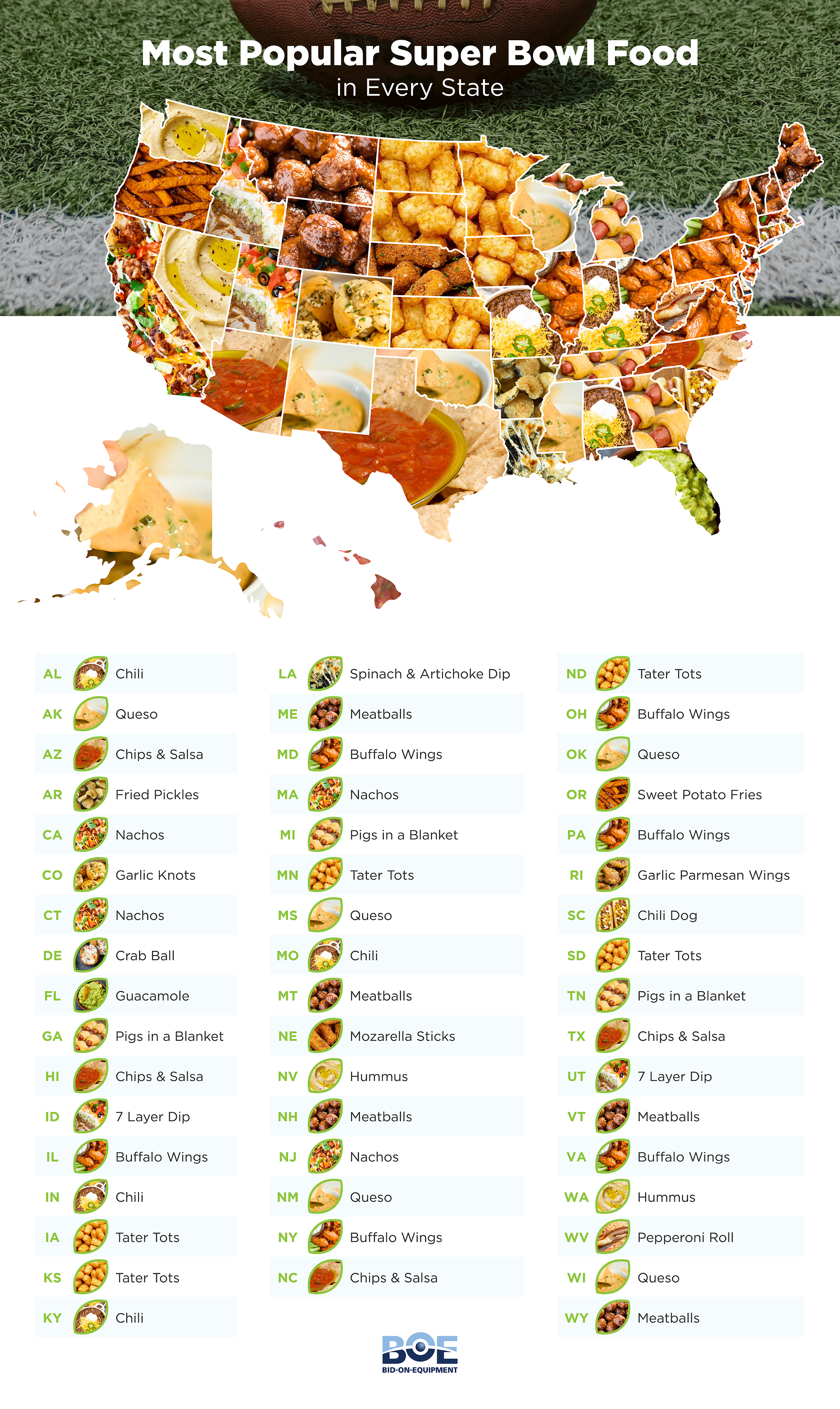 The Super Bowl is often synonymous with buffalo wings, and unsurprisingly, wings are the most popular food in 7 different states. Illinois, Maryland, New York, Ohio, Pennsylvania, and Virginia all love buffalo wings. Rhode Island is also a big fan of wings, but people there would like them tossed in a garlic parmesan sauce.
Other top foods include meatballs, tater tots, and queso. While queso was Wisconsin's favorite dish, a close second, there was a beer cheese dip. It's no surprise since the Midwest state is known for its dairy products. (In case you forgot, Green Bay Packers fans are even referred to as cheeseheads!)
Alabama, Kentucky, Missouri, and Indiana all like to stay warm on game day with a bowl of chili. While South Carolina likes chili, people there prefer it on a hot dog. Separately, Georgia, Michigan, and Tennessee like to do pigs in a blanket.
Certain foods were only popular in individual states. People in Delaware like to serve up crab balls; in Arkansas, fried pickles are a favorite, Floridians love guacamole, and people living in Oregon can't get enough of sweet potato fries.
---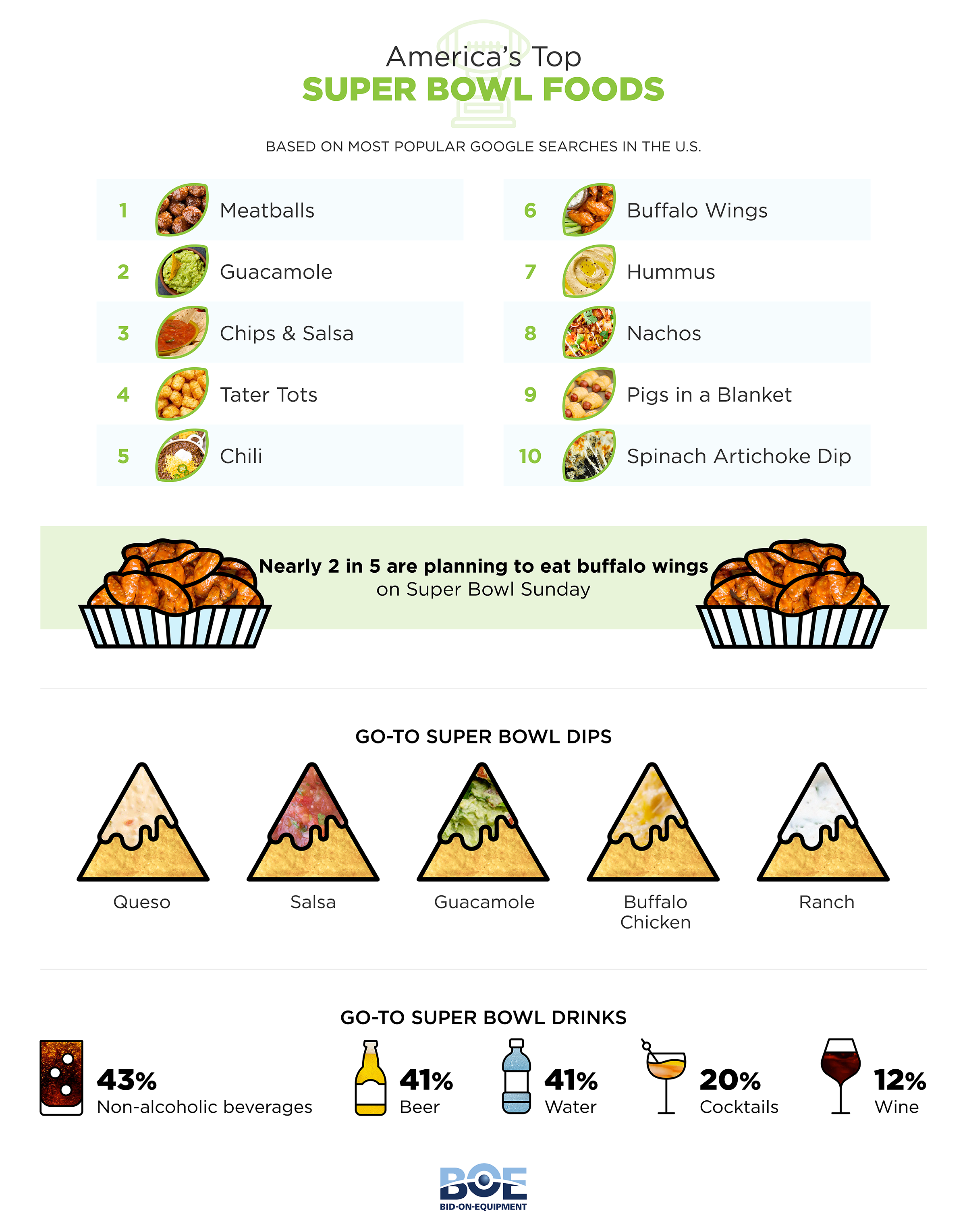 Surprisingly, the most popular Super Bowl food in all of America isn't buffalo wings, but meatballs! Meatballs are the most searched dish around the Super Bowl season, followed by guacamole, chips and salsa, tater tots, and chili.
Buffalo wings ranked as the 6th most popular Super Bowl food, but that doesn't mean Americans will skip having them in 2023. In a survey of more than 1,000 people, nearly 2 in 5 (38%) said they are planning to eat buffalo wings on Super Bowl Sunday.
Another surprising discovery was America's go-to Super Bowl drink. While it ranked close, beer was beaten out by non-alcoholic beverages! More than 2 in 5 (43%) prefer alcohol-free drinks compared to 41% who drink beer.
---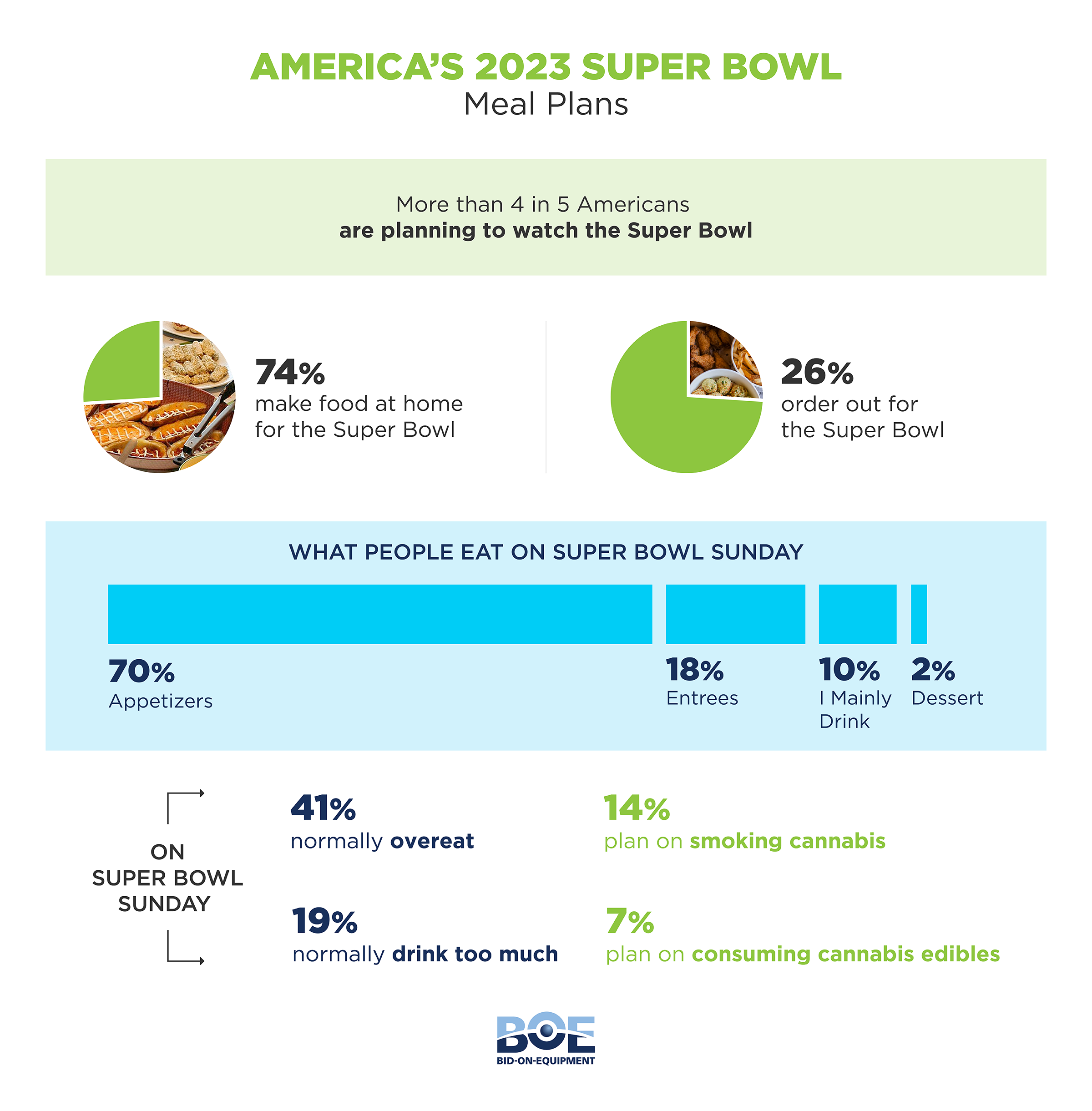 More than 4 in 5 (83%) people are planning to tune into the Super Bowl this year, and you can't watch a game on an empty stomach! Nearly 3 in 4 (74%) are planning to make food at home, while 1 in 4 (26%) are ordering out from restaurants.
70% of people surveyed admitted they mainly eat appetizers on Super Bowl Sunday, and 1 in 10 shared they usually drink a lot instead of eating food. Nearly 1 in 5 (19%) confessed they normally drink too much, and more than 2 in 5 (41%) shared they often overeat while watching the big game.
Others turn to something other than food and drinks: cannabis. Nearly 1 in 6 (14%) plan on smoking cannabis during the Super Bowl, and 7% plan on consuming cannabis edibles.
---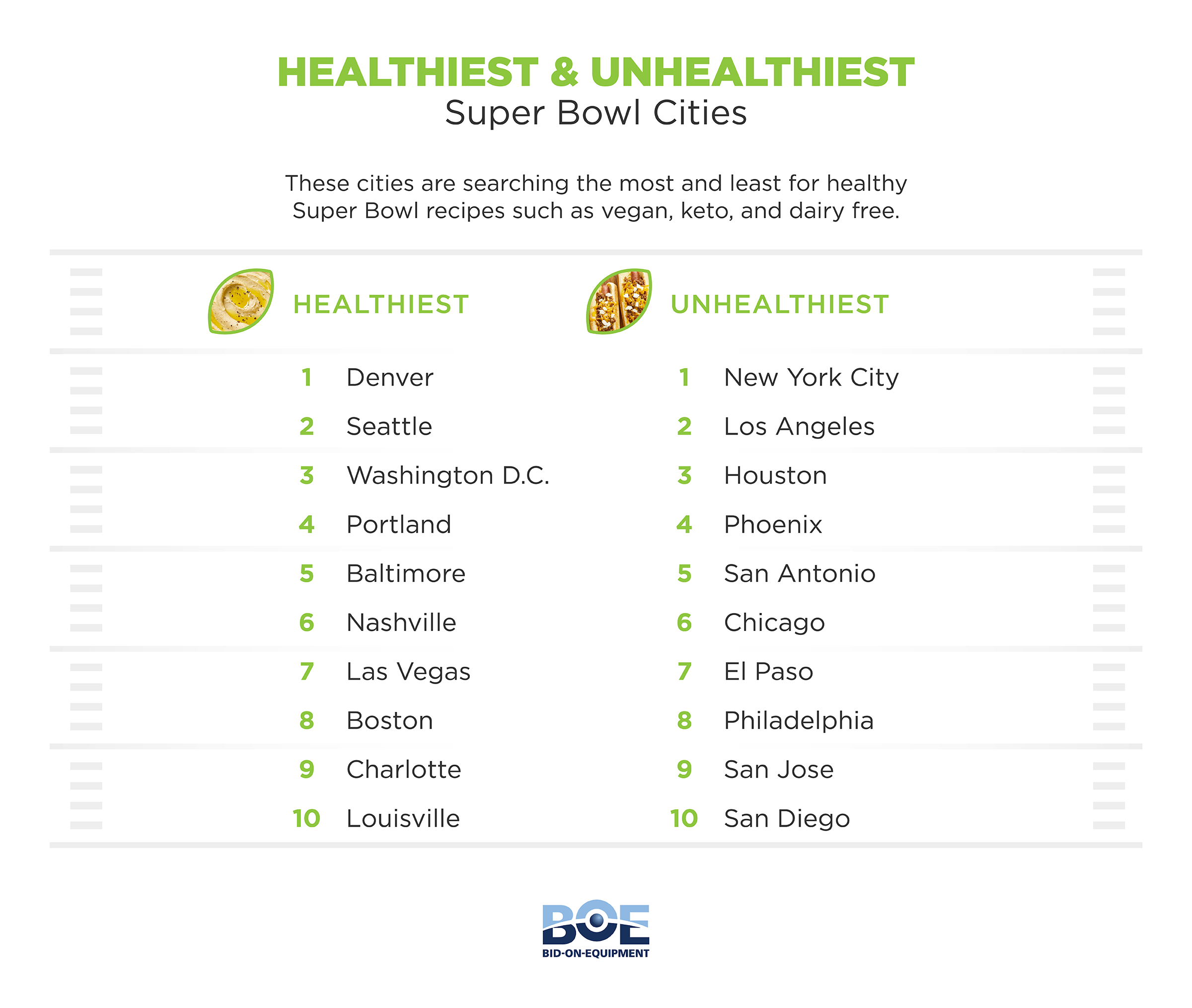 While the Super Bowl is a notoriously unhealthy day of eating, some cities are trying their best to enjoy the unofficial holiday health-consciously. We analyzed more than 300 search terms to see which cities were searching the most for healthy recipes such as keto, whole 30, and gluten-free.
Out of the 30 most populous cities, Denver topped the list as the healthiest, followed by Seattle, Washington D.C., Portland, and Baltimore. The unhealthiest cities ended up being some of the most populous. New York, Los Angeles, Houston, Phoenix, and San Antonio were the top five cities that serve up the most junk food.
Whether you're planning to try and keep your healthy New Year's Resolution intact or throwing all your resolutions out the window on Super Bowl Sunday, we hope that you have a football and food-filled day!
---
Methodology
In December 2022, we surveyed 1,053 people about their Super Bowl plans. 50% were male, 49% female, and 1% non-binary/non-conforming. Respondents ranged in age from 18 to 80, with an average age of 40.
To determine the top Super Bowl food by state, we analyzed Google search volume of 9,150 terms related to Super Bowl parties, such as "buffalo chicken recipe dip," "baked buffalo wings," and "7-layer nacho dip" over the period of December 2021 to March 2022. For this report, we analyzed the most disproportionately popular Google search terms to determine the most popular Super Bowl food by state. We compared each state's search results to the national average in order to determine which search term has a higher search volume and when compared to the national average.
This method of analysis allows us to even the playing field between smaller states with lower populations or a lower search volume (such as Wyoming, Vermont, Alaska, etc.) and states with a large population with higher search volume (California, Texas, Florida, etc.).
---
Featured Image: Bid-on-Equipment.com