Millions of Football and non-football fans are gearing up for Super Bowl Sunday. Whether you like the sport or not, it's tradition for many to watch the NFL game with others.
Just think – in 2022, 99 million people tuned into the game.
---
We analyzed hundreds of Google search phrases like "Super Bowl party" and "Super Bowl watch party near me" to determine the best cities for parties in 2023.
Here are the results.
---
Biggest Super Bowl Party Cities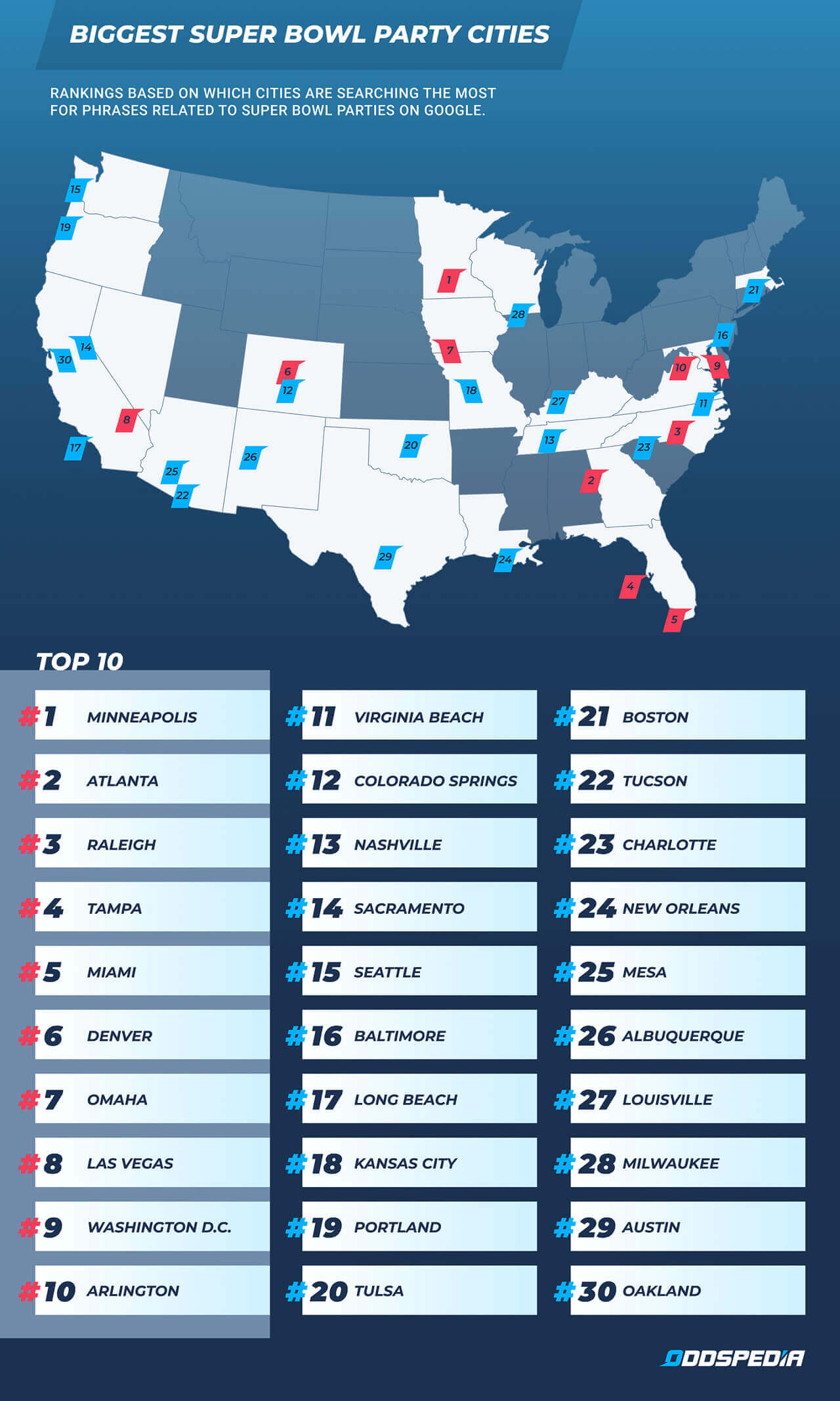 The number one spot for Super Bowl parties is Minneapolis! It was one of the only Midwest cities to make the top 10, aside from Omaha, which ranked 7th.
However, most parties are set to happen down South. Atlanta (2nd), Raleigh (3rd), Tampa (4th), and Miami (5th) are all planning to go big for Super Bowl LVII. Out West, three California cities ranked in the top 30: Sacramento (14th), Long Beach (17th), and Oakland (30th).
Oddly enough, in the big state of Texas, only one city made a list: Austin (29th). Some states are apparently planning to lie low on Super Bowl Sunday. Cities in states such as New York, Illinois, and Michigan didn't make the top 30 at all.
---
America's 2023 Super Bowl Plans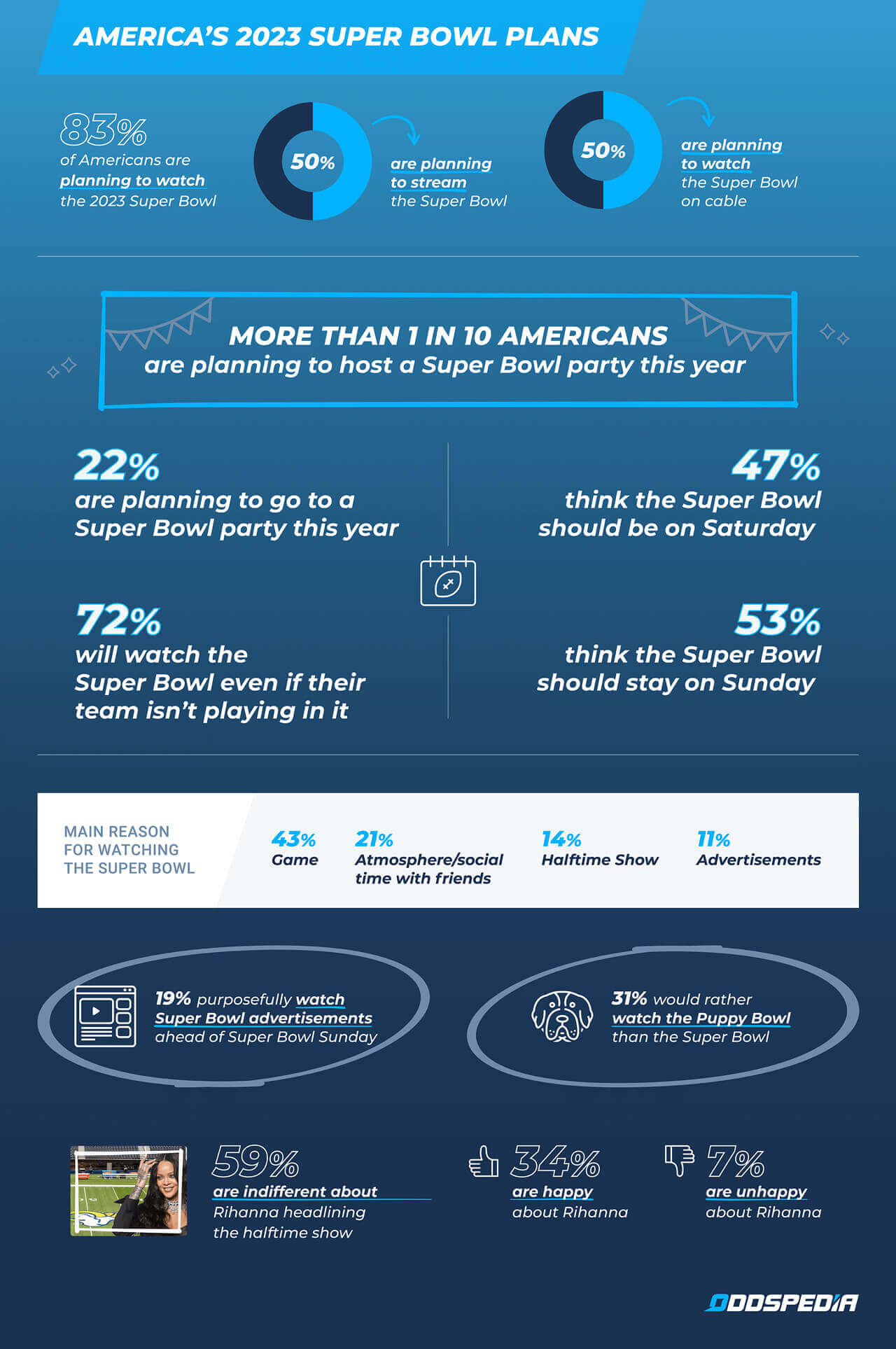 Football is not always the primary purpose for people to watch the game. While 43% tune in for the game, 21% admitted they watch the Super Bowl just because of the atmosphere and social time with friends. In fact, 55% of those surveyed said it's tradition to watch the game with their family and friends!
More than 1 in 10 (11%) are there for the advertisements, and nearly 1 in 6 (14%) watch only to see the halftime show. However, not everyone is head over heels for the star of the 2023 halftime show. Nearly 3 in 5 (59%) said they're indifferent about Rihanna headlining it. More than 1 in 3 (34%) are happy about it, and 7% are unhappy.
We also asked people to weigh in about when the Super Bowl should be held, and they were almost evenly split on their answers! More than half (53%) think the Super Bowl should stay on Sundays, but 47% would prefer the game to be moved to Saturdays.
Others would prefer to tune into a different sort of bowl game in place of the Super Bowl. Nearly 1 in 3 (31%) said they'd rather watch Animal Planet's Puppy Bowl than the Super Bowl!
---
The Cost of the Super Bowl
Nearly 3 in 4 (72%) are spending money on food, 63% are planning to buy drinks, and 9% are investing in some party supplies.
1 in 5 Americans will also be going through NFL betting odds and putting money on the Super Bowl. 20% are planning to bet on the outcome of the game, and 8% are planning to bet on the performance of individual players. A small number of survey respondents are planning to bet on some more ridiculous things, such as the national anthem length, what color Gatorade will be poured on the winning team, and if a fan will run on the field during the game.
---
Most Googled Super Bowl Questions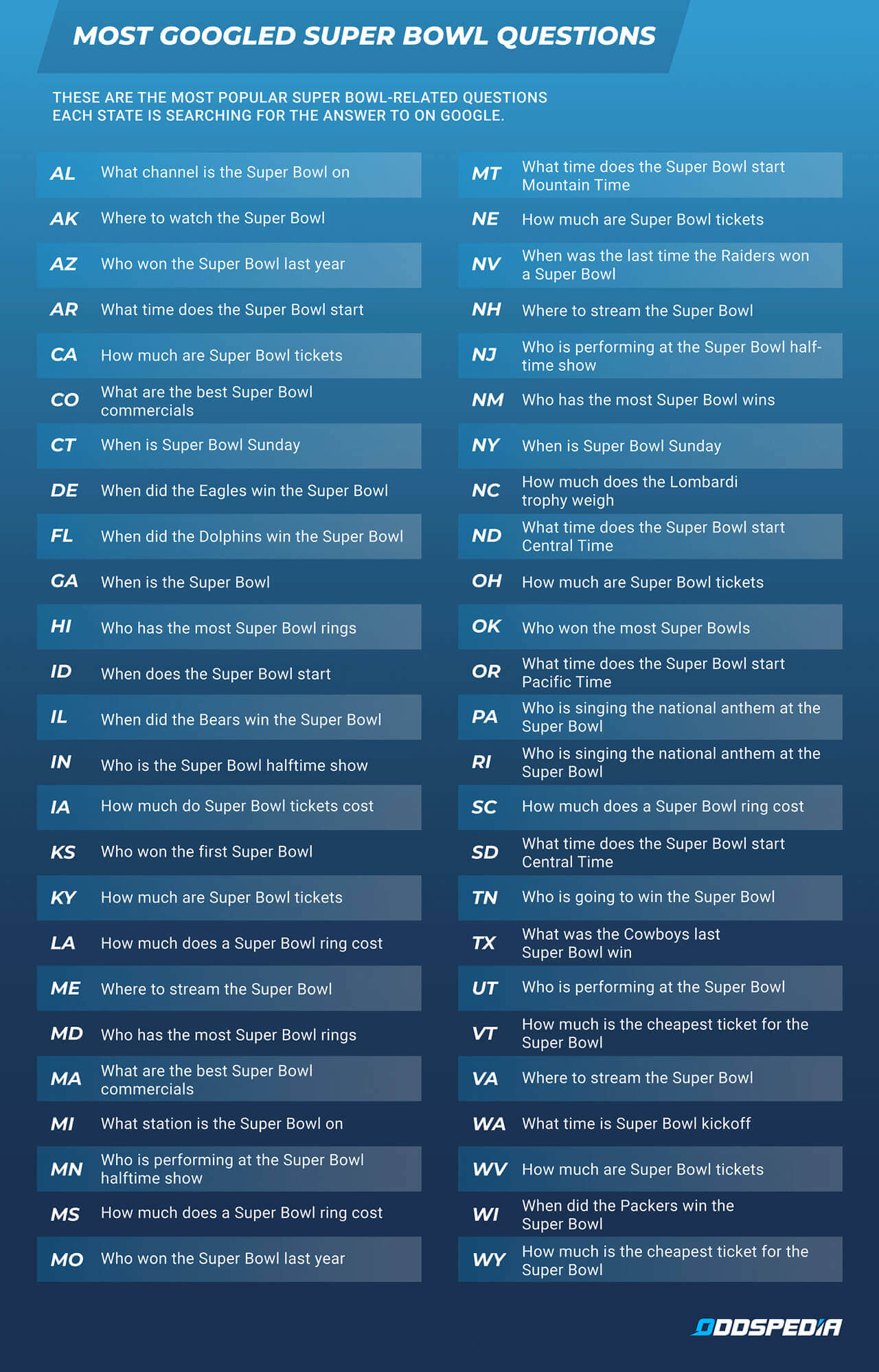 California, Iowa, Kentucky, Nebraska, Ohio, Vermont, West Virginia, and Wyoming all are searching the most about the cost of Super Bowl tickets.
The most searched Super Bowl question in North Carolina has nothing to do with the game, but instead, people want to know how much the Lombardi Trophy weighs. Meanwhile, Colorado and Massachusetts would just like to know what the best Super Bowl commercials are.
Whether you watch the big game for the sport, the advertisements, the entertainment, or just to be social, the Super Bowl is an unofficial American holiday worth celebrating. We hope you have a good time marking the end of the 2022 NFL season!
---
Methodology
In December 2022, we surveyed 1,053 people about their Super Bowl plans. 50% were male, 49% female, and 1% non-binary/non-conforming. Respondents ranged in age from 18 to 80, with an average age of 40.
To determine the top Super Bowl party cities, we analyzed Google search volume of 426 terms related to Super Bowl parties, such as "Super Bowl party near me," "Super bowl party food ideas," and "Super Bowl party supplies" over the period of December 2021 to March 2022.
The total search volume during this period was then calculated per capita and visualized per 100,000. We analyzed the 50 most populous cities in the United States to determine our rankings.
For this report, we also analyzed the most disproportionately popular Google search terms to determine the most popular Super Bowl question by state. We analyzed Google search volume of 926 terms, including questions such as "Where do I watch the Super Bowl" and "Where is the Super Bowl Streaming." We compared each state's search results to the national average in order to determine which search term has a higher search volume and when compared to the national average. This method of analysis allows us to even the playing field between smaller states with lower populations or a lower search volume (such as Wyoming, Vermont, Alaska, etc.) and states with a large population with higher search volume (California, Texas, Florida, etc.)
---
Featured Image: Oddspedia