Welcome to Super Bowl LVII (57) of the 2022-2023 NFL season playoffs. If this is the first time reading one of my articles, welcome to my weekly picks blog! I will give you guys' predictions for every game in the NFL each week. First, First, First, I will provide predictions in three ways: Straight up (Picking the game's winner), ATS (Against the Spread), and Over/Under of the total. Then, I will give my three best bets every week in more in-depth, and those will only be ATS; one of them will be my Greene Guarantee of the week. Last Year I had a pretty successful season, so without further ado, let's get into it.
*Due to fewer games during the playoffs, the Wild Card round will have three best bets and a Greene's Guarantee. There will only be a Greene's Guarantee in the Divisional, Conference Championships, and Superbowl rounds.
Super Bowl LVII Prediction
Best bet record this year was 30-28-1 (3-2 in the Postseason)
It was a very successful Conference Championship weekend for yours truly. I had had the Eagles -2.5 and my Greene's Guarantee of the week Chiefs +1.5 won. This brings us back over the .500 mark on our best bets (3-2) and Greene's Guarantee (2-1) for the 2023 NFL Postseason. Now here comes the big one. Since I started writing best blogs, I have been 0-3 ATS on super bowls and 1-2 SU. That has to change this year. So without further ado, let's get into my Super Bowl LVII prediction.
Philadelphia Eagles (-1.5) vs. Kansas City Chiefs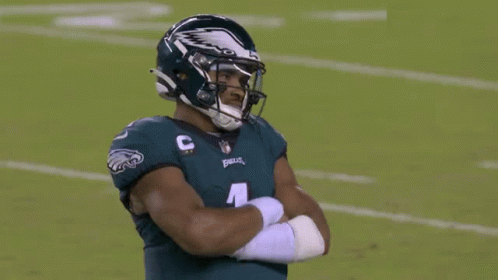 Before I get into my prediction, I must tell my readers that I am an Eagles fan. I have been going to games since I can remember and was at both playoff games vs. the New York Giants and the San Francisco 49ers. If you are a frequent fan of my picks blog, you would know I avoid putting the Eagles in any best due to possible bias. I had them once this season, and that was in week two vs. the Vikings. Even after going through all the trends and numbers, I still love the Eagles in the Super Bowl, and here's why.
If we had to break down each position between these two teams, how many do the Chiefs win? The Eagles have the better skill position, O-line, D-line, secondary, and run game. The Chiefs have Patrick Mahomes; this is the same scenario in 2021 when the Chiefs played the Tampa Bay Buccaneers. Tampa Bay was better in every positional group except one, and bettors like me thought Patrick Mahomes would be superhuman again. He was in that game, and they scored 9 points.
Some interesting trends to look after in this game. The Chiefs win if they score first; they are 13-0 this season when they score the first points of the game. What's not on the Chief's side is the MVP curse. The last nine QBs to win MVP and make the Super Bowl have all lost.
The Chiefs are 3-8-1 ATS in their last 12 games overall and 3-11-1 ATS in their last 15 after a straight-up win. Kansas City is 1-5 ATS versus a team with a winning record.
Meanwhile, the Eagles are 7-2 ATS in their last nine playoff games and 7-2 ATS versus a team with a winning record. Philadelphia is 5-2 ATS in their last seven after a straight-up win.
Both these teams have elite offenses. Incredibly, they scored the same amount of points with 546. The difference is the Eagle's defense. They have the number one passing defense in the NFL, and they have the most sacks in the NFL this season at 75. They have dominated through the playoffs, outsourcing their opponents 69-14. The Chiefs are playing with two rookie corners, which cost them here, with the Eagles having two elite deep threats in AJ Brown and De'vonta Smith. Patrick Mahomes has to be superhuman for his team to win, and I don't think he will get it done. The Eagles win their second Superbowl in five years.
Eagles 27 Chiefs 23