Let's face it: your bracket is busted. Of the roughly 70 million brackets submitted, none of them remaining are perfect in 2023. In a way, that's almost healing- now you can just sit back and enjoy the thrill ride as opposed to hoping for the impossible to occur. We get to appreciate the buzzer-beaters, the Cinderella stories, and the individual stories as these college athletes compete in the most unpredictable tournament in sports and achieve glory for a month.
College basketball gives us characters for a month. No, these aren't individuals playing the same game as the NBA where the grown men that are the 11th player on the roster can knock down an uncontested three on a whim, but the demeanor in which they play and the narratives created during this magical time in the sports calendar provides us with the same amount of entertainment.
So, who should we be riding with in this tournament? Who are the heroes and the villains now that we're down to just 16 teams? Many casual viewers only have the opportunity to create these bonds with the schools during this short period of madness. Let's reseed the remaining 16 seeds and their narratives based upon the likability of their "One Shining Moment" story when the confetti falls on April 3rd.
#1 Seed Alabama Crimson Tide
Being the unanimous favorite that has faced 0 adversity on the court by steam-rolling through Texas A&M Corpus-Christi and then Maryland with the best overall prospect in the tournament doesn't exactly say "lovable underdog." On top of that, you have the off-the-court controversy surrounding Brandon Miller and coach Nate Oats not taking any responsibility for off-the-court behavior. Also, you already have football, Bama. Take it easy.
#3 Seed Xavier Musketeers
Xavier hasn't necessarily done anything threatening to any of us as a Big East team that's never made the Final Four in its history. It's merely a matter of us waiting for them to possibly flame out after catching the injury bug and looking fraudulent in their opening game against Kennesaw State, and then Sean Miller is coaching this team. Yes, the same Sean Miller that was caught on a wiretap at Arizona discussing a $100K payment to secure a recruit while making 0 Final Fours in the process.
#5 Seed Miami Hurricanes
While coach Jim Larranega is practically our sweet grandfather of college basketball that is simply a players-first guy that is so easy to root for, Miami has an embarrassment of riches as an academic powerhouse, living in the luxurious South Beach, formerly being a dominant football program, and accumulating several of their players through the transfer portal or lucrative NIL deals by selling themselves with glitz and glam. It's rooting for the big market despite the Canes being a program that hasn't had success until the Larranega era.
#9 Seed Florida Atlantic Owls
They're the Conference-USA Champion team from Boca Raton that is the Owls. One might consider them a Cinderella, but FAU was in the AP Top 25 for a while during the season and is indeed for real, and because of late game antics after knocking down the darling #16 seeded FDU with a showboating failed slam dunk, they might be the least-liked underdog in the history of the tournament on social media(?) In regards to the failed dunk by Alijah Martin, no, it was entirely unnecessary, but neither are court storms that we love. We would all be purchasing Alijah Martin jerseys, putting his name in the rafters, and enshrining him as an American hero had he tried to yam on Duke in the final seconds. It's entirely reactionary.
They push the ball and drive to the basket, and rather than being a young team that tenses up when the lights shine in March, they play with their hair on fire with nothing to lose and want all the smoke (as you might have seen by the attempted windmill dunk at the end of their game against FDU). Johnell Davis is also a lanky guard that can do it all and is smooth like an Andre Miller with an outside shot and even had an adorable moment where he accidentally cursed in the postgame interview. The Owls have soared so far.
#5 Seed San Diego State Aztecs
There just isn't much of a story here other than they won their conference that has been one of the most historically-bad in the tournament in its history and beat Charleston and then Furman using a gritty, defensive, lengthy style of play. If they slay the dragon of Alabama in the Sweet 16 that's one thing, but we're just happy that you're here after losing in the first round in three consecutive appearances.
#15 Seed Princeton Tigers
While this is incredible that a 15-seeded Ivy League champion made the Sweet 16 with relative ease, this is the third year in a row that it's happened, and we're kind of becoming spoiled by it? Princeton also is the "rich finance bro" highly-esteemed economics school where if you lose to them not only are they better at basketball than you, but they can analyze data better than you and are smarter than you so they're basically better at life-ing than you. While a Cinderella story on the court, off the court it's a different story.
#8 Seed Arkansas Razorbacks
Eric Musselman might be the most-divisive figure in college basketball because of his antics. You might be entirely drawn to him ripping off his shirt and flexing and screaming in front of the fans after knocking off the #1 seeded defending champion Kansas Jayhawks, or you might find it revolting and over-the-top. However, on the court, the Razorbacks play a style of game similar to an enforcer in hockey that is the aggregator- Nick Smith, Anthony Black, and Ricky Council IV are all junkyard dog types of NBA prospects that thrive off of emotion and physicality that is a brand of bully ball you can either get behind or be entirely annoyed by if you're on the opposition. Arkansas is also coming off of three straight years of playing a #1 seed tough in the tournament, either knocking them off or falling to the eventual champion, so if you're riding the Muss Bus, this feels like the year talent-wise that could make it happen.
#4 Seed UConn Huskies
It's so fitting that Arkansas will be facing off against UConn, because Musselman and Coach Dan Hurley are sympatico as being Professional Wrestling heels that happen to coach college basketball. Hurley will be up 17 points with 50 seconds left against St. Mary's and will still be dropping f-bombs to the referees like a bull terrier if a call is unfair, and it's electrifying.
From a playing standpoint, the Huskies play some of the most aesthetically pleasing basketball left in the tournament, and this blue blood from the glory days of the Big East in the Calhoun era being back is so much fun. Adama Sanogo being a brickhouse that dominates the paint down low with his physical tag team partner Donovan Klingan is so imposing, yet they have a stable full of knock-down automatic clip shooters in Jordan Hawkins, Andre Jackson Jr., and Joey Calcaterra. The Huskies finally feel back as we're salivating thinking about the Kemba Walker and Shabazz Napier runs of old.
#6 Seed Creighton Blue Jays
This Creighton team is an underrated darling as they've never before made it past the Sweet 16. We remember Doug McDermott being one of the faces of the game playing under his dad as Dougie McBuckets, and Greg McDermott is still coaching and working to get the midmajor over the hump with one of the most-efficient starting lineups in the nation. Baylor Scheierman, the prized transfer of the offseason as the headband-wearing general on the court that can make big time shots from South Dakota State, had the opportunity to go to some of the biggest programs, but chose this Creighton team and what he thought they were building. It's efficient and team-oriented basketball with scorers that take care of the ball and want to elevate the program to the next level.
#1 Seed Houston Cougars
Houston is back and chasing that redemption. They've got the Final Four in their city this time, which would make for a storybook ending going along with alum Jim Nantz calling his final tournament game for CBS, and have a roster of Marcus Sasser and Jamal Shead being veteran point guards that are physical beasts that came back on their own accord to bring glory to the school after failing in 2021 to eventual champion, Baylor in the Final Four and falling in the Elite Eight last year. We all get to see clips of their powerhouse 1985 team crumble to the miracle NC State team with the Jimmy V clips year after year, so finally reaching the mountain top in their own city would mean everything to H-Town.
#4 Seed Tennessee Volunteers
People are beginning to wonder if the longtime Rick Barnes curse has been lifted! They slayed Duke dragon for all of us early even though it's just year one post Coach K, and Jon Scheyer hasn't really done anything for us to hate him yet, but it's still beating Duke! While Barnes also had the narrative of fielding well-performing regular season teams, even one with Kevin Durant, before getting bounced in the tournament early, this Tennessee team had relatively no expectations heading into the tournament with the only person that could score the ball, Zakai Ziegler, going down with an injury for the rest of the year. They struggled to score the ball even WITH Ziegler, and with him out, it was practically like the Volunteers were suiting up literal volunteers from their football team to play basketball.
But those physical big boys are defying the expectations! Every person on this Tennessee team's starting lineup is 6'2 or above and over 200 pounds, and they're just manhandling the opposition with their athletic skill sets. It's the opposite of what's been expected. Maybe all Rick Barnes needed was a team with no expectations after all!
#3 Seed Gonzaga Bulldogs
Year after year, you've heard the narrative that Gonzaga, the "powerhouse" that dominates the terribly weak competition only to blow it when it comes down to March (despite making 8 straight Sweet Sixteens). They blew it again last year with potentially one of their best prospects in the program's history, Chet Holmgren, and from that point forward, we wrote them off as a team that we wouldn't fall for again until proven wrong.
Because we've been bitten by that snake far too many times, and this being one of the weakest teams in recent years, Gonzaga has floated under the radar a bit, has not had the burden of expectations, and the players just get to go out and hoop. It might be the most delightful story in recent memory if this cursed school could come out of nowhere to redeem itself through the many "so close, yet so far" seasons.
Drew Timme may have been the polarizing figure of the NCAA in his early rise, stroking his mustache after a bucket turning some people away, but as a senior that's now the program's all-time leading scorer, he's unquestionably one of the historic faces of college basketball. His veteran presence of playing the inside-outside game and putting the team first in one of the prettiest offenses in the sport make the Zags a contender that's also legendary to watch, and we should take it all in.
#2 Seed UCLA Bruins
It's odd to think of the school with the most NCAA Championships of all-time and a blue blood program nationally as an underdog, but that's what's been crafted here in this UCLA Bruins team. When fully healthy,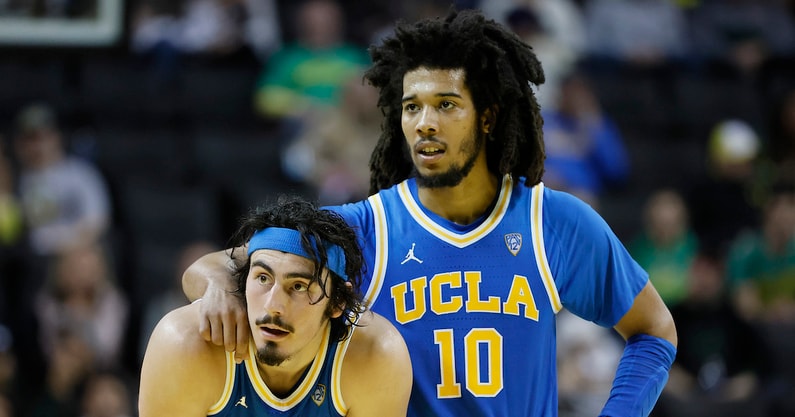 they would be a consensus Final Four pick with the amount of returning talent and rising freshmen talent paired with one of the best game-planners for the tournament, Mick Cronin. However, they were marred as "the team that could have been" before it even started with the injury to the team's best defender, Jaylen Clark, knocking him out for the season. Then, their big man Adem Bona has been nursing a shoulder issue. Finally, sharpshooter David Singleton suffered a sprained ankle in the Round of 32 that will leave him a bit hobbled.
This team is battle-scarred, and if they can somehow come together and cut down the nets in Houston, it's going to be a historic achievement of overcoming adversity with their leaders and Coach Cronin being able to adapt on the fly. They've got Tyger Campbell, legendary point guard and hair-haver that is a delight to watch as he takes care of the basketball (and has the best name in the process), Jaime Jaquez Jr. dominating as a versatile ball-handling role and rocking the headband, and you're just naturally drawn to those best uni's in basketball. The Bruins are a blast.
#7 Seed Michigan State Spartans
"January, February, IZZO, April" is probably the quote that you've heard the most heading into the tournament come bracket time, and all he did was prove that mantra correct thus far as Mr. March. It's comforting knowing how consistent of a pattern Tom Izzo has when trying to predict the most unpredictable sporting event: Izzo will manufacture adversity during the regular season or B1G Tournament to give the players "bulletin board material" and dangle the carrot in front of them before going on a Sweet 16 run as they're underseeded. It's a tale as old as time.
He's also done it without going after the unanimous 5-star recruits like many of the other dominant forces have done to achieve that success in March. Izzo has actually had more successful rosters when he maneuvers the roster around like a strategic baseball manager as opposed to the teams with the NBA Lottery players. Not a single player on this team is a starting freshman, and only Mady Sissoko was a player in the top 50 of their class coming out of high school. He's a developer.
That being said, Mr. March only has one actual National Title to his name. If you're rooting for Izzo, he'd get much more validation in APRIL to not be seen as a one-off.
#2 Seed Texas Longhorns
This is another UCLA case of "how can you root for that university that is an empire of wealth that you either love or hate?"
However, this Texas Longhorns team is charming in the most wholesome fashion.
Not long ago, their coach Chris Beard was given a $4.5 million deal to coach at Texas only to later be dismissed from the program this season (then hired by Ole Miss) when he was arrested with a third-degree felony charge by strangling his fiancee. When you lose a premier-contract level coach midseason, there's no telling if the wheels will fall off of the program with that large of an off-the-court distraction and changes occurring within the team.
In steps interim coach Rodney Terry.
The Longhorns have been in lockstep for him and haven't taken a single step back in the deepest conference in the nation. Terry has had the boys buzzing with a 21-7 overall record, rallied the veteran roster together, and won the Big 12 Tournament. They seem to genuinely like the man who everyone online thinks should be working at a fried chicken restaurant in the Breaking Bad universe.
Unfortunately, Texas has so much of an ego as an institution that the job hasn't formally been given to Terry yet despite him having rightfully earned the job to remove the interim tag. You can just see them putting out a memo saying "Terry did a great job. Here's a blank check, John Calipari." as Terry goes out and gets a job elsewhere and exudes revenge. It would be a very Texas thing to do, so the players have been fighting to earn him that certainty. Normally, as a top 1-2 seed, there isn't as much external motivation. You can see Marcus Carr, Sir'Jabari Rice, and Timmy Allen playing with everything to lose. It might be because they're veterans that want to prove themselves more than the Texas teams coming off of early exits, but the reality is that they look as if they play with him in mind as they're challenging him to push-up competitions alongside him in practices. They're playing for more than a title.
#3 Seed K-State Wildcats
We've seen it so many times: a viral clip of a coach rallying the team with something like dancing to a hip-hop song or acting a fool before a game only to lose in embarrassing fashion and the old heads of sports media saying that this behavior is churrilish and frowned upon!
Coach of the year candidate Jerome Tang does all that, only for it to work in his favor. He has the team entirely rallied around him dancing pregame as the Wildcats, picked to finish last in the Big 12, have been cruising throughout the year as one of the most feel-good stories of the tournament. Tang is boogying with the student section and elevated K-State from "that's cute how they're throwing punches in the Big 12- wonder how long it will last" to being a serious title contender and proving it through their longevity and winning what felt like an Elite 8 game against blue blood Kentucky and defending National Player of the Year, Oscar Tschiebwe. Tang just exudes likable, players' coach.
Not only is it Tang that's driving K-State to be the story of the tournament, but in a tournament where the shooting has been at a historically-awful pace, they have a dynamic duo running the backcourt and knocking down shots that "have that dawg in them", if you will. Markquis Nowell is 5'8 and pushing the ball with lobs and behind-the-back Rucker Park streetball passes and knocking down high pressure contested threes when the light is shining brightest. He'll get the opportunity to go back to his home of New York to play in MSG for the first time in 3 years because "he was too busy grindin'." Keyontae Johnson is the 5th-year transfer from Florida that tragically collapsed two years ago in the middle of a game against Florida State. The preseason SEC Player of the Year was in a coma for three days and sat out the remainder of the year. He rehabbed, overcame the odds after a two year absence, and averaged almost 18 points and 7 rebounds.
The heart, the personality, and the energy of this K-State team makes them the #1 Likable Seed remaining in the tournament.