Due to the escalated tension of NHL games, referee whistles are never at rest and are often heard on the ice rink.
Aggressive play, competitiveness, and brisk in-game communication make players vulnerable to penalties.
---
When the playoffs come around, it could turn out that some team members have spent a total of two hours in the penalty box. This is not necessarily a big issue, as long as they have scored a lot of points. If this is not the case, their value as players, and hence the possibility to sign remunerative contracts, decreases.
Matthew Tkachuk has spent 92 minutes in the penalty box so far, but few people will have a problem with this as he can boast of scoring a total of 96 points (34 goals and 62 assists). With such an impressive result, it is no surprise that he is often named MVP, including at the 2023 NHL All-Star Games, which was won by the Atlantic Division on February 4.
---
In order to find out how other hockey players performed, SportingPedia analyzed the official NHL stats 21 days before the end of the regular season (April 13, 2023).
Names are ranked by penalty minutes at the time of data compilation, with information on points also provided.
---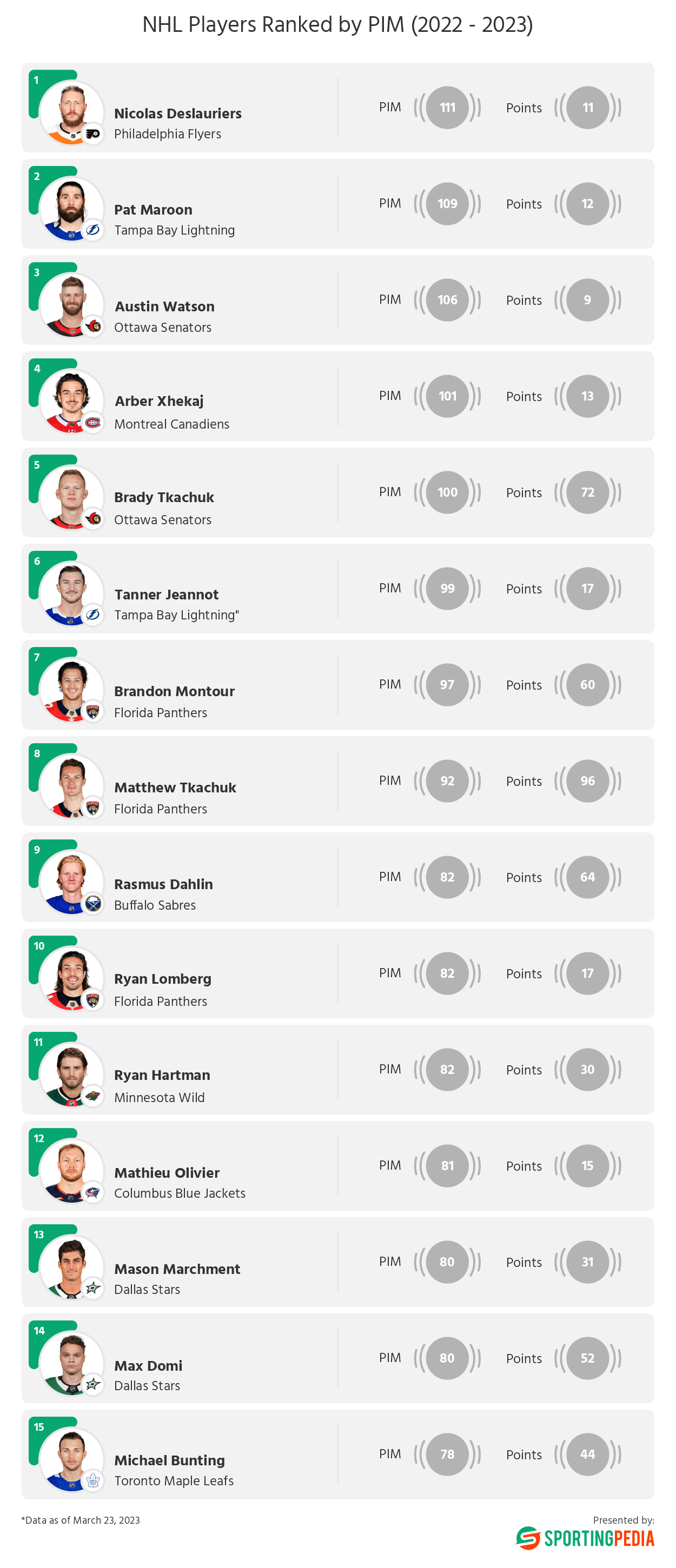 ---
NHL Players with More Than 100 PIMs
---
Five hockey players have racked up enough rule violations to spend at least 100 minutes in the penalty box – Nicolas Deslauriers (PHI), Pat Maroon (TBL), Austin Watson (OTT), Arber Xhekaj (MTL), and Brady Tkachuk (OTT).
All five have played nearly an equal number of games, with the exception of Xhekaj, who has participated in 51, about 20 less than the others.
---
Nicolas Deslauriers
Although the 92 PIMs of Matthew Tkachuk may sound like a lot, he only ranked 8th in our selection. Far ahead of him is Nicolas Deslauriers, who has 111 penalty minutes to his credit. However, we must mention that it was not until March 17 that he reached the top position in the PIM ranking. During the Philadelphia Flyers vs Buffalo Sabres game, he spent 12 minutes in the penalty box due to cross-checking in Period 1 and misconduct in Period 2.
There is more than just numbers behind Deslauriers' status as the player with the greatest number of penalty minutes this season. The tetchy Canadian is definitely not a goal scorer. He just enjoys getting into trouble on the ice and sees his role as an entertainer and team spirit lifter. For a guy mainly tasked with defending his teammates, 111 PIMs is an excellent score.
Pat Maroon
Until recently, Maroon was top of our list with 107 PIMs, but then March 17 came, and with it, the Deslauriers storm in Philadelphia.
As for other performance indicators, the two players have the same results – 11 points in 70 games.
Austin Watson
Pat Maroon is closely followed by the Ottawa Senators forward, Austin Watson. The 31-year-old has spent 106 minutes in the penalty box, slightly less than Maroon. However, he has played in fewer games – 67. Last December, Watty was fined $4,054.05, which is the highest amount possible under the Collective Bargaining Agreement.
The penalty was imposed by the Department of Player Safety of the NHL for an incident with Detroit Red Wings forward Dylan Larkin during Game No. 485.
Arber Xhekaj
Arber Xhekaj made his NHL debut on October 15, 2022, and quickly attracted the attention of viewers and experts with his aggressive playing style.
The youngster has accumulated 101 penalty minutes in his opening season and often appears in rankings for the Best Hockey Fights. An interesting fact is that Arber Xhekaj is the first player in NHL history whose last name begins with X.
Brady Tkachuk
Last in this part of our selection is Brady Tkachuk, the younger brother of Matthew Tkachuk. The left winger is known for his hard-nosed style, just like his big brother and their father, former NHL star Keith Tkachuk.
The captain of the Ottawa Senators has participated in 71 games this season, scoring 72 points and spending 100 minutes in the penalty box.
---
The Least Aggressive Players in the NHL This Season
You don't need to violate game rules to be of use to your team, so we decided to research which hockey players have incurred the fewest penalties. To make the data relevant, our team selected only those who have taken part in at least 60 games. Four players have incurred only 4 penalty minutes – Jack Hughes (NJD), Noah Cates (PHI), Victor Olofsson (BUF), and Anze Kopitar (LAK).
Jack Hughes from the New Jersey Devils stands out with 81 points in 66 games. This should not surprise anybody, since he holds the NTDP records for both assists (154) and points (228) in 110 games within two seasons. The player is part of the Hughes, the only US family to have three brothers in the first round of the NHL Draft – Quinn Hughes in 2018, Jack Hughes in 2019, and Luke Hughes in 2021.
With only 2 PIMs, Matty Beniers (SEA), Jesper Boqvist (NJD), and Josh Bailey (NYI) are the least aggressive NHL players this season. The most valued among them is Beniers from the Seattle Kraken, who has scored 49 points (19 goals and 30 assists). He was the youngest player to represent the US at the 2022 Winter Olympics, where he averaged the most ice time among all forwards (19:39 per game).
---
The Audience Finds NHL Fights Attractive
Fighting has always been part of the game, so it is no surprise that officials not only tolerate but sometimes even encourage throwing punches in the ice rink. On the other hand, fighting in the NHL is strongly regulated and always results in a penalty. Rule 46 of the National Hockey League Official Rules deals with the matter through five full pages. For example, 46.11 states that "A player who is deemed to be the instigator of an altercation shall be assessed an instigating minor penalty, a major penalty for fighting, and a ten-minute misconduct."
As the first part of our survey cleared up the Penalty Infraction Minutes issue, we decided to look at hockey fights from an entertainment perspective. Our team compiled data provided by the NHL and hockeyfights.com to rank the 5 most attractive confrontations this season.
---
Interestingly, this mini-ranking includes only two of the Top 15 NHL players with the most time in the penalty box – Arber Xhekaj and Mathieu Olivier.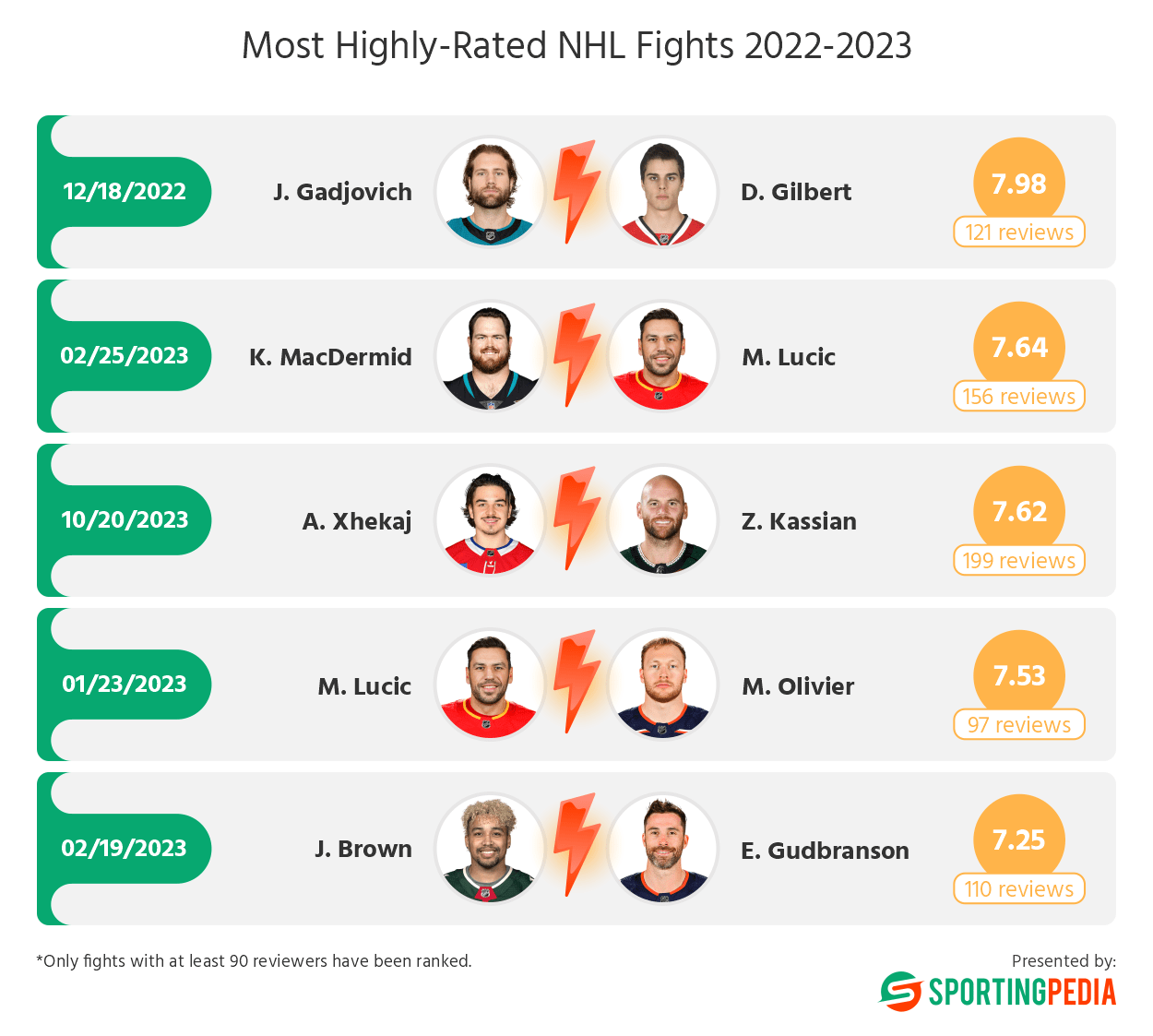 ---
With a 7.98 score out of 121 reviews, Jonah Gadjovich and Dennis Gilbert top our selection. On December 18th last year, the two hockey players dropped their gloves and delivered a tense duel on the ice rink. Gadjovich, who plays for San Jose Sharks (SJS), was voted the winner with 98.3%. However, his team lost to the Calgary Flames (CAL) 2 – 5.
Another CAL player, Milan Lucic, was involved in the fight that ranks 2nd with 7.64 points. On February 25, 2023, he used boxing techniques to knock out Colorado Avalanche defenseman Kurtis MacDermid. Both were suspended during Period 2 of the game.
It appears that Arber Xhekaj not only gets into trouble very often (101 PIMs) but does it in a spectacular way. Although still a rookie, he demolished Zack Kassian in a matter of seconds – their fight took the third position with a score of 7.62. The bout happened in the first period of the Columbus Blue Jackets vs Vancouver Canucks game played on October 10 last year. That was surely a day to remember for Xhekaj as his team won 6 – 2, and he was later named the fight winner with 97.5% of the reviewers' votes.
Given that Milan Lucic has participated in 66 games in the season so far, and has spent only 37 minutes in the penalty box, we were surprised to see him twice in our Top 5 Most Highly Rated NHL Fights. The 34-year-old forward threw some pretty strong punches at Mathieu Olivier from Columbus Blue Jackets, and they both incurred 5-minute suspensions. With 7.53 points out of 97 reviews, the fight ranks fourth in our selection.
The same was the penalties for Josh Brown (ARI) and Erik Gudbranson (CBJ), who barely waited for the opening whistle of the second period before starting a brawl. The game was held on February 19, 2023, and was won by the Coyotes 3 -2.
---
Methodology
The data analyzed within this survey are current as of March 23, 2023.
Our team consulted NHL official stats and analyzed the information provided. NHL fights have been rated by registered users of HockeyFights.
---
Featured Image: Sportsnet