The Texas Rangers unveiled their City Connect Uniforms on Tuesday morning, becoming the second team this season (Atlanta Braves) to unveil the unique edition uniforms.
The Rangers' newest uniform (pictured below) has a creamed-colored jersey with black baseball pants. It incorporates aspects that "celebrate the rich baseball heritage of Fort Worth and Dallas and how baseball connected these cities in Arlington to pave the way for the Texas Rangers."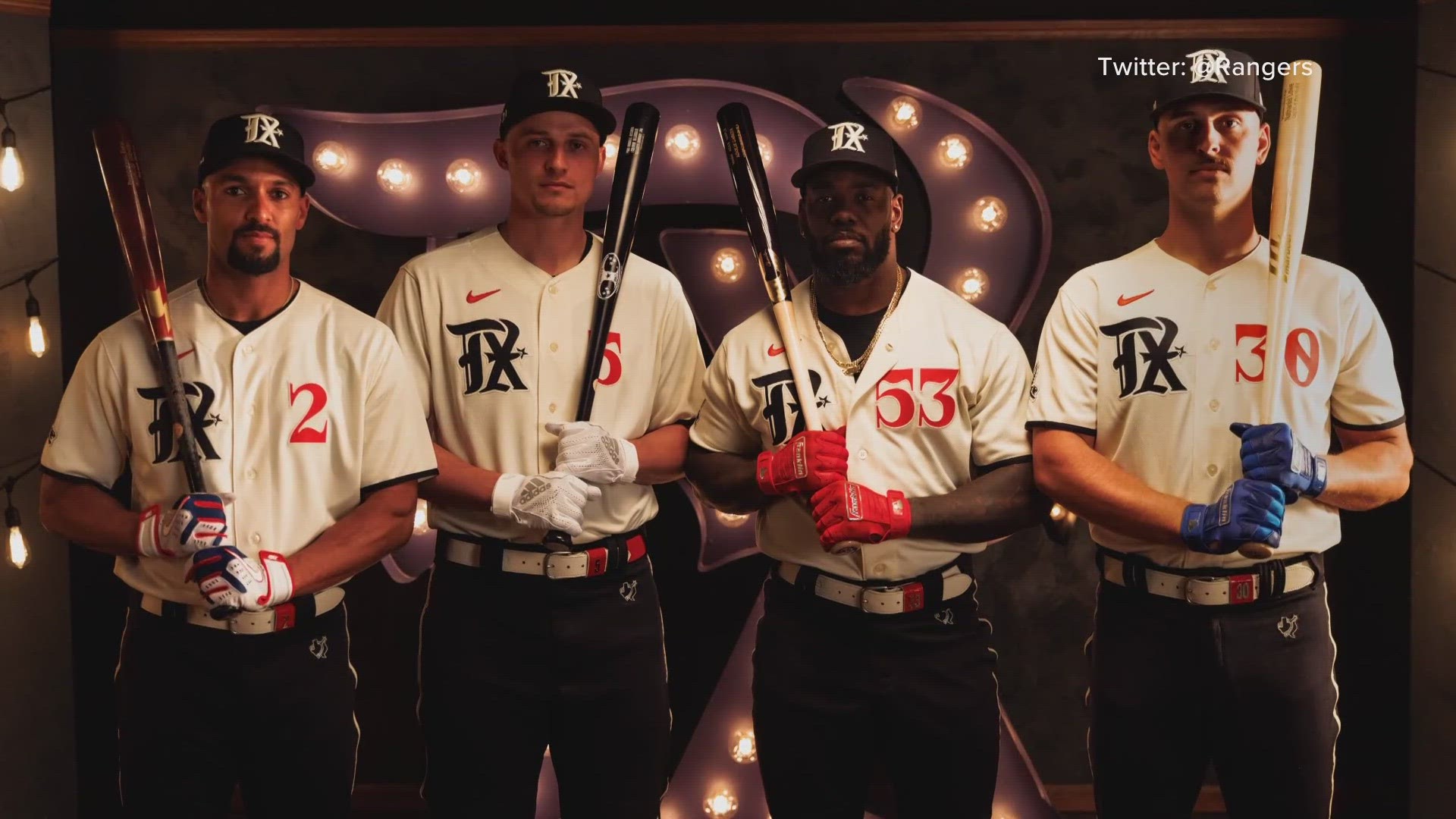 The logo featured on the front of the jersey is influenced by the Gothic lettering of the Dallas Eagles logo, with a spur honoring the DFW Spurs. On the sleeve of the jersey is a mythical creature created by imagining a blend of the Dallas Eagles and Fort Worth Panthers. A message not seen in the image is found at the bottom of the jersey reading "Dream the Big Dream," a sentiment of Arlington Mayor Tom Vandergriff, who helped bring an MLB team to Arlington. Also not seen in the picture but featured on the jersey is 4/21, which signifies April 21st, a vital date in the history of Texas, Baseball in Texas, and the Texas Rangers.
The black pants feature a reimagined DFW Spurs logo which honors the team that played in Arlington and proved that the area could support a Major League Baseball team. Additionally, the rope braid piping on the pants is a nod to the logo texture of the DFW Spurs.
The Rangers are expected to debut the City Connect jerseys for the first time on Friday, April 21st. They are the second of six teams expected to debut their City Connect jerseys during the 2023 season. The Baltimore Orioles, Cincinnati Reds, Pittsburgh Pirates, and Seattle Mariners are the remaining four teams to eventually debut their City Connects this year. That will mark 20 of the 30 Major League teams who have worn City Connect uniforms by the end of the year, with the remaining ten teams set to debut theirs in 2024.
---
Featured Image: