This year marks 30 years since a Canadian team won the Stanley Cup. That team was the Montreal Canadiens in 1993.
---
A whole generation of Canadians has grown up without seeing one of their teams win the championship. So how badly do Canucks want their team to win the Stanley Cup?
We surveyed 898 Canadians to find out how desperate they are for a title. We also asked how much they'd be willing to pay if it meant their team could win it and what they'd be willing to give up to guarantee a Stanley Cup for their franchise.
---
The Canadian Teams Most Desperate for a Stanley Cup
With the drought since a Canadian Stanley Cup now at three decades, we asked Canucks how desperate they are to witness their team win the trophy. It may come as no surprise that two of the country's biggest franchises are pretty eager.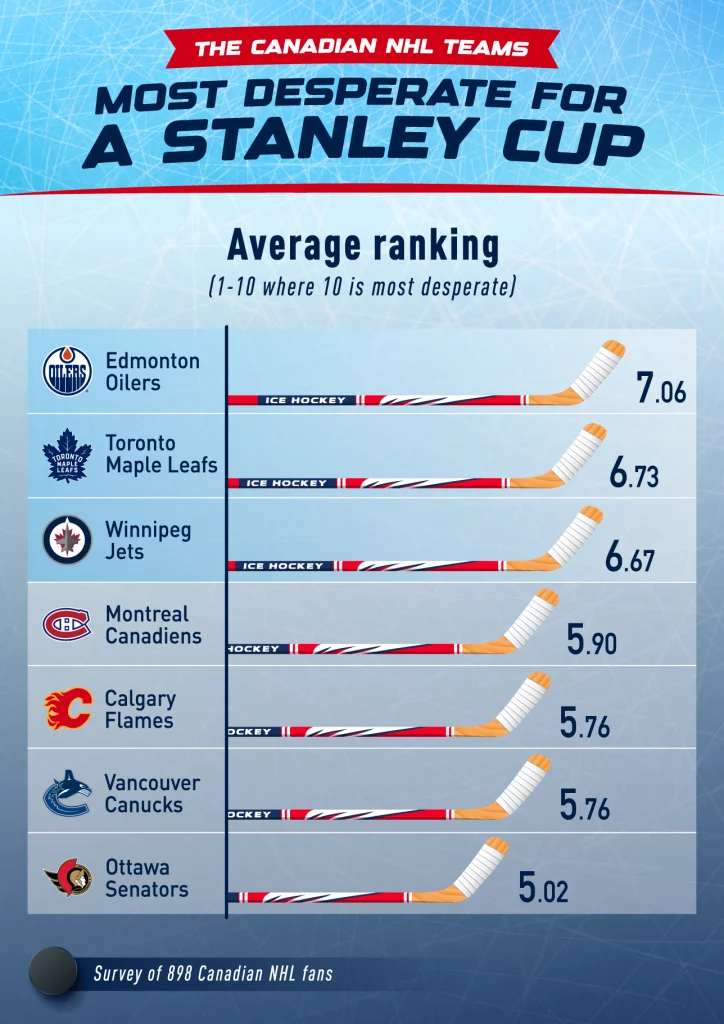 It might be because they've secured their playoff berth and they've got one of the league's hottest stars in Connor McDavid that Oilers fans are dreaming again and know they could be close to bringing a sixth title to northern Alberta.
On a scale of 1 to 10, where 10 is the most desperate, Oilers fans rank a whopping 7.06. They want it bad.
The Maple Leafs are Canada's biggest sporting franchise, and they might also be the country's most frustrating team. It's no surprise that Leafs' fans are desperate for a title, ranking at 6.73. They're also going to be pretty keen to see them actually progress in the postseason! It's been 17 years since they saw their team win a playoff series.
Of all the Canadian teams, only the Winnipeg Jets have failed to make a Stanley Cup series. They've suffered heartache a few times, losing their franchise to Phoenix and then suffering a series defeat to another desert start-up in the 2018 Western Conference Finals against the Las Vegas Golden Knights.
The Manitoba faithful came in as the third-most desperate fandom to see their team win a Stanley Cup at 6.67.
The Ottawa Senators made the Stanley Cup series in 2007, losing 4-1 to the Anaheim Ducks. This was the first time a California hockey team lifted the trophy. It appears that Sens fans are the most content out of all the Canadian fan bases, scoring the lowest at 5.02 in the desperation rankings.
---
How Much Would Canadian NHL Fans Pay If It Meant Their Team Won the Stanley Cup?
If fans are so desperate for a title, are they willing to pay for it? Some are prepared to fork out way more than others.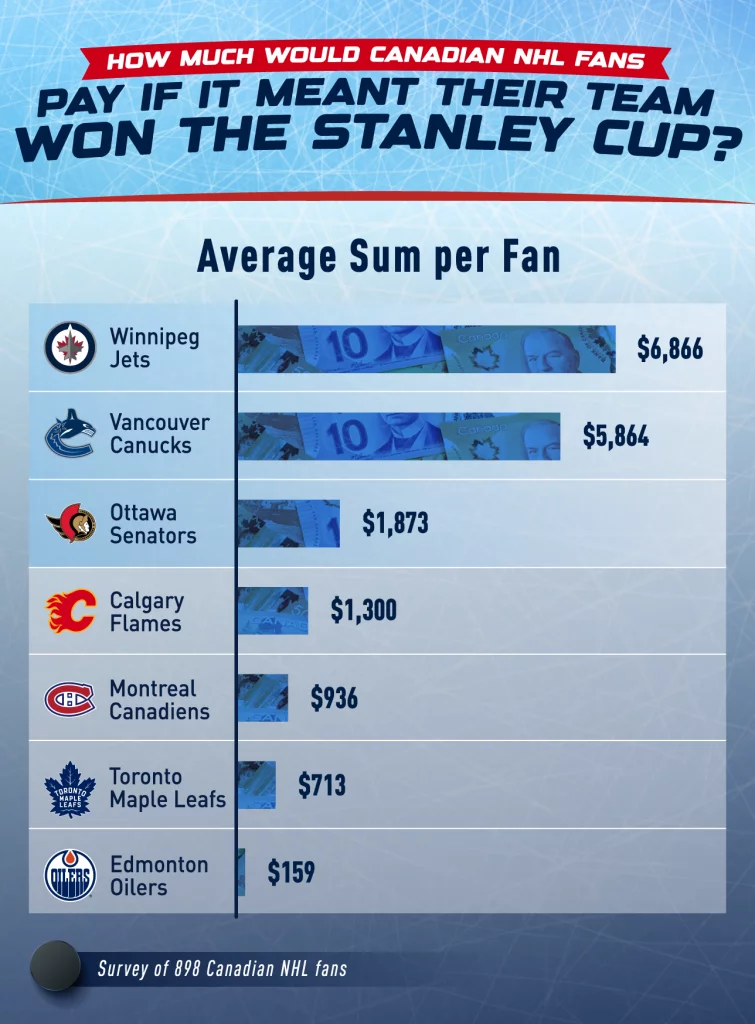 ---
There may be more money than you think in the prairies. Or it might be that Winnipeg Jets fans are so fed up waiting for a title they're willing to pay whatever it takes for Stanley Cup success. On average, fans of the Jets will pay $6,866 to bring that trophy to Manitoba.
The last time the Vancouver Canucks made the finals was in 2011, 12 months after the Canadian hockey team won Olympic gold in the city. Although Canucks fans were the second-least desperate for a Stanley Cup, they're prepared to spend the second-highest amount for the title, with an average of $5,864.
There's a huge drop-off to Ottawa Senators fans in third, who will pay, on average, $1,873 for the Ontario franchise to win it. Perhaps it's the house prices or the cost of beer in Toronto, but Maples Leafs' fans are only prepared to fork out $713 for a Stanley Cup win.
West Edmonton Mall may have too much to offer Oilers fans because they're not as enthusiastic when it comes to putting their hands in their pockets for their team, averaging a frugal $159.
---
What Would Canadian NHL Fans Do to Guarantee Their Team a Stanley Cup Win?
Would fans be prepared to do anything to ensure their team is crowned kings of hockey?
---
Canadians know how to party, which makes it surprising that so many of their hockey fans are willing to give up alcohol for a year to guarantee a Stanley Cup win for their team. Desperate times call for desperate measures.
Tim Horton's will be relieved that the majority of Canucks will stick to caffeine. However, they may have to revise their growth model in Winnipeg because they're happier giving up caffeine for a year to ensure their Jets finally win a championship. There's no way they're giving up the party juice in the Peg!
---
Fandoms in Waiting: Do You Remember Your Team's Last Stanley Cup Championship?
It's been 30 years since a Canadian team won the Stanley Cup, so who remembers what success looks like?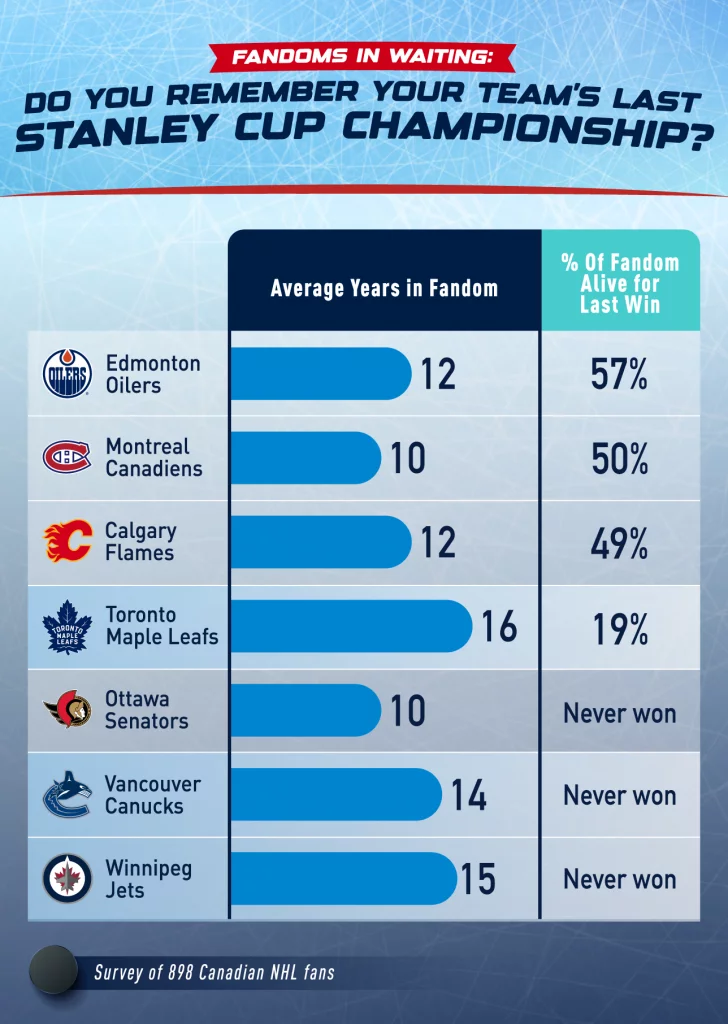 ---
Winnipeg has never made it to the Stanley Cup Finals, so even their oldest fans have no experience of hockey's ultimate prize.
The Montreal Canadiens were the last Canadian team to win it. With an average of 10 years of fandom among the supporters we surveyed, there's no surprise many of them can't remember what success was like.
Toronto Maple Leafs' fans averaged the longest fandom, with an average of 16 years. The Leafs' playoff series win drought is longer than most people have been fans!
The last time Toronto won the Stanley Cup was also the last time they made the finals, which was 1967 – 56 years ago. There will be grandparents who have never seen the franchise claim the title.
---
Methodology
To gather the data reported, we surveyed 898 Canadian fans of the National Hockey League on April 5, 2023.
---
Featured Image: Legal Bet Canada