It's no secret that Shohei Ohtani is a talent unlike anything that we've ever seen, not just in baseball but in sports in general for the level that he plays it. He may be the best pitcher in the game, 3-0 with a .64 ERA and 38 strikeouts in 5 starts while throwing absurd 100 mph fastballs, and he can also hit 450+ foot homers as a DH and has a .253 average. He is two all-stars in one, and we may never see this again.
He's also on a team that has not made the postseason in almost a decade despite having Mike Trout, this generation's Mickey Mantle.
Last week, ESPN's baseball insider, Jeff Passan, reported that if the Angels get off to a struggling start where they're out of contention or miss the postseason, Shohei could be traded or will leave when he becomes a free agent this offseason. It's not every day that maybe the best athlete alive becomes available, and you would be an absolutely moribund organization if you didn't try to do everything in your power to get him in your uniform in a league where there's no cap space.
Betting odds have already been released on Shohei's next location. That being said, let's take a look at each team's exact sales pitch to Ohtani. What would a meeting look like?
Staying with Anaheim: "We've had some great times, right? All those games where you and Mike Trout would do something legendary in the history books that hasn't been done since Tungsten Arm O'Doyle in 1921 as we lost to the Detroit Tigers 8-3 and finished 4th in the AL West again? We promise to spend more on pitching this time! Shohei?"
Oakland Athletics, Washington Nationals, Colorado Rockies, Miami Marlins, Cincinnati Reds, Detroit Tigers, Kansas City Royals: so uninterested in winning that they did not even schedule a meeting
Arizona Diamondbacks, Tampa Bay Rays, Baltimore Orioles, Pittsburgh Pirates, Milwaukee Brewers, Cleveland Guardians: "We are winning, yes, but we have no intention of giving you any money. Do you have any idea who we are?"
Minnesota Twins: "We were Carlos Correa's THIRD choice! Also, we're really nice, and Byron Buxton looks GREAT when he's not injured every now and then! whispers please ignore our postseason history."
Boston Red Sox: "We promise not to refuse to pay you like we did Mookie Betts, Xander Bogaerts, Benintendi, and Renfroe! We can pretend to be a big market organization again! Don't you want to pitch in the pouring rain on Marathon Monday again because we don't want to delay it? Don't you love cold Boston Springs and Falls? Have you seen the 30 for 30 on the 2004 year? Shohei?"
Texas Rangers: "We went from not being above .500 in 3 years to spending half a billion dollars on our infield and bringing in Jacob deGrom for 5 years even though his arm may fall off at any moment. We've also got a manager that was retired but has 3 rings and came back. Shohei, you could be the most stable long-term pitcher signed in franchise history and possibly the best hitter since Beltre. Also, we have an indoor park now, so no need to worry about playing in 110 degrees in August."
Chicago White Sox: "We're a big market city that no longer has Tony LaRussa in charge of it!"
Seattle Mariners: "We know you decided to pass on us in 2017. We still have everything you like about that situation- the legendary ties to Ichiro Suzuki, a west coast location, great fans, and less eyes and drama on us, but this time, we're more than equipped to win the World Series. That Robinson Cano contract? Gone. Have you seen this Julio Rodriguez guy instead? We've got him locked up for the next decade with a Cy Young-candidate, Luis Castillo, and an entirely bought-in young core. Oh, and you'd get exact revenge over the Angels in your division very frequently."
San Francisco Giants: "Let us get it right this time and atone for the Arson Judge debacle and the Carlos Correa signing that was not a signing. Make sure to use PERMANENT ink when you sign that deal, Shohei."
Toronto Blue Jays: "Come be a bad boy, Shohei. We're a loaded team, but we've also got Alek Manoah barking at every human alive, Vladimir Guerrero Jr. hitting bombs and then jawing with Anthony Rizzo, and Bo Bichette flipping his bat along with his luscious locks. We're the young core that wants to go at teams like the Yankees. You heard Vladdy- we're tired of this being the trailer; we want this to be a movie. "
Philadelphia Phillies: "Shohei, we made the World Series last year solely off of VIBES. We're a team with junkyard dogs from top-to-bottom, and that was quite literally all it took. Bryce Harper is so dedicated to trying to come back from his injury that he's trying to learn how to play first base right now. We know that we have the saltiest fans in the world, but think about how much fun it would be to be in a clubhouse with a bunch of absolute MASHERS. Bring your Philly native friend, Mike, too, while you're at it."
Houston Astros: "Do the last 6 years of us looking down upon you from the top of the division as we reached the last 6 ALCS and made 4 World Series ring a bell to you?"
St. Louis Cardinals: "We claim to have the classiest fans in baseball. Do you ever remember a bad Cardinals team? We also happen to have the top two NL MVP candidates last year, maybe the deepest lineup in baseball, a 20-year-old stud in Jordan Walker that we decided to call up, and we play in a division that's very much up for grabs. We may have no rotation at all, but you can be the missing piece, Shohei."
Atlanta Braves: "Superstars come to play for the Braves and sign a decade-long deal for pennies on the dollar and are fine with it. That's also because we're the best-run organization in sports. The choice is yours."
San Diego Padres: "We're the REAL small market Southern California franchise you should have signed with. Let's give you a blank check and introduce you to a few guys named Xander, Fernando Tatis Jr., Juan Soto, Manny Machado, and a friend of yours from the WBC, Yu Darvish. We are trying to simply buy our way into a World Series and are willing to do it. You don't want all eyes on you on the Dodgers from their fans that show up in the third inning, take an Instagram photo in their hat, and leave. Come play for a team that wants to build something, Shohei."
Los Angeles Dodgers: "Shohei, your LA market team has been the model of inconsistency as the second sports team in your city. How many times have you heard LA media talking about Anaheim as opposed to the Dodgers? When you think LA, you think of the iconic blue hat, you think Dodger Stadium and the palm trees, and you think of all of the superstars, be it in the stands to watch the games on a Hollywood SoCal night or the big names that we've put on the field. We're a brand in itself. The thing is, we're not just a team that buys its wins- just when you think that all of the stars we've acquired have left for free agency, we develop young talent like no other. We're the Rays with the budget of the Mets. We'll have the capability to spend on talent around you while also scouting players that will be building blocks for the future. This year, we didn't go out and break the bank- we were waiting on you to be our shining star. You wouldn't have to leave this west coast that you've been accustomed to, but you could play for the competent LA team. Be the biggest brand on the west coast, Shohei."
Chicago Cubs: "There's nothing in baseball quite like the friendly confines of Wrigley Field, Shohei. We already cracked the curse in 2016, but we're desperate to usher in a new area and get back to relevance again now that our core of Rizzo, Bryant, Baez, Schwarber, and Contreras are all gone. We're trying to build something in this big market here. We're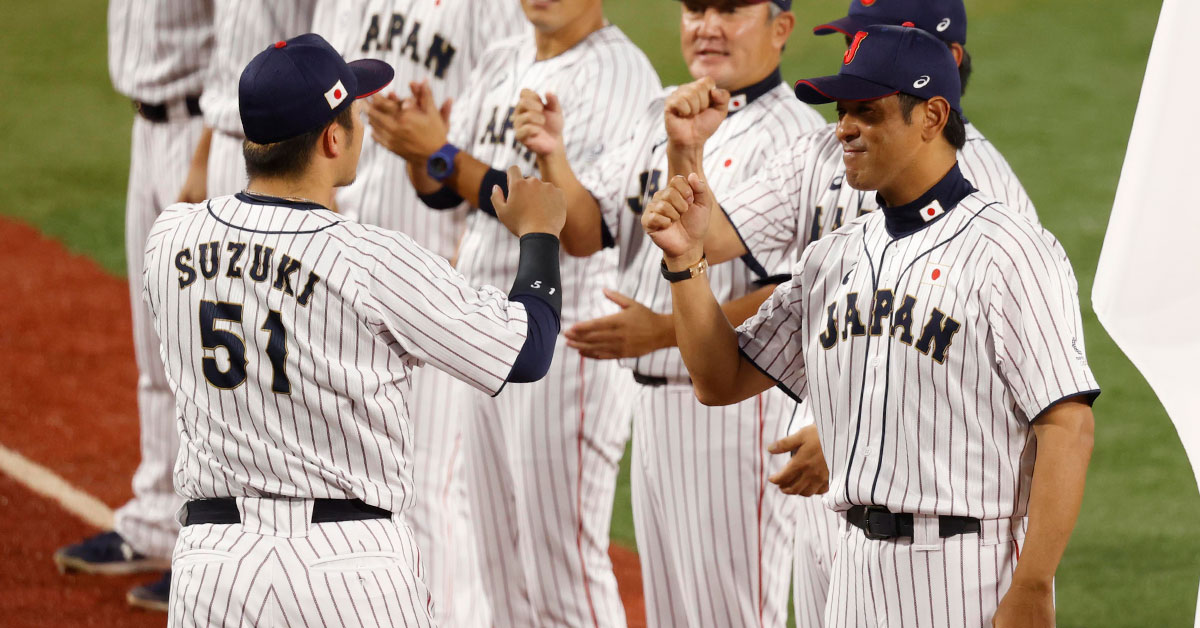 A big market that's taken a few half-measures in going all-in so far, but we need you to be our full measure. We signed your WBC teammate, Seiya Suzuki, for 5-years, and he basically idolizes you. Dansby Swanson left the Braves to be a beloved, legendary Chicago sports figure here. The bond between sports figures and fans in Chicago is a bond, unlike any other fandom. Print the "Chi-Town Shohei" shirts already."
New York Yankees: "Have you seen these pinstripes? Have you heard of this big fella named Aaron Judge, who hit 62 home runs last year? Have you seen these 27 rings? The Yankees are a BRAND, Shohei. You would become the biggest superstar on planet Earth in these pinstripes. You don't even need to shave your beard. The only hump we've not been able to get over in the AL is the Astros. Be that piece, Shohei. Broadway Ohtani is something that they'll make movies about."
New York Mets: "My name is Steve Cohen. I have all the money in the world. Please, take a seat, and let me introduce you to Pete Alonso, Francisco Lindor, Max Scherzer, and Justin Verlander."
---
Photo: —