Vivid Seats Inc. is a leading marketplace that utilizes its technology platform to connect millions of buyers with thousands of ticket sellers across hundreds of thousands of events each year, together with Cameo, the leading marketplace connecting fans and brands directly with tens of thousands of pop culture personalities, have revealed a new look at America's love of football.
---
Leveraging their data insights, Vivid Seats and Cameo have identified the most popular NFL teams in each county, the most anticipated games of the 2023-24 NFL season, as well as the most popular players, coaches, and football personalities.
On Thursday, May 11, the NFL released its 2023 regular-season schedule. According to Vivid Seats' data since the release, the Philadelphia Eagles at New England Patriots is the most in-demand game of the season.
---
Top Five Most Anticipated 2023-24 NFL Season Matchups:
09/10/23 Philadelphia Eagles at New England Patriots
10/08/23 Dallas Cowboys at San Francisco 49ers
09/07/23 Detroit Lions at Kansas City Chiefs
10/01/23 Kansas City Chiefs at New York Jets (SNF)
09/10/23 Green Bay Packers at Chicago Bears
---
As the season is set to kick off, new data from Vivid Seats explores who America is rooting for, identifying the most popular NFL team in each county across all 50 states.
According to ticket sales data, the Kansas City Chiefs are not only one of the most accomplished NFL teams in recent years but also No. 1 with the fans.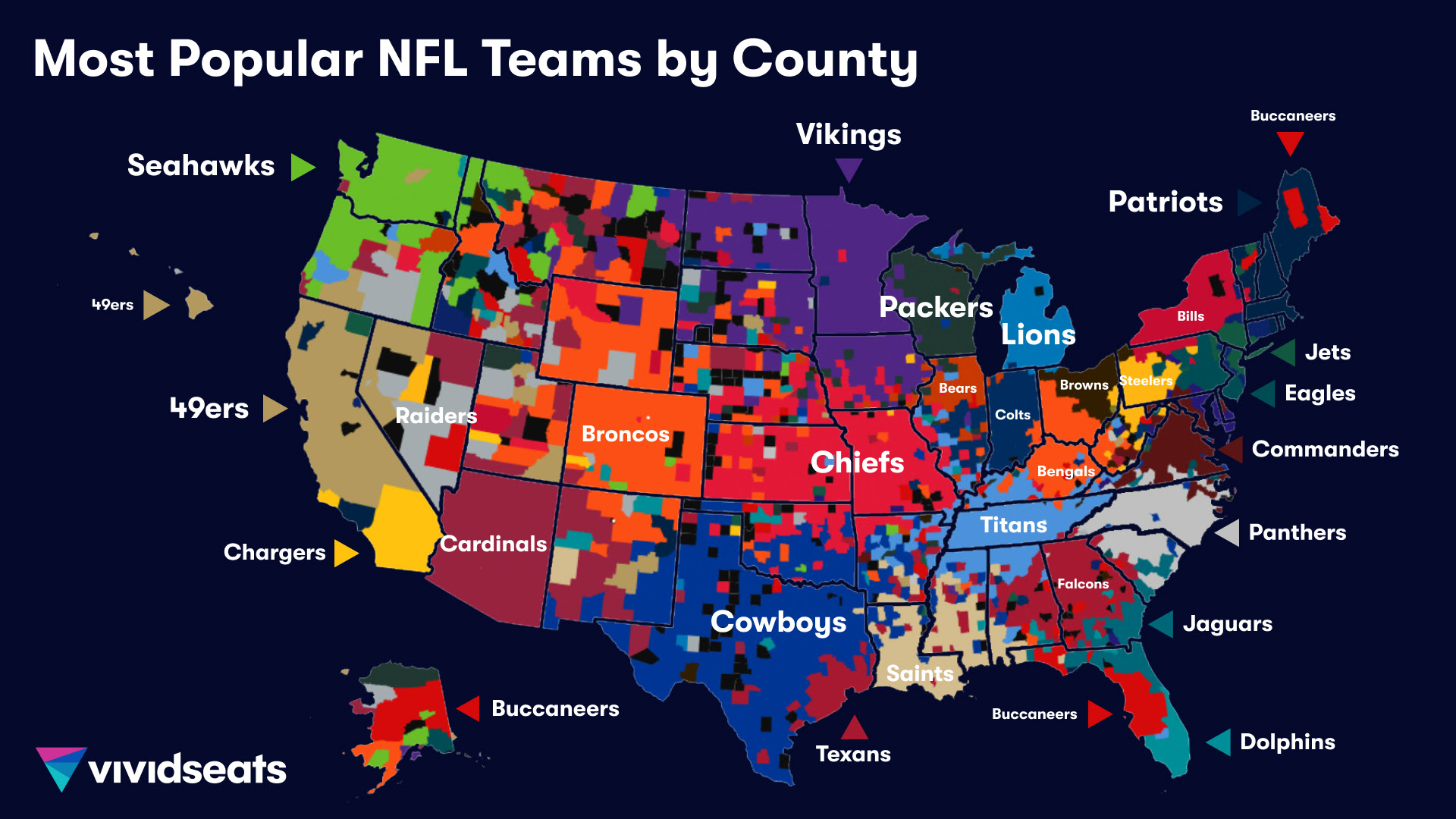 ---
Top Five Most Popular NFL Teams
Kansas City Chiefs
Dallas Cowboys
Minnesota Vikings
Tennessee Titans
Atlanta Falcons
While Vivid Seats looked at popularity by game and team, Cameo focused on everyone's favorite football stars, looking at the personalities most booked to create personalized Cameo videos for fans in the last year*.
According to Cameo data, the most popular player is Former Dallas Cowboys Quarterback Ben DiNucci, who's rumored to be making an NFL comeback this season with the Broncos; the most popular coach is the legendary Barry Switzer of the University of Oklahoma and Dallas Cowboys fame, and the most popular football personality is the host of NFL Red Zone, Scott Hanson!
Of note, fans showed their love for retired legends just as much as those still active in the game, and 40% of the top players booked in the last year played for the Philadelphia Eagles or Kansas City Chiefs, who matched off in 2023's big game.
---
NFL Team Fandom Insights:
"America's Team" Defends Its Turf: The Cowboys are the second most popular NFL team in the country, with 287 counties in their favor. Dominating the Houston Texans across the Lone Star State, the Cowboys also have strong claims to territory in Oklahoma, Arkansas, and New Mexico, as well as Louisiana parishes near the border.
NorCal vs. SoCal: From the MLB to the NHL, NorCal and SoCal have their fair share of intra-state sports rivalries. In the NFL, the San Francisco 49ers dominate California, with 45 counties rooting for Red and Gold. The Los Angeles Chargers gained a big SoCal county, bringing their count of counties to six.
Mixed-Up Mountain Lands: The counties making up Idaho, Montana, and Utah have an eclectic NFL rooting interest and no NFL team of their own. In Idaho, with Lemhi County rooting for the Tennessee Titans and Valley County favoring the Philadelphia Eagles, no one team has a particularly strong foundation of support here.
Divided Loyalties: The Cleveland Browns have typically been the dominant fan base in Ohio. In 2023, that statement still rings true, with 44 counties in Ohio rooting for the Browns and 39 counties rooting for the Bengals. While the Browns and Bengals have the strongest footing in the state, the Detroit Lions and Pittsburgh Steelers also claim counties in The Buckeye State.
---
Most Popular Football Stars on Cameo
Football Players (Current & Retired):
Ben DiNucci (Former Dallas Cowboys Quarterback, Current XFL Player)
David Akers  (Former Philadelphia Eagles Place Kicker)
Randall Cunningham  (Former Philadelphia Eagles Quarterback)
Chad Henne (Recently Retired Kansas City Chiefs Quarterback)
Devin McCourty (Former New England Patriots Safety)
Joey Harrington (Former Detroit Lions Quarterback)
Amon-Ra St. Brown (Current Detroit Lions Wide Receiver)
Noah Gray (Current Kansas City Chiefs Tight End)
Gregory Rousseau (Current Buffalo Bills Defensive End)
Emmitt Smith (Former Dallas Cowboys Running Back)
Coaches (Current & Retired):
Barry Switzer (Former University of Oklahoma & Dallas Cowboys Coach)
Don Beebe (Former Buffalo Bills Player & Current Coach at Aurora University)
Dick LeBeau (Former Detroit Lions Player & Pittsburgh Steelers Coach)
Jim E Mora (Former New Orleans Saints & Indianapolis Colts Coach)
Steve Spurrier (Former Player & Coach for the University of Florida & South Carolina)
Mike Gundy (Current Oklahoma State Coach)
Marcus Freeman (Current University of Notre Dame Coach)
Mike Singletary (Former Chicago Bears Player & San Francisco 49ers Coach)
Jeff Saturday (Former Player & Coach for the Indianapolis Colts)
Bob Stoops (Former University of Oklahoma Coach)
Football Personalities (Analysts/ Announcers/Journalists/Show Hosts)
Scott Hanson (NFL RedZone)
Dave Wannstedt (Fox Sports)
Dean Blandino (Fox Sports)
Scott David Zolak (Patriots Radio & All Access)
Desmond Howard (ESPN Analyst)
Erin Andrews (Fox Sports)
Rece Davis (College Gameday Host)
Joe Thomas (NFL Network Analyst)
Mike Golic (Retired ESPN Host)
Sal Capaccio (NFL Sideline Reporter)
---
To find the top NFL team in your county, according to 2022 Vivid Seats NFL ticket data, view the interactive map here.
---
Featured Image: GlobeNewswire