It's fitting that so many of Fantasy Baseball team names are "Acuna Matata," with Ronald Acuna Jr. playing with no worries, but it's the hunger of a lion that ignited him and this Atlanta Braves team to being one of the most historic regular season teams in modern history.
The Atlanta Braves clinched the NL East for the fifth consecutive year last week, and it wasn't particularly close. They've had a comfortable double-digit lead over the Phillies in the division essentially from end-to-end. They have the most wins, hits, runs, the 2nd-most strikeouts, the most home runs hit in a single season, and are the first team in history to have four hitters with 35 or more in a single season. They have the wins and strikeouts leader in Spencer Strider, they have the home run and RBI leader in Matt Olson, and they have the stolen base and hit leader in Acuna Jr. It's not just that they're dominating the season; they're dominating it in every conceivable way possible and could do so for the years going forward.
They've operated in a manner that's one of the most-admirable, fan-oriented roster construction possible. In an era where many superstar players across all sports have had more empowerment to move or be open to negotiation, the Braves have wanted to get their guys locked up for the long haul to be a part of what the franchise is all about. Austin Riley is 26 and will be a Brave until 2034. Olson and Murphy were traded for and will be a Brave until 2031 and 2030 immediately following their acquisition to get locked in. Acuna Jr. is 25 and will be a Brave until 2029. Strider and Michael Harris II were the top-two NL Rookie of the Year Award recipients last season and got extended through 2030 and 2033. They take care of their people to build something, have some consistency, and grow from within from the get-go.
However, the set-in-stone contracts and stability within a successful organization has made them anything BUT complacent. Sure, many of the players still within the organization were a part of the World Series-winning roster in 2021. They got their ring, they got the contracts, and no longer are in a pressure cooker of playing with something to prove either from a legacy standpoint or ahead of impending free agency.
As historic a juggernaut as they've been this season, what has set them apart has been the willpower of still playing with something to prove, and that starts with Ronnie.
Acuna was not active when the Braves won the World Series in 2021; he had torn his ACL during the season. He got to celebrate his team collectively and spray the champagne, but he's never been the focal point of a winning roster. He plays with the animosity of someone who still needs to make the Canton montage highlight in October to prove his worth.
On top of that, there was the dramatic departure of Braves' MVP and "face of the franchise" at the time, first baseman Freddie Freeman. Freeman left free agency for the Dodgers and there were reported internal rifts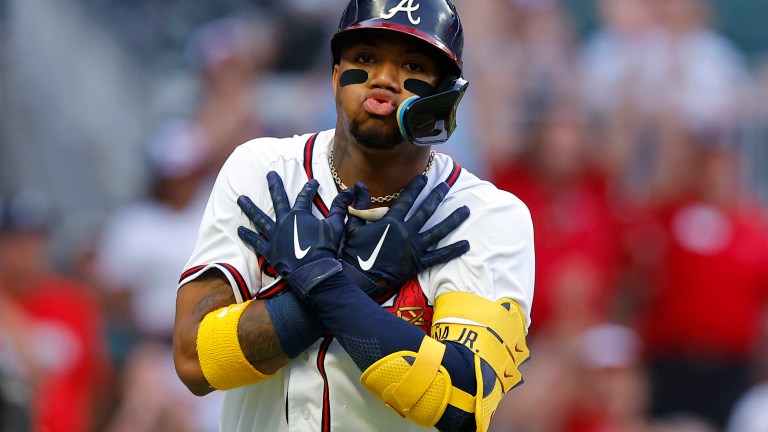 between Freeman and Acuna having to do with Acuna having… the NERVE to wear eyeblack and disrespect the "Braves way!"
That only resulted in the Braves then acquiring Matt Olson from the A's via trade to replace him rather than re-sign Freddie. While Freeman has still put up his astronomical numbers for the Dodgers in LA, the massive-extension to Olson, who is younger and a more-powerful slugger just as much in the MVP race as Freddie, has sparked a rivalry where now Olson himself also plays with the spiteful "I need to be better than Freddie" hunger as the revisionist history of the replacement situation is likely going to be a talking point for generations to come.
That hunger that Acuna plays with has sparked unbelievable dividends on the roster from the top-down. He's playing as the NL MVP favorite, an OPS above .900 in every single month, the highest exit-velocity on his contact in the league, and there's essentially no pitch that's been his kryptonite this year with his .336 batting average, his 39 homers, and his 67 stolen bases as he's on the chase to be the most-recent member of the historic 40-40 club that would now be the 40-70 club… That sort of energy is palpable throughout the entirety of the roster, and their recent success and locked-in contracts only support the notion that they're simply playing cool, calm, and collected baseball; rather than have that "house money" mindset juxtapose his fire, it only complements as a perfect side dish to make them unbelievably dangerous.
Coming off of clinching the division, the Braves DID get swept in Miami. However, one can only wonder if that just meant the team was bonding together, partying hard in South Beach and resting their bodies afterwards as they dog out the final meaningless revamp before October baseball. There's nothing to be afraid about regarding this historic team in Atlanta as they've been the consummate favorites throughout the year. That doesn't mean that the Dodgers, Brewers, or Phillies won't be aiming at their heads come playoff time, though.
Ronnie may already be one of the most-talented baseball players of the current generation, yet he's still playing as if he's Peter Parker only uncovering more superpowers simultaneously, and has an unbelievable hunger to do what he hasn't been able to yet: use them on the biggest stage for everyone to see.
That's dangerous.